A gust of new Texas-connected titles to take you through summer
While the Texas summer heat isn't going anywhere, hopefully you are, and we've got all the titles to keep you reading on the beach, in the mountains, or in the air -- or your air-conditioned digs!
Diann Floyd Boehm
A Time to Fly is a wonderful, heartwarming story that exemplifies love, patience, support, and acceptance. The story illustrates overcoming fear in such a soft and wonderful manner, that it is sure to be a favorite children's book for many years to come!
Valerie Komkov Hill
Clive the Llama goes on an adventure and meets new friends along the way. Valerie Komkov Hill, an accomplished painter and artist, tells a little story about Clive, a lonely llama who decides to face adventures with the help of new friends. Clive has become a beloved character. This sweet book began as a gift for friends who were new to parents or grandparents and grew to be a cherished gift passed along to friends of others.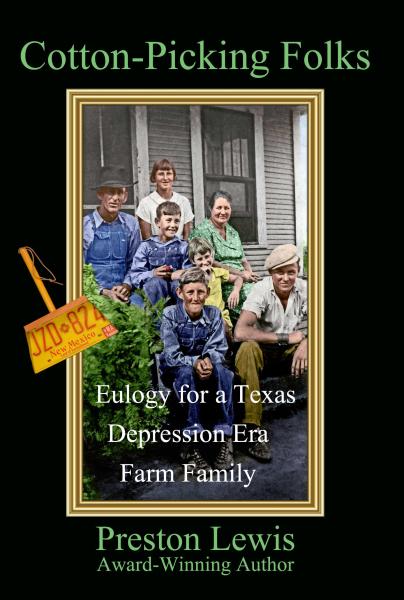 Preston Lewis
In Cotton-Picking Folks, award-winning author Preston Lewis explores one family's experiences on dryland tenant farms during the Great Depression. As the grandson of a tenant farmer, Lewis in the 1970s collected the written and oral histories of his grandfather's five daughters and two sons.  Born into a poverty that demanded their child labor, all seven siblings picked cotton before they could read and all faced a biscuit-and-gravy existence. Their coming-of-age recollections are enlightening and touching testaments to the enduring spirit and faith of the Greatest Generation, whose work in the cotton fields was little different than it had been the previous century.  Cotton-Picking Folks is a heartfelt tribute to a farm generation poor in material goods but rich in spirit.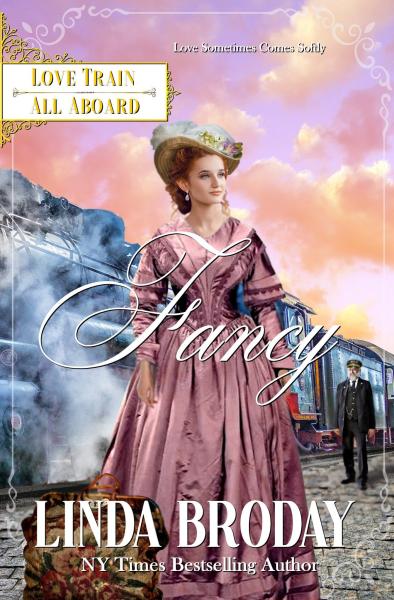 Linda Broday
Her baby stolen, Fancy Dalton will risk everything to get him back. Selling her belongings, she buys a one-way train ticket to Denver. In a mad dash to board the train, she collides with Jack Coltrain. Luck would have it, the rugged cowboy sits next to her. Experience has taught her to be wary of men. But when her bag is stolen, Jack gets it back and earns a small piece of her trust. As the iron wheels take her closer to her son, Fancy and Jack discover an orphan girl who needs their help and open their arms. They strike a deal—Fancy's help for his. This is a fight they have to win.
Julie Cosgrove
Tom Jacob retires and leaves The Oakmont Gazette to his daughter and son-in-law. They decide to turn it into a bi-weekly online paper and hire Wanda Warner to design with the wordplay puzzles. But when they publish the clues to the Hangman puzzle each Tuesday and Friday, someone uses them to decide who to rob next in Scrub Oak and people begin to blame Wanda. Will Todd, her police officer nephew, be forced to arrest his own aunt?
Jonathan Woods
Ray Puzo, ex-Special Forces sniper, is hired to rid the vast Cross cattle ranch in South Texas of its feral hog problem. Unbeknownst to Ray when he takes the job, because of radiation, and other pollution, the hogs have become super-brainy. Faced with extinction, the hogs organize and fight back. Humans and feral hogs face off in an epic battle between good and evil—but who is good and who is evil is an open question. Besides leading the charge against the hog uprising, Ray must navigate the Byzantine politics of the ranch's eccentric aristocracy and peasantry, including the reptilian ranch matriarch, her queer son, her crackpot nympho daughter, and a supporting cast of cowpokes, vaqueros, schemers, ne'er-do-wells and slimeballs.
Tammy L Gray
When Cameron Lee's music career takes a nose dive, he reluctantly returns home, where he falls fast for single mom Lexie Walters. But fantasies only last so long, and soon they have to face the real world, one fraught with heartbreak and disappointment and questions that can only be answered on your knees.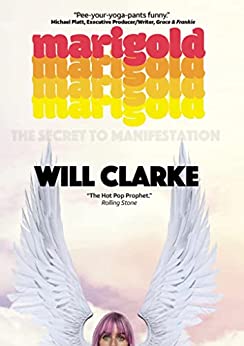 Will Clark
Meet Marigold Sunshine Whitaker, "The Sword Arm of Heaven." Marigold is a down-on-her-luck massage therapist and former inmate who is determined to "vision board" her way to a better life. She talks to angels and has read The Elements of Abundance (the secret to The Secret) over thirty-five times, and yet, Marigold's dreams are left unfulfilled.
That is until one day when Krish McKinley, CEO of yoga wear giant, Wolf&Bees®, steps into her massage chair and offers to change her life. Enthralled by the billionaire's charm and his ambitions to save the world, Marigold is torn between listening to her better Angels and following Krish McKinley down an Instagram-worthy path of impossible luxury, corporate fraud, and even murder.
Kelly Cain
After losing her parents in high school, Ryan Landry grew up fast, solely focusing on supporting her younger twin sisters. With the twins now preparing for college, the financial stakes are raised so Ryan enters a restaurant manager of the year contest. Her chances for the grand prize are strong—after all, she's the executive manager of Everheart Bar and Fine Dining. Ryan meets the restaurant's Michelin star patriarch chef near-impossible challenges, except this creates another obstacle—increased temptation with her best friend and pastry chef Weston Everheart. She's fought to keep Weston in the friend zone because romantic fraternization means immediate firing. But when she realizes Weston has also been in love with her for years, it becomes impossible to maintain business as usual.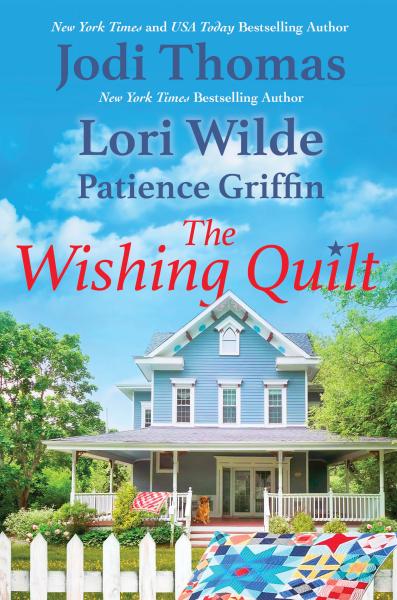 The Wishing Quilt (anthology)
Jodi Thomas, Lori Wilde and Patience Griffin
Texas is about to be wrapped up in love and homespun perfection with this new, uplifting contemporary romance anthology featuring novellas from three legendary, best-selling authors that weave together tales of women whose quilting craft ultimately leads them down the path to love.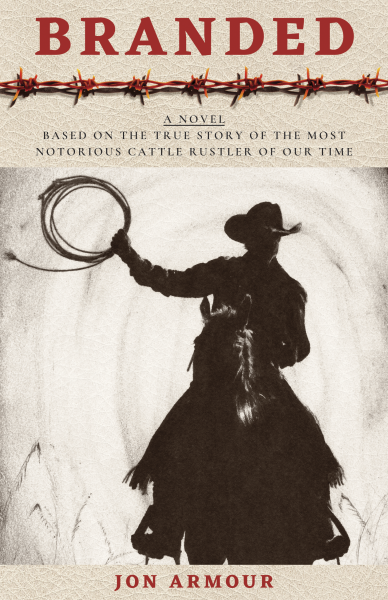 Jon Armour
Branded is based on the true story detailing the outrageous events and exciting, colorful and humorous antics of cowboy Bob Harold Leach, aka "The Most Notorious Cattle Rustler of Our Time," and the nicest guy you'd ever meet. A man who has managed millions of dollars of illegal cash, most of it said to be buried under his north Texas ranch in 55-gallon drums. He has survived 19 stabbings, poisonous hamburgers, prison tear gas attacks, and being thrown over a third story railing while in jail. A tough hombre for sure. But also, a man generous to a fault, often showering those he knew with gifts and financial help.
Michael Scott Clifton
Then a way is found through the magical partition. An invasion is launched to defeat the Dark Queen. But she's had centuries to plot treachery. Is the open portal real or a misdirection, another of her evil schemes? Alexandria's new husband, Prince Tal, has wielded his formidable magic repeatedly in the struggle. But the key to victory may not lie with his power, but with Alex's wild and unpredictable magic. If she can discover a way to control it, they have a chance to end the war and destroy the Veil. It requires only two things. Find the Veil Queen…and kill her.
Lauren Cassel Brownell
When Harper Fox's father, suffering from dementia, disappears into the night, she knows she has no choice but to return to her hometown of Shepperton, Texas and help her mother make the difficult decision to admit him to a memory care facility – Castle Woods Retirement Village. At first, Harper thinks balancing her writing career and impending deadline with caring for her elderly parents is the biggest mystery she will solve, but when residents of Castle Woods Retirement Village begin to die at an alarming rate, the mystery becomes far more complicated. Can Harper uncover what connects these mysterious deaths in time to keep her own father from becoming the next victim?
Taylor Moore
Special Agent Garrett Kohl has just taken down a dangerous and deadly cartel boss when he finds trouble brewing back on his family's homestead. A powerful energy consortium, Talon Corporation, has started an aggressive mining operation that threatens to destroy Garrett's land, his family's way of life, and everything they hold dear. To achieve its goals, Talon is flouting the law, bribing public officials, and meeting anyone who challenges it with physical violence. When the Kohls themselves are attacked by Talon guards, Garrett goes on the offensive, embarking on an investigation that he hopes will rid the Texas High Plains of the intruders once and for all.
Kate Stollenwerck
Fifteen-year-old Hailey Rogers is sure her summer is ruined when her parents tell her she has to spend a few days a week, every week, helping her grandmother, Gigi. But Gigi is full of surprises—and family secrets. Throw in the gorgeous boy down the street, and Hailey's ruined summer might just be the best of her life. Then tragedy strikes, lies are uncovered, and Hailey's life suddenly falls apart. After unearthing clues in an old letter written by her great-grandfather, she takes off on a road trip to solve the family mystery with the only person she can trust. In a forgotten Texas town, the past and the present collide—and Hailey is forced to choose what she truly values in life.
Allison Pittman
De Smet, South Dakota—1890 
Young women growing up in DeSmet live by two rules: don't go out in a snowstorm and don't give your heart to Cap Garland. Young Mariah Patterson only managed to obey one. Mariah is certain her love for Cap will be strong enough to break both bonds, and she's willing to risk everything to prove it. 
 
De Smet, South Dakota—1974  
Trixie Gowan is the fourth generation of living Gowan women residing in the sprawling farmhouse on the outskirts of De Smet. But when her great-grandmother Mariah's declining health brings Trixie home for a visit, two things might just keep her there: the bedside manner of Dr. Campbell Carter and the family secret that seems to be spilling from GG's lips one conversation at a time. 
Teeny Tiny Dot and Her Great Dane Dog Named Spot
Paul Bullock
Teeny Tiny Dot goes on a grand adventure with her Great Dane dog named Spot. Paul Bullock's poetry will inspire young readers while the whimsical illustrations of Nina Broen will captivate their imaginations.
Gabino Iglesias
In this bracing crime odyssey across Texas, the border, and back, a father journeys into the criminal underworld for venerable reasons, but soon begins to lose sight of what he set out to do and himself.
Charles Breakfield & Rox Burkey
A romantic vacation turns into a hunt for a cyber-attacker threatening people – to back off. Evangelizing gossips inadvertently expose more than illegal gunfire becoming targets. The truth is deeper than a ruined podcast.
They pull up to the picturesque building only to discover a crowd of citizens anxiously awaiting a special podcast, created by a group of local women, to start. Flower B&B is the sponsor of today's show in this multi-day series. The couple works through the human log jam. As they check in, they learn that a cyber-attack may prevent the show from airing.
Trouble in Tumbleweed Mystery Series 
Diane Kelly, Melissa Bourbon, Christie Craig, & Lawrence Kelter
Four authors. Four stories. One Town. And a whole lot of trouble … The small town of Tumbleweed might sit in the remote desert of west Texas, but trouble still seems to find it. Someone's always trying to kill someone else for one darn reason or another, and things get as tangled and twisted as a tumbleweed. The Trouble in Tumbleweed series is an entertaining and interrelated collection of mystery novellas from some of the genre's most popular and bestselling authors.
BUT WAIT, THERE'S MORE!
There are so many Texas-connected books publishing this month that we couldn't feature all of them. The following books also publish in August:
CHILDREN AND YOUNG READERS
A Taste of Magic by J. Elle
Empty Smiles by Katherine Arden
Gemstone Dragons 1: Opal's Time To Shine by Samantha Clark
Gemstone Dragons 2: Ruby's Fiery Mishap by Samantha Clark
¡Hola, Lola! Series (books 1-4) by Keka Novales 
Mr. Thatcher's House by Kristin Wauson
Palomita's Cravings/Los Antojitos de Palomita by Vanessa Salinas-Diaz 
Saltwater and Driftwood by Anna Walner
Texas Baby! by Feather Flores
This Is Why They Hate Us by Aaron H. Aceves
To Change a Planet by Christine Soontornvat
ESSAY, SHORT STORY, AND POETRY
Flare Stacks in Full Bloom: Poems by Katherine Hoerth
Our Sister Who Will Not Die: Stories by Rebecca Bernard
Taste: A Book of Small Bites by Jehanne Debro
NONFICTION
An Encounter with the Healer by Ken Chinn
Animals in the American Classics : How Natural History Inspired Great Fiction by John Gruesser
Battle for the Heart of Texas by Mark Owens, Ken Wink And Kenneth Bryant
Bitter Heat by Roger Phelps
Deer Creek Drive: A Reckoning of Memory and Murder in the Mississippi Delta by Beverly Lowry
Dugouts and Diamonds: Heartaches and Triumphs With the Texas Rangers by Jim Reeves
Flip Flops and Fortunes by Brady Johns
Fruit Punch by Kendra Allen
Lethal Tides by Catherine Musemeche
Memories of Two Generations by Alexander Z. Gurwitz
Phyllis Frye and the Fight for Transgender Rights by Michael G. Long, Shea Tuttle
Preaching and Teaching, Collected Writings of Paul G. Wassenich  
Remember the Alamo Bowl by Jim Reeves
Stories, Dice, and Rocks that Think by Byron Reese
We've Got To Try by Beto O'Rourke
MYSTERY AND THRILLER
A Wordless Death by Tam May
Die Around Sundown by Mark Pryor
Heat 2 by Meg Gardiner & Michael Mann
Just Cause by Jinx Schwartz
The Last Housewife by Ashley Winstead
Overkill by Sandra Brown
Swamp Spirits by Jana DeLeon
Traitor's Dance by Jeff Abbott
Vision of Murder by Bruce Hammack
ROMANCE
A Charming Christmas Arrangement by Heatherly Bell
A Path to Forgiveness by Carrie Lighte & Vannetta Chapman
Alpha and Omega by Anna Walner
Barefoot, Pregnant & A Small-Town Girl by Madison McCall
Colton's Baby Motive by Lara Lacombe
The Cowgirl's Redemption by Mindy Oberhaus
Cut to the Chase by Amy Kathryn Jones
Eloise and the Grump Next Door by Emma St. Clair and Jenny Proctor
Escape Route by Tanya Stowe
Gentry: Texas Hill Country Mail Order Brides by Caroline Clemmons
Home is Where You Are by Natalie Cline Bright and Denise F. McAllister
The Hookup Plan by Farrah Rochon
Kiss Me Now Cowboy by Dylann Crush
Secret Lives After Hours by Cynthia St. Aubin
Storm of Secrets by Jo Grafford
Strawberry Sundae Afternoon by L.M. Gonzalez
Tracking A Killer by Elizabeth Goddard
Two for the Texan by Sasha Summers & Trish Milburn
Vacation Crush by Yahrah St. John
OTHER FICTION 
The Beach Escape by Rachel Magee
Eternals of Shalistar: The Scourge of Baelor by Stephen Early
The Fisherman and the Dragon by Kirk Wallace Johnson
The Last Karankawas by Kimberly Garza
My Thirty-First Year by Emily Wolf
Perish by LaToya Watkins
Ruby Fever by Ilona Andrews
With Neighbors Like This by Tracy Goodwin
Watch for our September 2022 Texas Books Preview on 9/3/2022. Want to make sure your forthcoming Texas-connected titles are included in our feature? Email us at Publicity@LoneStarLiterary.com with the details!