With time on our hands, Lone Star Lit's monthly Texas books preview is a public service announcement.
March is going out like a lion, and we're hoping for April showers, minus the Texas tornadoes. Meanwhile, with time on our hands, the monthly Texas books preview is a public service announcement. April is National Poetry Month and we've got your Texas poets, plus new novels from perennial favorites Paulette Jiles and Lisa Wingate, as well as a new novel about a coronavirus pandemic from Lawrence Wright, who is obviously a witch. In these uncertain times, we can be certain of Lone Star Lit to help us through. ¡Salud!
Fierce, Free, and Full of Fire: The Guide to Being Glorious You
Jen Hatmaker
Stuck in people-pleasing or fear, many women hide and pretend, then end up sidelined in their own lives. But what they want is to be brave, to claim every gift, dream, quirk, and emotion inside, to stop performing and start living. With wry humor, earnest passion, and been-there insight, Jen calls women to the life-giving freedom of leaning into the identity, convictions, and community they've been given.
Beloved New York Times bestselling author Jen Hatmaker understands the struggle to find firm footing in a culture that operates from stereotypes and often unreachable expectations. In this new book, she offers women encouragement, challenge, and humor as she helps them identify everything that makes them tick and gain the confidence to live it all out. She leads them through five self-reflective categories-who I am, what I need, what I want, what I believe, and how I connect-and helps them: identify the exact ways they pretend, and learn instead how to be genuine at all times, in all ways, in all contexts; be empowered to say yes and no without guilt; learn to voice both their spiritual questions and convictions; and opt out of drama and into healthy adult relationships.
Natalie Carnes
What if Augustine's Confessions had been written not by a man, but by a mother? How might her tales of desire, temptation, and transformation differ from his? In this memoir, Natalie Carnes describes giving birth to a daughter and beginning a story of conversion strikingly unlike Augustine's—even as his journey becomes a surprising companion to her own.
The challenges Carnes recounts will be familiar to many parents. She wonders what and how much she should ask her daughter to suffer in resisting racism, patriarchy, and injustice. She wrestles with an impulse to compel her child to flourish and reflects on what this desire reveals about human freedom. She negotiates the conflicting demands of a religiously divided home, a working motherhood, and a variety of social expectations, and traces the hopes and anxieties such negotiations expose. The demands of motherhood continually open for her new modes of reflection about deep Christian commitments and age-old human questions. Addressing first her child and then her God, Carnes narrates how a child she once held within her body grows increasingly separate, provoking painful but generative change. Having given birth, she finds that she herself is reborn.
Eliza Maxwell  
Filmmaker Tessa Shepherd helped free a man she believed was wrongly imprisoned for murder. When he kills again, Tessa's life is upended. She's reeling with guilt, her reputation destroyed. Worse, Tessa's mother has unexpectedly passed away, and her sister, Margot, turns on her after tensions from their past escalate. Hounded by a bullying press, Tessa needs an escape. That's when she learns of a strange inheritance bequeathed by her mother: a derelict and isolated estate known as Fallbrook. It seems like the perfect refuge.
A crumbling monument to a gruesome history, the mansion has been abandoned by all but two elderly sisters retained as caretakers. They are also guardians of all its mysteries. As the house starts revealing its dark secrets, Tessa must face her fears and right the wrongs of her past to save herself and her relationship with Margot. But nothing and no one at Fallbrook are what they seem.
For Spacious Skies: Katharine Lee Bates and the Inspiration for "America the Beautiful" (She Made History)
Nancy Churnin (Author), Olga Baumert (Illustrator)
Katharine Lee Bates first wrote the lines to "America the Beautiful" after a stirring visit to Pikes Peak in 1893. But the story behind the song begins with Katharine herself, who pushed beyond conventional expectations of women to become an acclaimed writer, scholar, suffragist, and reformer. Katharine believed in the power of words to make a difference, and in America the Beautiful, her vision of the nation as a great family, united from sea to shining sea, continues to uplift and inspire us all.
Violence/Joy/Chaos: Essays & Poems
Jane Marshall Fleming
This debut full-length hybrid collection of essays and poetry explores the moments of joy and chaotic hilarity that mingle with the experiences of trauma and trauma recovery.
Jane Marshall Fleming writes with boldness and shows the beauty in every moment amidst violent chaos, embracing joy just as much as darkness. Moving from a backdrop of a small Virginia town and eventually finding herself in the freedom and wilderness of the desert, readers will follow the author on her journey mapping her skin, sharing in her joys, grief, pain, loss, discovering love and self-growth, night-blooming like a desert flower.
The Book of Lost Friends: A Novel
Lisa Wingate
Louisiana, 1875: In the tumultuous era of Reconstruction, three young women set off as unwilling companions on a perilous quest: Hannie, a freed slave; Lavinia, the pampered heir to a now destitute plantation; and Juneau Jane, Lavinia's Creole half-sister. Each carries private wounds and powerful secrets as they head for Texas, following roads rife with vigilantes and soldiers still fighting a war lost a decade before. For Lavinia and Juneau Jane, the journey is one of stolen inheritance and financial desperation, but for Hannie, torn from her mother and siblings before slavery's end, the pilgrimage west reignites an agonizing question: Could her long-lost family still be out there? Beyond the swamps lie the limitless frontiers of Texas and, improbably, hope.
Louisiana, 1987: For first-year teacher Benedetta Silva, a subsidized job at a poor rural school seems like the ticket to canceling her hefty student debt—until she lands in a tiny, out-of-step Mississippi River town. Augustine, Louisiana, is suspicious of new ideas and new people, and Benny can scarcely comprehend the lives of her poverty-stricken students. But amid the gnarled live oaks and run-down plantation homes lie the century-old history of three young women, a long-ago journey, and a hidden book that could change everything.
P. J. Hoover
Homer is about to fail out of school unless he can come up with a story. An epic story. Oh, and it needs to be written in Dactylic Hexameter. No big deal … except Homer has no idea what that is. But the Greek god Hermes has a story that needs a storyteller, and with a trick of immortal magic, he sends Homer and his best friend Dory back ten years to the end of the Trojan War. They meet up with the Greek hero Odysseus along with an entire crew of smelly sailors and set off on a journey filled with scary monsters, angry gods, and a very hungry cyclops. Can Homer get the story in time? Or will one wrong move leave Homer and Dory trapped in the past forever?
Paulette Jiles 
In March 1865, the long and bitter War between the States is winding down. Till now, twenty-three-year-old Simon Boudlin has evaded military duty thanks to his slight stature, youthful appearance, and utter lack of compunction about bending the truth. But following a barroom brawl in Victoria, Texas, Simon finds himself conscripted, however belatedly, into the Confederate Army. Luckily his talent with a fiddle gets him a comparatively easy position in a regimental band.
Weeks later, on the eve of the Confederate surrender, Simon and his bandmates are called to play for officers and their families from both sides of the conflict. There the quick-thinking, audacious fiddler can't help but notice the lovely Doris Mary Dillon, an indentured girl from Ireland, who is governess to a Union colonel's daughter. After the surrender, Simon and Doris go their separate ways. He will travel around Texas seeking fame and fortune as a musician. She must accompany the colonel's family to finish her three years of service. But Simon cannot forget the fair Irish maiden, and vows that someday he will find her again.
Jennifer Li Shotz
(HMH and Alloy are making a donation to ASPCA on behalf of each book in the series.)
From the #1 New York Times best-selling author of Max comes a heartwarming, middle-grade adventure story about a rescue dog, Brave, who befriends a troubled boy in the heart of Texas.
Brave is a dog without a home. After surviving a hurricane in San Antonio, Texas, stray dog Brave is hungry and afraid. When twelve-year-old Dylan finds Brave, he's feeling lost himself. Dylan can't help but think they were brought together for a reason. But Dylan knows it'll take hard work and training in order to convince his parents that he can keep this skittish pup. As Dylan and Brave's friendship grows, they learn to rescue each other in more ways than one. Can Dylan give Brave a forever home?
Lawrence Wright
At an internment camp in Indonesia, forty-seven people are pronounced dead with acute hemorrhagic fever. When Henry Parsons—microbiologist, epidemiologist—travels there on behalf of the World Health Organization to investigate, what he finds will soon have staggering repercussions across the globe: an infected man is on his way to join the millions of worshippers in the annual Hajj to Mecca.
Now, Henry joins forces with a Saudi prince and doctor in an attempt to quarantine the entire host of pilgrims in the holy city. A Russian émigré, a woman who has risen to deputy director of US Homeland Security, scrambles to mount a response to what may be an act of biowarfare. Already-fraying global relations begin to snap, one by one, in the face of a pandemic. Henry's wife, Jill, and their children face diminishing odds of survival in Atlanta. And the disease slashes across the United States, dismantling institutions—scientific, religious, governmental—and decimating the population. As packed with suspense as it is with the fascinating history of viral diseases, Lawrence Wright has given us a full-tilt, electrifying, one-of-a-kind thriller.
Everything Beautiful in Its Time: Seasons of Love and Loss
Jenna Bush Hager
To the world, George and Barbara Bush were America's powerful president and influential first lady. To Jenna Bush Hager, they were her beloved Gampy and Ganny, who taught her about respect, humility, kindness, and living a life of passion and meaning—timeless lessons that continue to guide her. In Midland, Texas, Jenna's maternal grandparents, Harold and Jenna Welch—Pa and Grammee—a home builder and homemaker, lived a quieter life outside the national spotlight. Yet their influence was no less indelible to their granddaughter. Throughout Jenna's childhood and adolescence, the Welches taught her the name of every star in the sky, the way a dove uses her voice—teaching her to appreciate the beauty in the smallest things.
Now the mother of three young children, Jenna pays homage to her grandparents in this collection of heartwarming, intimate personal essays. Filled with love, laughter, and unforgettable stories, Everything Beautiful in Its Time captures the joyous and bittersweet nature of life itself. Jenna reflects on the single year in which she and her family lost Barbara and George H. W. Bush, and Jenna Welch. With the light, self-deprecating charm of the bestselling Sisters First—cowritten with her twin sister, Barbara—Jenna reveals how they navigated this difficult period with grace, faith, and nostalgic humor, uplifted by their grandparents' sage advice and incomparable spirits.
Kate Pentecost
Elysium, Oklahoma, is a town like any other. Respectable. God-fearing. Praying for an end to the Dust Bowl. Until the day the Dust Soldiers arrive -- until the people of Elysium learn it's all a lie. You see, there isn't only one god. There are two sisters: Life and Death. And the Sisters like to gamble against each other with things like time and space and human lives. Elysium is to become the playboard in a ruthless game between the goddesses. The Dust Soldiers will return in ten years' time, and if the people of Elysium have not proved themselves worthy, all will be slain.
Nearly ten years later, seventeen-year-old Sal Wilkinson is called upon to lead Elysium as it prepares for the end of the game. But then an outsider named Asa arrives at Elysium's gates with nothing more than a sharp smile and a bag of magic tricks, the frightened townspeople flock to this side. Sal tries to prove herself the best witch to lead Elysium, only to trigger a terrible accident that gets both her and Asa exiled into the brutal Desert of Dust and Steel. There Sal and Asa stumble upon a gang of girls headed by another exile -- a young witch everyone in Elysium believes to be dead. As the apocalypse looms, seven girls and one demon will use their gifts to create a cavalry of magic-powered scrap metal horses to ride to Elysium's aid. But they must do more than simply tip the scales in Elysium's favor -- only by reinventing the rules can they beat Life and Death at their own game.
Weird: The Power of Being an Outsider in an Insider World
Olga Khazan
Most of us have at some point in our lives felt like an outsider, sometimes considering ourselves "too weird" to fit in. Growing up as a Russian immigrant in West Texas, Olga Khazan always felt there was something different about her. This feeling has permeated her life, and as she embarked on a science writing career, she realized there were psychological connections between this feeling of being an outsider and both her struggles and successes later in life. She decided to reach out to other people who were unique in their environments to see if they had experienced similar feelings of alienation, and if so, to learn how they overcame them. Weird is based on in-person interviews with many of these individuals, such as a woman who is professionally surrounded by men, a liberal in a conservative area, and a Muslim in a predominantly Christian town. In addition, it provides actionable insights based on interviews with dozens of experts and a review of hundreds of scientific studies.
Weird explores why it is that we crave conformity, how that affects people who are different, and what they can do about it. First, the book dives into the history of social norms and why some people hew to them more strictly than others. Next, Khazan explores the causes behind-and the consequences of-social rejection. She then reveals the hidden upsides to being "weird," as well as the strategies that people who are different might use in order to achieve success in a society that values normalcy. Finally, the book follows the trajectories of unique individuals who either decided to be among others just like them; to stay weird; or to dwell somewhere in between.
Sharron Ann Sibley
Deserted by her husband. Divorced twice. Widowed twice. Declared bankruptcy. Single mother of two young boys. No college education, savings, or job. Sound like the recipe for financial success and a rewarding career?
Men, Money & Gypsy Blood is a coming-of-age story expressed as only a West Texas girl can tell it. A 1960s teen, Sharron Ann Sibley expected to be a perfect wife with a loving husband who would support her financially. Her dream came crashing down when she was only twenty-seven. She survived by working demeaning jobs and putting up with sexual harassment. Her ability to see beyond the present led her to prosper despite life's adversities and broken dreams. She thrived, becoming one of the first women in Texas to own her own stock brokerage firm. This is a true story of what determination and gypsy blood can do.
Margaret Brown Kilik (Author), Jenny Davidson (Introduction), Char Miller (Afterword), Laura Hernández-Ehrisman (Foreword)
Written in the 1950s and discovered by family members years after her death, Margaret Brown Kilik's shocking coming-of-age novel of the emotional and sexual brutality of young women's lives in wartime San Antonio deserves a place on the shelf alongside classic novels like Sylvia Plath's The Bell Jar and Carson McCullers's The Member of the Wedding.
The Duchess of Angus reworks Kilik's unusual personal history (her mother spent the 1930's running flophouse hotels all over the United States, leaving Margaret to be brought up by a host of relatives) into a riveting portrait of a young woman navigating a conflicted and rapidly changing world, one in which sex promises both freedom from convention and violent subjection to men's will. Strikingly modern in its depiction of protagonist Jane Davis and her gorgeous, unreadable friend Wade Howell, The Duchess of Angus covers some of the same emotional territory as novels like Emma Cline's The Girls and Robyn Wasserman's Girls on Fire.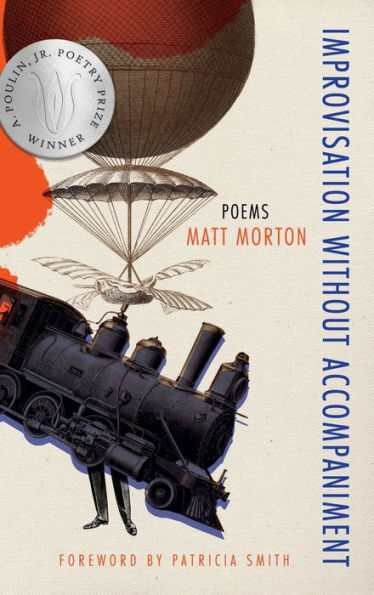 Improvisation Without Accompaniment
Matt Morton, Patricia Smith (Foreword by)
Selected by Patricia Smith as winner of the 2018 A. Poulin, Jr. Poetry Prize, Matt Morton's debut poetry collection Improvisation Without Accompaniment embraces uncertainty with a spirit of joyous playfulness.
These lyric poems follow the rhythms of life for a young man growing up in a small Texas town. As the speaker wrestles with ruptures within the nuclear family and the loss of his religious beliefs, he journeys toward a deeper self-awareness and discovers a fuller palette of experiences. Over the course of this collection, the changing seasons of small-town Texas life give way to surprise encounters in distant cities. The speaker's awareness of mortality grows even as he improvises an affirming response to life's toughest questions.
American Tacos: A History and Guide
José R. Ralat
Tacos may have been created south of the border, but Americans have made this Mexican food their own, with each style reflective of a time and a place. American Tacos explores them all, taking us on a detailed and delicious journey through the evolution of this dish.
In search of every taco variety from California to Texas and beyond, Ralat, the world's first taco editor, traveled from coast to coast and border to border, visiting thirty-eight cities across the country. He examines the pervasive crunchy taco and the new Alta California tacos from chefs Wes Avila, Christine Rivera, and Carlos Salgado. He tastes famous Tex-Mex tacos like the puffy taco and breakfast taco, then tracks down the fry bread taco and the kosher taco. And he searches for the regional hybrid tacos of the American South and the modern, chef-driven tacos of restaurants everywhere. Throughout, he tells the story of how each style of taco came to be, creating a rich look at the diverse taco landscape north of the border. Featuring interviews with taqueros and details on taco paraphernalia and the trappings of taco culture, American Tacos is a book no taco fan will want to take a bite without.
Ralph Compton: Reunion in Hell
Carlton Stowers
Brothers Ike and Cal Breckenridge, sons of a hardscrabble East Texas farmer, hadn't seen eye to eye in years. Ike, the elder, returned home soon after the Civil War to help his father run the family farm; Cal deserted his military post to join forces with bloodthirsty outlaw Frank Miller. Everyone knew who was the good son and who was the bad. 
Ike had almost forgotten his wayward brother until the morning he stood on the porch and saw a limping horse slowly making its way toward the house. Slumped in the saddle was young Cal Breckenridge, shot in the back. It was then that Ike finally realized blood runs thicker than water, and he vowed to avenge Cal's death.
The Chisholm Trail Bride (Daughters of the Mayflower)
Kathleen Y'Barbo
Eliza Gentry's pursuit of marriage to the son of her family's sworn enemy has cost her greatly. Furious at his daughter's choices, her father sends her off with the cattle drive heading toward Fort Worth and the Barnhart ranch, but under the watchful eye of Wyatt Creed, a Pinkerton man he has hired to see to her safety. With danger at every turn—not the least of which to his heart—can Wyatt Creed keep his focus with Eliza Gentry around? Is the Chisholm Trail a place for falling in love or a place to die at the hands of cattle thieves?
Join the adventure as the Daughters of the Mayflower series continues with The Chisholm Trail Bride by Kathleen Y'Barbo.
Lee Goldberg
Author Ian Ludlow writes great adventures … but after helping Chinese movie star Wang Mei defect to the United States, he becomes the accidental hero of a real-life espionage thriller. Now he's stuck with the actress—and suffering a nasty case of writer's block—when he stumbles into a secret Russian plot using "fake news" to outrage Americans into believing a terrifying lie.
It's up to Ian and Margo French, his researcher-turned-spy, to discover the connection between a barbaric drug lord in Mexico, a homicidal maniac in California, a rogue citizen army in Texas, a raging TV pundit in New York, and two dead tourists in Portugal … before the president of the United States makes a catastrophic mistake that could resurrect the Soviet Union.
The Women with Silver Wings: The Inspiring True Story of the Women Airforce Service Pilots of World War II 
Katherine Sharp Landdeck
When Japanese planes executed a sneak attack on Pearl Harbor in December 1941, Cornelia Fort was already in the air. At twenty-two, Cornelia had escaped Nashville's debutante scene for a fresh start as a flight instructor in Hawaii. She and her student were in the middle of their lesson when the bombs began to fall, and they barely made it back to ground that morning. Still, when the US Army Air Forces put out a call for women pilots to aid the war effort, Cornelia was one of the first to respond. She became one of just over 1,100 women from across the nation to make it through the Army's rigorous selection process and earn her silver wings.
In The Women with Silver Wings, historian Katherine Sharp Landdeck introduces us to these young women as they meet even-tempered, methodical Nancy Love and demanding visionary Jacqueline Cochran, the trailblazing pilots who first envisioned sending American women into the air, and whose rivalry would define the Women Airforce Service Pilots. For women like Cornelia, it was a chance to serve their country—and to prove that women aviators were just as skilled and able as men.
Diane Durant (Photographs by), Dr. Sheree Gallagher (Contributor), Andi McGurren (Contributor)
Putting a new spin on old histories as my ten year old daughter stands in for a youthful me—the one I remember and the one I was never quite allowed to be—Stories, 1986–88 pairs deadpan portraits with short narrative texts to bring the past into the present as we relive and rewrite my childhood stories through a restorative approach to image-making and storytelling.
Peace Pirates: Conquering the Beliefs and Behaviors that Steal Your Treasure in Motherhood 
Ashley Willis
Why do moms find themselves settling for a depleted and frustrated existence when motherhood is truly one of the greatest gifts from God? Being a mom is one of the most important-yet-difficult roles a woman will ever fill. Deep in their hearts, many women believe they are failing their families, are emotionally anemic, and are utterly helpless to maintain their peace while raising kids. As a result, hearts and homes are constantly defeated by the "peace pirates" that are allowed to take away the security God paid for His children to have.
As a wife, mother of four boys, and blogger to hundreds of thousands of mothers, Ashley Willis experienced the stress of trying to be the best mom God wants her to be, while constantly fearing that she's missing out on the real treasure. With God's help, mothers can find the treasure in the midst of the struggle and remain faithful through all seasons of motherhood--especially the difficult ones--and claim their peace. peace pirates will teach readers how to stay "treasured up" by first helping them identify the four stressors, or, peace pirates, that challenge their zest and contentment. With powerful personal and biblical insights, peace pirates will encourage and equip moms to stay ahead of what steals their joy so they can fully experience the blessings of motherhood.
Both Sides: Stories from the Border 
Gabino Iglesias (Edited by)
In a landmark anthology, acclaimed author Gabino Iglesias presents fifteen stories from an incredibly talented and diverse roster of authors that look at one of the most controversial issues of our time: The Border. Borders of all kinds, including the ones you have not heard about in the news. Thought-provoking, shocking, violent, raw, emotional, and unforgettable, Both Sides will make you rethink everything you thought you knew about borders, both domestic and international.
La frontera is full of stories. Real stories, not the ones you see in the news. The border is a powerful place where countries collide. It's a weird space of dreams, struggles, promises, lies, fear, and redemption. It's a multicultural and bilingual space where people know that hustling to protect your loved ones or offer them a better life is a drive strong enough to blur ethical codes. Sadly, the border is also a place where drugs make people a lot of money, corruption stains everything, and violence fills the landscape with danger and ghosts. Now, some of today's most talented authors will visit this space from their perspective—showing the world what they see on both sides. Featuring stories by Isaac Kirkman, Shannon Kirk, Alex Segura, Rob Hart, Nicolás Obregón, J. Todd Scott, Christopher David Rosales, Daniel A. Olivas, Cynthia Pelayo, Johnny Shaw, Rios de la Luz, Sandra Jackson-Opoku, Michelle Garza and Melissa Lason, Nick Mamatas, and David Bowles
Tracy Anne Hart 
It may be difficult to say anything about Stevie Ray Vaughan that hasn't already been said. The skinny kid from Oak Cliff on the south side of Dallas, who followed his older brother Jimmie in and out of local blues clubs and eventually to Austin, would go on to establish himself as the finest guitar player of his generation and perhaps the best of all time. Vaughan was truly a conduit for the symphony of the universe. The music that flowed through him endeared him to hordes of fans and won him near-divine status among guitarists. Vaughan continues to inspire and enthrall even decades after his passing.
What others have attempted to portray in prose, photographer Tracy Anne Hart has expressed in imagery. From 1983 until just before his death in 1990, Hart captured Vaughan as he summoned magic with his passion, his technique, his intensity, and his love and respect for the music. The result is a deeply felt visual portrait of Stevie Ray Vaughan that tells us almost as much about the photographer behind the camera as it does about the musician in front. Through Hart's eyes and mind, readers will experience his genius in an entirely new way.
***
BUT WAIT, THERE'S MORE!
There are so many Texas books publishing in April that we couldn't feature all of them. The following books also publish in April:
Anthropology
The Grip of Sexual Violence in Conflict: Feminist Interventions in International Law by Karen Engle
A Delightful Little Book On Aging by Stephanie Raffelock
Art
Greetings from San Antonio: Historic Postcards of the Alamo City by Lewis F. Fisher 
Collecting Black Studies: The Art of Material Culture at the University of Texas at Austin by Lise Ragbir (Edited by), Cherise Smith (Edited by)
Romantic Automata: Exhibitions, Figures, Organisms by Michael Demson (Edited by), Christopher R. Clason (Edited by)
Ballroom Harry: Volume II by Harry Goaz (Photographer), Jason Reimer (Afterword), Bettina Gilois (Foreword)
Biography & Memoir
Love Behind Bars: The True Story of an American Prisoner's Wife by Jodie Sinclair, Sister Helen Prejean (Preface by)
Once a Girl, Always a Boy: A Family Memoir of a Transgender Journey by Jo Ivester 
Love, Life, and Lucille: Lessons Learned from a Centenarian by Judy Gaman
Children
The Homesick Club by Libby Martinez, Rebecca Gibbon (Illustrated by)
The Girl and the Cathedral: The Story of Notre Dame de Paris by Nicolas Jeter, Sara Ugolotti (Illustrated by)
I Am Ava, Seeker in the Snow by Catherine Stier, Francesca Rosa (Illustrated by)
I Am Jax, Protector of the Ranch by Catherine Stier, Francesca Rosa (Illustrated by)
You Can Be a Primatologist: Exploring Monkeys and Apes with Dr. Jill Pruetz by Jill Pruetz
Crazy for Birds by Misha Maynerick Blaise
Culture & Criticism
Love in the Drug War: Selling Sex and Finding Jesus on the Mexico-US Border by Sarah Luna 
Kwaito Bodies: Remastering Space and Subjectivity in Post-Apartheid South Africa by Xavier Livermon
Navigating Deep River: New Perspectives on Shusaku Endo's Final Novel by Mark W. Dennis (Edited by), Darren J. N. Middleton
In the Mean Time: Temporal Colonization and the Mexican American Literary Tradition by Erin Murrah-Mandril
Chalamania: 50 Reasons Your Internet Boyfriend Timothée Chalamet is Perfection by Billie Oliver
Essays
Essays on Adolf Loos by Christopher Long
Faith & Inspiration
Back-Pocket God: Religion and Spirituality in the Lives of Emerging Adults by Melinda Lundquist Denton, Richard Flory, Christian 
American Harvest: God, Country, and Farming in the Heartland by Marie Mutsuki Mockett
Fearless and Free: Inspirational Thoughts to Set Your Attitude and Actions for a Great Day! by Victoria Osteen
Planted with a Purpose: God Turns Pressure into Power by T. D. Jakes
Breathe Again: Inhaling God's Goodness, Exhaling His Blessings by Ed Newton
What God's Word Says about Bullying: The Bible Promise Book for Kids by Janice Thompson 
Making Money Holy: A Little Book of Guidance by Demi Prentiss 
The Seven-Fold Spirit of God: Accessing the Untapped Dimensions of the Holy Spirit by Keith Miller 
Fiction
The House of Deep Water by Jeni McFarland  
Above Us the Milky Way by Fowzia Karimi 
The Roxy Letters: A Novel by Mary Pauline Lowry  
The Big Finish by Brooke Fossey 
The Republic of Jack by Jeffrey Kerr
Food & Agriculture
A Good Meal Is Hard to Find: Storied Recipes from the Deep South (Southern Cookbook, Soul Food Cookbook) by Amy C. Evans, Martha Hall Foose
The Southern Keto Cookbook: 100 High-Fat, Low-Carb Recipes for Classic Comfort Food by Emilie Bailey  
Texas Q: 100 Recipes for the Very Best Barbecue from the Lone Star State, All Smoke-Cooked to Perfection by Cheryl Jamison
Fermented Landscapes: Lively Processes of Socio-environmental Transformation by Colleen C. Myles (Edited by)
Weight-Loss Hero: Transform Your Mind and Your Body with a Healthy Keto Lifestyle by Christine Carter 
Healthy Eats With Six Sisters Stuff: 101+ Delicious Recipes and Tips for a Healthy Family by Six Sisters Stuff
Health
Keeping the Home Fires Burning: A Woman's Guide to Giving and Receiving Pleasure by Ella Patterson  
History
San Antonio 365: On This Day in History by David Martin Davies, Yvette D. Benavides
Border Policing: A History of Enforcement and Evasion in North America by Holly M. Karibo (Editor), George T. Díaz (Editor)
Breakaway Americas: The Unmanifest Future of the Jacksonian United States by Thomas Richards, Jr.
Ellington Field by Mark Lardas
Undermining Racial Justice: How One University Embraced Inclusion and Inequality by Matthew Johnson
Middle Grade
Chasing Helicity Through the Storm (Chasing Helicity (3)) by Ginger Zee 
Mary Underwater by Shannon Doleski
Mystery & Suspense
Rain Will Come by Thomas Holgate
Live With the Truth: a Bartholomew Beck Novella by Ricky Treon
Duplicity (On the Run International Mysteries, #7) by Sara Rosett
Nature
Parking Lot Birding: A Fun Guide to Discovering Birds in Texas (Volume 60) (W. L. Moody Jr. Natural History Series) by Jennifer L. Bristol (Author), Richard Louv (Foreword)
Poetry
Year of the Dog (American Poets Continuum) by Deborah Paredez
Permutations of a Self: Poems by Thomas V. Nguyen
Politics & Government
Socrates Founding Political Philosophy in Xenophon's "Economist", "Symposium", and "Apology" by Thomas L. Pangle
Fortitude: American Resilience in the Era of Outrage by Dan Crenshaw
Reference
Farnsworth's Classical English Style by Ward Farnsworth
Romance
Felice by Kathleen Bittner Roth
The Virgin and the Rogue: The Rogue Files by Sophie Jordan
A Beautiful Arrangement (An Amish Journey Novel) by Beth Wiseman  
True Crime
Assassinations: The Plots, Politics, and Powers behind History-Changing Murders by Nick Redfern
Western
Massacre at Whip Station (The O'Malleys of Texas) by Dusty Richards  
Ralph Compton: Tin Star by Jackson Lowry
Young Adult
Palace of Silver: A Nissera Novel by Hannah West
Crave by Tracy Wolff
Look for our May Texas Books Preview on May 3!