"The well-paced action features the usual men at play with fists and guns, but Burke also offers three strong women with pivotal roles, one of whom could be a match for any of the tough guys. Burke [has a] sure hand for crisp dialogue and a compelling story." —Kirkus
"Two-time Edgar winner Burke sets Texas Ranger Hackberry Holland the task of protecting a precious artifact (is it the Holy Grail?) from a string of villains, including an Austrian arms dealer who sets his sights on Holland's son Ishmael, who serves in the US Army; Burke does not disappoint." —Boston Globe
"Readers of best-selling Burke's novels about the Holland family (Wayfaring Stranger) will gravitate to this prequel featuring the well-known and notoriously cantankerous Hackberry Holland. The large cast features complex and compelling characters, and the action deftly builds to a roaring boil." —Library Journal
"Stunning . . . . Crisp dialogue highlights this tale of redemption and the bonds of family, and the breathtaking conclusion is one that readers won't soon forget." —Publishers Weekly (starred)
"Burke wins us over yet again with another fusillade of lyrical, deeply moving prose that makes us feel the beating hearts of all his characters, demon-wracked though they may be." —Booklist (starred)
"James Lee Burke's finest literary work to date, cementing his reputation as one of America's all-time masters." —New York Journal of Books
12.13.2015 
James Lee Burke: On taking up residence with Homer — and in "the other America"
James Lee Burke may be best known for his mystery novels featuring Dave Robicheaux, a sheriff's deputy in New Iberia, Louisiana. But Burke was born in Houston and has deep roots in Texas. In recent years, more of his books have featured Texas characters and settings. His latest, House of the Rising Sun, is a prequel to the Hackberry Holland series. While Burke's previous Hackberry Holland stories concern a Navy corpsman in Korea who later went into politics and became a sheriff on the border, this Hackberry is Holland's grandfather, a lawman from the 1880s to the close of the nineteenth century.
On the eve of his 79th birthday Burke took time from his busy schedule with his latest book tour for Lone Star Lit to interview him via email.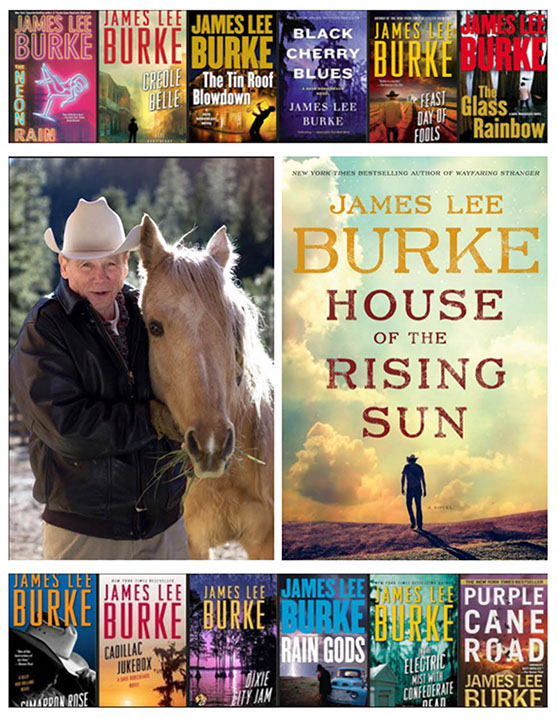 LONE STAR LITERARY LIFE: Jim, you were born in Texas in 1936. So you lived through the Great Depression and World War II, and essentially came of age in Houston. How would you describe growing up in Texas in the 1940s and '50s?
JAMES LEE BURKE: I grew up more or less along the Louisiana-Texas coast, and think of my childhood more in terms of an era than a particular place. For good or bad, my generation was a transitional one and will probably be the last to remember what we call traditional America. For a historian, the Gulf Coast was the area most emblematic of America's new role as a neo-colonial power.
You migrated to Louisiana and college, and one professor found you to be a diamond in the rough with your writing. Would you describe that chapter in your life for us?
I've been around Louisiana most of my life and attended Southwestern Louisiana Institute. I was very poorly prepared for college, but my freshman English professor, Mrs. Lyle Williams, helped me each Saturday morning with my weekly essay until I worked my way up to a B in her class. I made the honor roll my first semester at SLI and later graduated with honors from the University of Missouri. I owe this to Mrs. Williams. She was a fine lady and changed my life.
Before you mastered the bestseller, you had lived a variety of lives — a landman for Sinclair Oil Company, a truck driver for the U.S. Forest Service, a teacher in the Job Corps, a reporter for the Daily Advertiser, a social worker in Los Angeles's skid row, and professor at four universities and a community college. How did these jack-of-all-trades experiences inform your writing?
My wife and I worked at many jobs, from California to Florida, and learned a great deal about what Michael Harrington called the other America. History does not concentrate on the people at the bottom of the pile. I learned it was they who tell us who we are, not the generals and kings and the presidents who often turn out to be stage actors not much different than the rest of us.
In school I never heard a teacher mention the name of Joe Hill or the Wobblies or Woody Guthrie or even Jack London. I was fortunate to meet people in the oil field and on the pipeline who were among the most brave and stoic I ever knew. They never complained of the hard work and primitive conditions and low pay and the dangerous nature of the work we did. Most of them had no education and little hope of a better life, and yet they fought the wars and were Legionnaires in their way without ever claiming credit for anything. I was awed by them.
What was the hardest part of being a social worker on Los Angeles's skid row? How did that affect your writing?
I was a caseworker with migrant farm workers, the homeless, the criminally insane, parolees, and former felons. I was also a caseworker with people who were simply very poor. I learned a great deal about the arbitrary nature of both criminal and social justice. I discovered that slum property in Los Angeles is often owned by people with addresses in the Wilshire District or Beverly Hills. It was routine in our neighborhood to see black people arrested for drinking a beer in front of a convenience store or flipping coins on a street corner. A slum is not simply a place of impoverishment; it is also a place on enrichment. The hookers operated in full view on every street in our neighborhood. The gangs were the Gladiators, the Viscounts, the Purple Hearts, the Spiders, Clanton 14, and the Choppers. The issue was turf and drugs. Liquor stores and pawnshops did a booming business. This isn't an indictment. It's just the way things are.
South and East L.A. were as Darwinian and dangerous as it gets; after the Birmingham bombings the south side was a place you could easily get torn apart. I don't think there has been a good ending to this story, either.
You published your first book, Half of Paradise, in 1965, followed by two more — To the Bright and Shining Sun (1970) and Lay Down My Sword and Shield (1971). The first two books sold well and established you as a writer, but the third book didn't fare as well. Throughout the early years of your career, publishing would alternatively embrace and then abandon you. How did you keep the faith in your talent? Did it send you back to the drawing board? How did you cope with these ups and downs?
During the middle of my career I went thirteen years with being able to publish a novel in hardback. It was a discouraging time, a bit like being rich twice and going broke three times. I had to go back to an old lesson: Write as best you can a day at a time; write to make the world a little better place if possible; never forget your talent was given to you for a reason; and never leave a manuscript unsubmitted for more than thirty-six hours.
By 1984, your books were out of print and you had not been able to attain a publishing deal for a hardcover book in thirteen years. Then you sent a collection of short stories to Louisiana State University Press to consider for publication. They published the stories the next year under the title The Convict. What was that experience like?
Louisiana State University Press resurrected my career and I will never be able to repay the debt I owe them. The Press was founded by Robert Penn Warren and Cleanth Brooks, and has retained their high standards over the decades. They're gentle and good and kind people who are a pleasure to work with, and every one of them has an accent that for a moment or two makes you wish the South had won the Civil War.
But even with the success of the LSU short story collection you still weren't "out of the woods." Your next manuscript gained the distinction of being the most rejected book in New York's publishing history at the time — rejected 111 times over a nine-year period. The Lost Get-Back Boogie (1986) was later nominated for the Pulitzer Prize. Was the Pulitzer nomination the turning point to secure your place in letters?
The publisher's nomination and the good reviews of The Lost Get-Back Boogie gave me the credentials I needed to submit once again in New York. My next novel was The Neon Rain. Three New York publishers bid on it. I almost fainted. My agent was (and is) Philip Spitzer. When we met through my cousin Andre Dubus, Senior, he was running a one-man agency during the day and driving a cab in Hell's Kitchen at night. When Philip had a bad day, he would jog on the northern rim of Central Park to bait the muggers out of the trees so he could he pound them into pulp. I said, this is the guy for me.
The City of New Iberia, Louisiana, has an entire section on its website devoted to you. Many of your fans make the pilgrimage to the city just to see Dave Robicheaux's descriptions. What does it feel like to have created such an affinity for the place that's home for you?
It's very kind and flattering.
As we turn to your writing, how have you developed such distinctive dialogue? Has it been influenced by the characters you've met in real life along the way? Is it a composite?
A good writer of dialog is a good listener. It's all around us. The great dramas are in the commonplace, not on the wide screen.
How has publishing changed since you started?
The family-owned houses have disappeared. Nonetheless, there are many great editors and publishers still around. I have been fortunate to work with some of the truly great ones. I've been with my current publisher almost twenty years. They have been extremely loyal to me and my work and my family. I learned many years ago that a book's success often depends on people who never receive thanks or credit for anything, and that includes publishers, copy and literary editors, cover artists, the production team, the local book reps, publicists, and finally the people in the bookstores and the librarians who carry a guy through hard times.
What advice would you give aspiring authors?
Don't ever quit. Don't write for money or fame, either. If you do, you'll never have any. Talent is a flame; it's meant to bring light into the world. Your art takes you inside eternity; you take up residence with Homer and the people who wrote the Bible and the Greek tragedies and the plays performed on the stage of the Globe Theater. In short, you become a player. You let the score take care of itself. By the top of the ninth the math on the score board usually looks pretty good.
What is your writing process like?
I work all the time, night, noon, and morning, with no days off. To borrow a phrase, it's like chopping cotton; you do it from cain't-see to cain't-see and then some.
How would you describe your latest novel, House of the Rising Sun?
House of the Rising Sun and Wayfaring Stranger are the best novels I've written. Nothing else I've done comes close to them. I feel blessed by both the world and the spiritual forces I believe are on the other side of the stars as well as in our midst. We live in a grand country. The sun comes up every morning. Every day can be an adventure. What greater playground could one have than the world of trees and sky and wind and roaring rivers, and all of it for free, right at the end of our fingertips?
* * * * *