Books about football. Could there be any other place besides Texas where stories about a game could almost create their own genre of literature?
When our readers hear about Texas football titles, their first response is to assume that we're discussing memoirs of notable Lone Star coaches and players. Or perhaps, works of nonfiction on how to play or coach the game.
But a surprising number of these books are novels in which football defines the culture of the characters. Some of these titles may not take place in Texas, but their authors are so synonymous with Texas football that we've included them.
Here are our top ten, and feel free to call an instant replay on us by email if you disagree.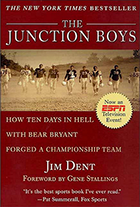 NUMBER 10.
Jim Dent, The Junction Boys: How Ten Days in Hell with Bear Bryant Forged a Championship Team
St. Martin's Press (2000), 978-0312267551
Jim Dent's 2001 classic tells the story of the "survivors" of Texas A&M Aggies football coach Paul "Bear" Bryant's ten-day summer camp in Junction, Texas, beginning September 1, 1954. The ordeal achieved legendary status and has become the subject of a book by Jim Dent and a television movie produced by ESPN.

NUMBER 9.
Peter Gent, North Dallas Forty
Sports Media Publishing Hall of Fame Edition series (2003) 9780973144338
Former Dallas Cowboy Peter Gent's look at the seedy underbelly of the pro game chronicles eight days in the life of Phil Elliott, an aging receiver for the Texas team. Running on a mixture of painkillers and cortisone as he tries to keep his fading legs strong, Elliott tries to squeeze every ounce of pleasure out of his last days of glory, living the life of sex, drugs, and football. Gent's book was adapted for screen in 1979.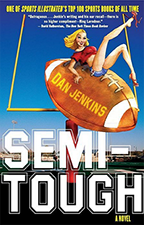 NUMBER 8.
Dan Jenkins, Semi-Tough
Da Capo Press (2006) 978-1560258599
Recently named number seven on Sports Illustrated's Top 100 Sports Books of All Time, Semi-Tough is Dan Jenkins's masterpiece and considered by many to be one of the funniest sports book ever written. The novel follows the outsized adventures of Billy Clyde Puckett, star halfback for the New York Giants, whose team has come to Los Angeles for an epic duel with the despised Jets in the Super Bowl. But Billy Clyde is faced with a dual challenge: he has also been commissioned by a New York book publisher to keep a journal of the events leading up to, including, and following the game.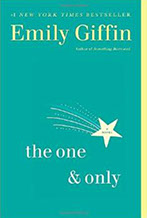 NUMBER 7.
Emily Giffin, The One and Only
Ballantine (2014) 978-1444799002
Emily Giffin's literary novel about the fortunes of (fictional) Walker University sports publicist Shea Rigsby combines a September/May romance, sports scandals, and personal drama in a story that creates an insider's feel into the world of college football. Giffin's depth of understanding of the history of the game and the execution of the sport upends all conventions about football books.

Jeff Wilson, Home Field: Texas High School Football Stadiums from Alice to Zephyr
University of Texas Press (2010) 978-0292721999
This coffee-table book has all of the drama and suspense of any of the novels. In Home Field, photographer Jeff Wilson has created a unique photo portrait of nearly eighty Texas high school football stadiums, ranging from the bright lights, artificial turf, and seating for thousands at Southlake Carroll to the lone set of bleachers under the wide open sky in Veribest. Accompanying the photographs are reminiscences about the fields from players, coaches, team physicians, athletic directors, sportswriters and announcers, school superintendents, principals and teachers, band directors, maintenance workers, booster club parents, students, and fans. Their stories—whether funny, nostalgic, or poignant—reveal just how important high school football is to Texans and how it creates an unforgettable sense of community and camaraderie.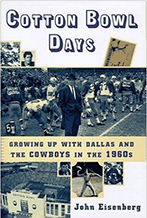 NUMBER 5.
John Eisenberg, Cotton Bowl Days: Growing Up with Dallas and the Cowboys in the 1960s
McGraw Hill Professional (2010) 978-0809223930
A look at a boy, a team, and a city, this portrait by Baltimore Sun sports columnist Eisenberg will strike a chord in those who grew up as sports-obsessed hero-worshipers. Raised in Dallas, Eisenberg dates his awareness of sports to 1960, when he was four and the Cowboys were playing their first dismal season, going 0-11-1. The team did not have a winning year until 1966, so, in a sense, the boy and the Cowboys grew up together, coming of age as local residents backed the team as a positive force in eradicating the image their city had acquired after the Kennedy assassination.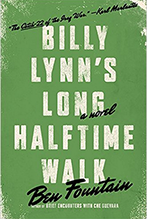 NUMBER 4.
Ben Fountain, Billy Lynn's Long Halftime Walk: A Novel
HarperCollins (2012) 9780060885618
This winner of the National Book Critics Circle Award for Fiction and a finalist for the National Book Award is a razor-sharp satire set in Texas during America's war in Iraq, exploring the gaping national disconnect between the war at home and the war abroad.
Ben Fountain's remarkable debut novel follows the surviving members of the heroic Bravo Squad through one exhausting stop in their media-intensive "Victory Tour" at Texas Stadium, football mecca of the Dallas Cowboys, their fans, promoters, and cheerleaders.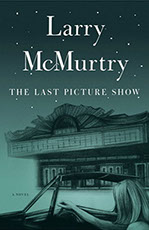 NUMBER 3.
Larry McMurtry, The Last Picture Show
Simon and Schuster; Thalia Trilogy Series (1999) 9780684853864
Although not a book about football per se, The Last Picture Show is the novel a generation of Texans grew up reading and  the movie that captured the impact of high school football Pulitzer Prize–winner McMurtry showed in the novel. Indeed, Friday Night Lights author Buzz Bissinger cites the book as one of his influences about writing about Texas football himself.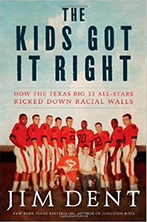 NUMBER 2.
Jim Dent, The Kids Got It Right: How the Texas All-Stars Kicked Down Racial Walls
St. Martin's, Reprint Edition (2014) 978-1250053954
One of the prouder moments in Texas gridiron lore was its first high school football integration effort winning the 1965 Big 33, a huge spectacular of an All-Star game in its time. Following a trouncing by a stellar Pennsylvania team the previous year, coach Bobby Layne met with then governor John Connally with a request for African Americans to be included on the team, noting that black players on the opposition had made the difference. Connally approved but demanded a win. Dent accurately provides the rigid Jim Crow backdrop of Texas against which the three black players were chosen--Jerry LeVias, James Harris, and George Dunford. The book focuses on the strong bond between LeVias and his white teammate, quarterback Bill Bradley, a partnership that dissipates the legacy of hate to triumph in the 1965 big game.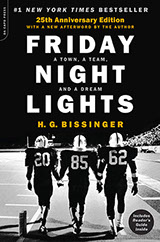 NUMBER 1.
H. G. Bissinger, Friday Night Lights: A Town, a Team and a Dream
Da Capo Press (1990) 9780306809903
The classic, best-selling story of life in the football-driven town of Odessa, Texas with Pulitzer Prize–winner Buzz Bissinger chronicling the season, the fortunes, and the fates of storied Permian High School's Mojo football team in the 1980s.
Are you ready for some
football (books)?
Lone Star Literary Life's Best Texas Football Books feature kicks off Sun., Aug. 9, 2015
Two-a-days, the Twelfth Man, and the Cotton Bowl are just some of the iconic touchstones of Texas culture and by extension Lone Star literature.
On Sun., Aug. 9, we're paying tribute to the best Texas football books by interviewing H. G. "Buzz" Bissinger, author of Friday Night Lights, as his publisher releases the 25th anniversary edition of the book.
Bissinger publisher announces Texas signings, events for 25th Anniversary Friday Night Lights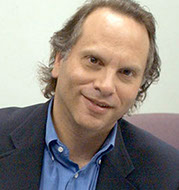 In conjunction with Da Capo Press's Aug. 11 publication of the 25th anniversary edition of  Friday Night Lights: A Town, a Team, and a Dream uathor H. G. "Buzz" Bissinger returns to Texas for a series of events. The publisher announced the following schedule this week:
Buzz Bissinger Book Events, Fall 2015
9/14/15, Hastings (Odessa, TX), 7 p.m.,

with support from the Odessa Council for the Arts     and Humanities

9/15/15, High School TBD (Midland, TX)

—morning or lunchtime solo talk

9/15/15, Midland County Public Library (Midland, TX)

, Centennial branch, 5:30-6:30 p.m.,     solo talk, B&N to sell

9/15/15, Yucca Theater (Midland, TX), 7:30 p.m.

—panel moderated by Jay Hendricks, CBS 7 anchor; ticketed event as fundraiser for Midland County Public Library Foundation
9/16/15, Brazos Bookstore (Houston, TX), 7 p.m.

9/18/15, Abilene Public Library (Abilene, TX), 12 p.m.,

Texas Star Trading Company to sell

9/19/15, Half Price Books (Dallas, TX), 2 p.m.

9/20/15, BookPeople (Austin, TX), 2 p.m.