Elizabeth McCracken is the author of five books: Here's Your Hat, What's Your Hurry (stories), the novels The Giant's House and Niagara Falls All Over Again, the memoir An Exact Replica of a Figment of My Imagination, and Thunderstruck & Other Stories. She's received grants and fellowships from the Guggenheim Foundation, the National Endowment for the Arts, the Liguria Study Center, the American Academy in Berlin, the Fine Arts Work Center in Provincetown, and the Radcliffe Institute for Advanced Study.
 She has taught creative writing at Western Michigan University, the University of Oregon, the University of Houston, and the University of Iowa Writers' Workshop.  She holds the James A. Michener Chair in Fiction at the University of Texas, Austin.
Author book signing photo (above right)  from the Story Prize website; photo of author at lectern (below) by Beowolf Sheehan



7.26.2015  Elizabeth McCracken: Thunderous praise for Thunderstruck & Other Stories
It's been a big year for the Michener Center's Elizabeth McCracken. In March she won the $20,000 Story prize, the largest first-prize amount of any annual U.S. book award exclusively for fiction, for her short-story collection Thunderstruck & Other Stories (Dial Press, 2014). Earlier this month the Writers' League of Texas selected this collection as its Best Fiction of 2014; it's also been longlisted for the National Book Award.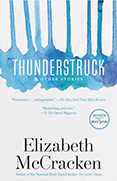 McCracken is a Boston native who came to Austin in January 2010 when she accepted a joint appointment in two writing programs at the University of Texas: the Michener Center for Writers and the New Writers Project. She was a National Book Award finalist for her first novel, The Giant's House. Her books have racked up other major recognitions: an American Library Association Notable Book of the Year for Here's Your Hat What's Your Hurry; the L. L. Winship/PEN New England Award for Niagara Falls All Over Again; and praise for her memoir, An Exact Replica of a Figment of My Imagination.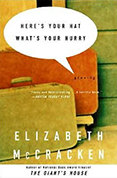 McCracken was on vacation in Massachusetts when LSLL caught up with her via email, but she graciously agreed to make time for our online interview while she was away.
Lone Star Literary Life: First of all, Welcome to Texas! You've been here about five years. What's surprised you about the state?
Elizabeth McCracken: I always say that Texas is the one place in the world where people are nice to you in stores, get your jokes. I'm from New England, where people are funny, but, well, crabby. Proudly crabby, I'd say. Nevertheless, my first months in Austin, I was surprised by how many great conversations I had with people—at the mechanic, at the Social Security Office, just anywhere.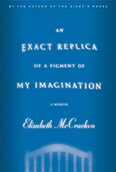 Who gave you your first big break as a writer? How did it happen? And what do you remember most about it?
This was back in the old days, when business was conducted over the phone and through the mail. I was in graduate school. My friend Max had recommended me to his agent, Henry Dunow, and had suggested I give Henry a couple of stories. Within a few days, I became Henry's client; and within (I think) three weeks he'd managed to sell my first book. I was unbelievably lucky. I still remember staring at my big black telephone, willing it to ring.
Congratulations on all of your success with Thunderstruck & Other Stories. It's your first short story collection in twenty years. Why did you return to short stories after such a long absence?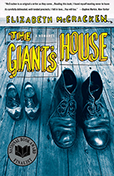 A few of the stories in the collection are older — I think the oldest is eighteen years old — pieces I wrote while I was working on novels. Well, the novels didn't pan out. Two years ago I had a semester's leave from UT, where I teach in the New Writers Project and the Michener Center for Writers, and I sat down and wrote a bunch of short stories to fill out a collection. I think part of it is teaching graduate students: most of them are writing short stories, so I have short stories on the brain. And honestly, I love reading short stories so much. Many of my favorite writers are short story writers.
How would you describe Thunderstruck for our readers?
Gloomy with a ton of jokes. Melancomedic, maybe.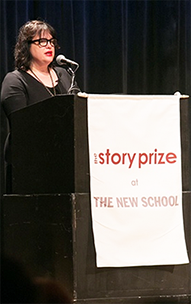 How has publishing changed since your first book?

A great deal, of course—my first book came out in 1993, more than twenty years ago. Certainly there are fewer first collections of short stories being published, which is a shame. Not all the changes are for the worse, though—the rise of the small press is enormously inspiring. Back then small presses published wonderful books that (by and large) looked pretty ugly — now they're glorious. And the most important thing: writing hasn't changed. It's still made up of the same materials: time, sedentary hours, hubris, patience, impatience, language.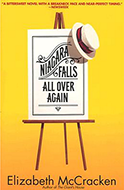 Last question: What's been your favorite place to visit in Texas — so far?
Of course Austin, where I live, is full of astonishments — that I can go swimming any time I like at Barton Springs floors me. I'm also a big fan of the Scottish Rite Theatre. I love the San Antonio Art Museum. But my favorite trip so far was to West Texas, following the route prescribed by Marla Akin, the Senior Program Coordinator at the Michener Center, Marfa to Fort Davis to Balmorhea. We stumbled across Julie Speed's studio in Marfa. It was a perfect trip.
* * * * *
Praise for Elizabeth McCracken's THUNDERSTRUCK & OTHER STORIES
"Restorative, unforgettable . . . a powerful testament to the scratchy humor and warm intelligence of McCracken's writing." —Sylvia Brownrigg,  New York Times Book Review (Editor's Choice)
"[A] bewitching and wise collection . . . playful, even joyful." —O: The Oprah Magazine
"Stunningly beautiful . . . brilliantly moving . . . Moments of joy and pure magic flicker and pitch-perfect humor acts as a furtive SOS signal through the fog of loss." —Los Angeles Times
"Each of Thunderstruck's nine stories is a storm: delightful and destructive, packed with electricity, fascinating to watch unfold." —Salon
"The stories here are brilliant, funny and heartbreaking. . . . Elizabeth McCracken is a national treasure." —Paul Harding, Wall Street Journal
"Pure delight: one lyrical, impeccably constructed sentence after another."
—Chicago Tribune
"Beautifully wrought . . . As painstaking as a watchmaker, McCracken disassembles life down to its smallest parts." —Boston Globe
"The psychological punches McCracken delivers, with her keen sense of irony and mordant humor, are unforgettable."
—Miami Herald