New York native James Hannaham earned the BA from Yale and the MFA from the Michener Center at the University of Texas at Austin. He now lives in Brooklyn, where he teaches creative writing at the Pratt Institute.
Hannaham, author of two novels, has worked as a journalist, critic, actor, comedian, and teacher. His first novel, God Says No (McSweeney's Books, 2009), which was honored by the American Library Association, deals with a young African American Christian man coming to terms with his same-sex attractions.
Hannaham's fiction has been published in One Story, Open City, the Literary Review, Nerve.com, and elsewhere. He has written criticism and profiles for the Village Voice, Spin, Vibe, Us, Out, Interview, and Salon.com, where he was a staff writer. He co-founded the performance group Elevator Repair Service in 1991 and participated in the group through 2002.
Author photo by Ian Douglas



5.31.2015
James Hannaham on Austin life and "the voice that became Scotty"
James Hannaham is a man of many roles—former journalist and stage performer among them—whose novels have garnered acclaim for their gripping subject matter and unconventional voice. Lone Star Literary Life corresponded with him soon after the release of his second book, Delicious Foods (Little, Brown, March 2015). The novel, with settings in Houston and Louisiana, tells the story of a woman held captive on a mysterious farm by her employers—and by her own demons—while she struggles to reunite with her young son. (Read our Lone Star Review from May 17, 2015.
LONE STAR LITERARY LIFE: James, how did a fellow born in the Bronx and educated at Yale, end up at the University of Texas for your MFA? What were some of your impressions of the state?
JAMES HANNAHAM: The movement from the Bronx (Yonkers, really, I was just born in the Bronx) to Yale suggests already a kind of cultural whiplash. So maybe I'm accustomed to moving between places and institutions that seem like polar opposites? To say I "ended up" at the Michener Center at UT is like saying that someone "ended up" becoming a U.S. Senator. Michener is one of the more competitive MFA programs in the country partially because they offer a hefty fellowship and the opportunity to live in a very beautiful, largely liberal, and comfortable city, among a group of brilliant overachievers. So not different from Yale in that respect. In fact, one of my friends from Yale, the playwright Carson Kreitzer, was in the same class at the Michener Center with me, and I didn't know until we'd both already decided to go.
Unless you're a real spendthrift, you get out of that program with zero debt, ready to conquer the world. I paid off the last of my undergrad student loans with the fellowship from Michener. I found Texas a primordially gorgeous state geographically, and at the time (2003–06, the meat of the Bush admin and Rick Perry), I frequently wondered why such a fascinating landscape had been left to such godawful politicians—I lived very close to the LBJ Museum and Library, and used to go in to look at this collection of pens with which LBJ had signed the Great Society into law, thinking about how W was in the White House literally un-signing all of those bills.
Initially, Austin reminded me of Madrid—parched rolling hills, retro architecture, desert-like conditions, a lot of Spanish spoken. But that impression dissolved after about a week. I loved Austin; I still daydream about going running at Town Lake and spending five or six hours at a stretch working on a book at the Flight Path, hanging out with Jim Lewis at the Hotel San José's bar or La La's, going to dim sum every month with Jeff Salamon—the social life down there was everything New York's isn't. Slow-paced, intimate, unpretentious, largely outdoors.
I read that you were one of the original cast members—The Culture Guy—in the "Queer Eye for the Straight Guy" pilot. That seems to be a unique distinction for a literary novelist. How did that come about?
At the time I was a literary novelist manqué, having just written a novel that did not find a publisher. It was right after 9/11, and as a freelance writer I needed the money pretty badly, but even more than that, the job suited my skills really well for what they initially wanted The Culture Guy to do. I'd been writing for The Village Voice for a long time as a critic and performing with Elevator Repair Service, and it seemed like a great and even logical career move for me right then. They let go three of the original cast go because NBC bought Bravo and decided they wanted a different focus for The Culture Guy. When I did it, they wanted him to be someone who told the straight guy what books to read and what music to listen to, but that high-minded idea did not mix with television, so I got the boot. But in the long run, I'm pretty happy that I didn't end up on the regular show; I fear that it might have destroyed any credibility I might've had as a literary novelist later. Though I gotta hand it to Ted Allen—I think he really rode that job into the sunset! He was the dark horse of the Queer Eye. Amusingly, he lives in my neighborhood and every once in a blue moon I run into him on the street.
You were one of the co-founders of the Elevator Repair Service, an experimental theater company. How did working on stage inform your writing?
That question is rather complicated and should perhaps be left for literary critics to parse, but I can say that I've been inventing characters for the amusement of my friends and family for almost as long as I've been alive, and ERS was only one of several outlets I've had over the years for this compulsion. I do think that writing has a lot to do with performance already—it's possible to think of a first draft as an unbelievably long improv game, for example. And I must say that even more than being in the group, the experience of watching so many plays, first when my father took me to New York as a kid and then as a theater critic for the Voice, gave me a really strong sense of what works and doesn't work, or even better, what doesn't work that can be made to work, as far as dialogue and narrative are concerned. That's something that working with ERS also helped me to get good at—oh boy, the brainpower in the room at ERS rehearsals was staggering. You could've lit the city on the brainpower in that rehearsal room.
You chose Houston and Louisiana as settings for Delicious Foods. Why?
There are several reasons. Firstly, though a lot of the real-life cases of modern slavery that inspired Delicious Foods took place in Florida, so did a big chunk of God Says No, so I wanted to avoid writing about Florida a second time. Second, I felt that after having lived in Austin and traveled around the region for three years, I could probably represent the landscape and other aspects of the place relatively well. Third, and perhaps most importantly, there's a running theme in the book of people putting curses on each other, the point being that racial discrimination, or really any type of discrimination, is a kind of curse that one group puts upon the bodies of another group, usually by starting with words and/or laws, etc. Laws are like magic spells, books also cast magic spells. Louisiana is a place where they take curses and spells a lot more seriously than other places. So without creating a hackneyed voodoo atmosphere, I wanted to create a sense that curses are real forces in peoples' lives, even if they only seem to work because of your beliefs. I suppose that's what makes them work in the first place, that you believe them.
Let's talk about your role as a teacher of others. You started with the notion, as a professor of writing, that writing wasn't teachable, but you set out to come up with a Suzuki-type of method to teach it. How does that work?
One would really have to take the class to understand, but essentially I start my students off imitating the style of a police blotter, which is the most bare-bones kind of narrative I could find. Just the facts, no meandering or lyricism or big ideas or room for anything that isn't the story. Plus a built-in way of ending the thing. Gradually, I wean my students off imitating police reports by gradually adding many of the other elements that can come into play in fiction. When they get out the other side, they hopefully will develop the habit of creating a backbone for any story they write, even if they decide to create nonlinear poetic essays in light or whatever.
In Delicious Foods, you tackle substance abuse, urban violence, and a family torn apart, but the tone is not exactly dark. In fact, the narrator, at one point, the personification of crack cocaine, Scotty, is somewhat charismatic. What process did you got through to arrive at this approach?
Seriously? I thought the tone was exceptionally dark! Ha! Most of the scenes take place in the dark. The cover is dark!
The characters in the book are dark. I think you mean that Scotty is so amusing and charming that it becomes easier for the reader to get through what is some pretty disturbing and brutal material. Not surprisingly, writing in the voice of Scotty made it much easier for me to get through the story myself. Between reading all my research material and trying to get the story right, I was getting kinda depressed about modern slavery, not surprisingly. And I had already started to write in the voice that became Scotty, which really allows for the kind of distance and counterbalance and sick humor that the story needed, I thought, to make any of it at all bearable. Isn't that what humor is often for? To help you make it through the worst possible situations?
Which authors did you admire growing up? Which Texas authors do you admire?
I recently revisited Katherine Dunn's Geek Love for a piece I wrote, and that reminded me how much I adored that book as a kid. There was a dog-eared copy of Kafka's stories that lived in my bathroom as a kid that was pretty formative. My sister and I read all kinds of dirty books that we got from the library, from Iceberg Slim to Vladimir Nabokov. I was never into much children's literature, though I loved, and still love, The Phantom Tollbooth. I don't really want to put the stamp of "Texas Author" on anyone, so I'll answer the second question in personal terms: Stephen Harrigan, Elizabeth Harris, Jim Magnuson. Don't quiz me too deeply on their work, but they're great educators. A Texas-raised former student and good friend of mine, Rye Curtis, is one day going to kick everyone's ass with his books.
Who gave you your first break as an author, and when did you know that you could be a writer?
I credit Jennifer Egan with 85% of any breaks I've gotten. She has been more supportive of me and my work than my own mother could ever have been. I get teary-eyed when I think of how much she's done to support me. How lucky I was to have met her so long ago. I suppose I knew that I could be a writer around 1992, when I started to write for the Voice and I got a lot of positive feedback from editors and the other writers there. Not sure when I knew that I could be a novelist. There were some false starts. I suppose there are a lot of different markers, encouragements. I started to get into artist's colonies. I got an agent. People took seriously the idea that I was a writer. I remember hearing a Stereolab song around that time that starts with the lyrics, "What you decide to be is what you are." I loved that sentiment. Say that it's when I first heard that song, "Our Trinitone Blast," it's called. There are a few other lines that seem to have to do with slavery, interestingly.
What advice would you give to aspiring authors?
Don't give up. Learn to deal with rejection. Know when to give up. Don't compare yourself to your idols. Nobody does what you do the way that you do it.
We're on the eve of June. What's in your To Be Read pile for summer?
Right now I'm reading The Sellout by Paul Beatty, which is hilarious and really superbly written. And there are plenty of other books, by other writers I know that I've been meaning to read for a long time without having the time. Michael Carroll's Little Reef, Jenny Offill's Department of Speculation. I know, those were last year. I'm way way behind. It's tough to be a slow, easily distracted reader in this business.
* * * * *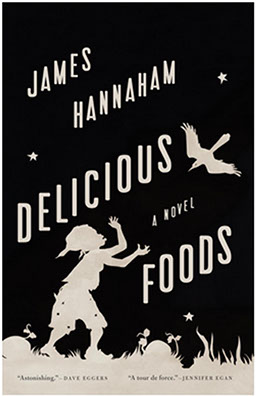 Praise for James Hannaham's DELICIOUS FOODS
"This is a book of astonishing originality and power. In Delicious Foods, James Hannaham has created a wholly new world-—a hallucinatory place shot through with struggle and terrible deeds-—but one never lacking light or hope. Hannaham reinvents the Southern gothic with prose at once brutal and lyrical and drop-dead gorgeous. This is a hell of a novel." —Dave Eggers, author of A Hologram for the King and The Circle
"James Hannaham's new novel is a tour de force. Gripping, haunting, and deeply moving, it beguiles the reader with the urgent immediacy of its characters' lives, while also reverberating with universal themes of freedom and enslavement, love and survival." —Jennifer Egan, Pulitzer Prize winner for A Visit from the Goon Squad
"Delicious Foods is a strange and compelling American horror story, arrived at through fresh narrative strategies. A mother, a son, drugs, workers enslaved in a gruesome nightmare, love and survival--this is a wonderfully conjured novel." —Daniel Woodrell, New York Times bestselling author of The Maid's Version and Winter's Bone
"Delicious Foods is virtuosity on a hire wire--a wild, romping, brilliant plot, capped off with bodacious characters and breathtaking prose. A completely unforgettable, original, and singular novel by a brave, exciting new writer." —Tayari Jones, author of Silver Sparrow
"Bury me with this book, so I will remember how wonderful living was--the food, the words, the stories, the places, the feeling of freedom. Delicious Foods is a magnificent novel, full of the beauty a great writer can make of even the most terrifying parts of life." —Rebecca Lee, author of Bobcat
"A Southern farm provides the backdrop for a modern-day slavery tale in this textured, inventive and provocatively funny novel... A poised and nervy study of race in a unique voice." —Kirkus (starred review)