Editors Liles and Boswell honored with 25th annual Liz Carpenter Award at annual TSHA conference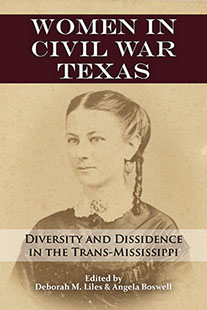 HOUSTON—The Texas State Historical Association (TSHA) named the winner for the 25th Annual Liz Carpenter Award for Best Scholarly Book on the History of Women and Texas. The Liz Carpenter Award is presented annually at the Women's History Lunch at the TSHA's annual meeting.
Coedited by Deborah M. Liles and Angela Boswell, Women in Civil War Texas: Diversity and Dissidence in the Trans-Mississippi (University of North Texas Press) is the first book dedicated to the unique experiences of Texas women during this time. It connects Texas women's lives to southern women's history and shares the diversity of experiences of women in Texas during the Civil War.
Contributors explore Texas women and their vocal support for secession, coping with their husbands' wartime absences, the importance of letter-writing, and how pro-Union sentiment caused serious difficulties for women. They also analyze the effects of ethnicity, focusing on African American, German, and Tejana women's experiences. Finally, two essays examine the problem of refugee women in East Texas and the dangers facing western frontier women.
"Women in Civil War Texas is a very interesting read full of a variety of fascinating stories from different perspectives," said Jessica Brannon-Wranosky, associate professor at Texas A&M University-Commerce and Project Director for the Handbook of Texas Women.
Deborah M. Liles teaches history at the University of North Texas and is the author of Will Rogers Coliseum and several journal articles. Angela Boswell is professor of history at Henderson State University in Arkadelphia, Arkansas, and the author of Her Act and Deed: Women's Lives in a Rural Southern County, 1837- 1873, which also won the TSHA Liz Carpenter Award in 2001.
(From organization's press release)
* * * * *
Writers' League Celebrates "Texas Independents" statewide throughout March 2017; next stop, The Twig, San Antonio, March 6
In March 2017 the Writers' League of Texas will partner with some of the state's greatest Independents—in conjunction with Texas Independence Day—to host a series of free and open events throughout the month of March in communities across the state.
These panel discussions (featuring authors and experts and including time for questions and networking) will focus on the great opportunities that Texas has to offer, from independent presses, to journals, to bookstores, and beyond, while also answering writers' burning questions about the publishing process, submitting to agents, catching the eye of an editor, and more.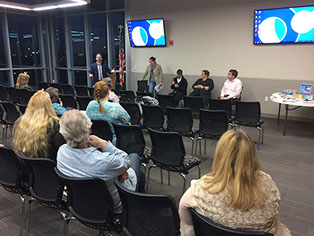 "Celebrating Texas Independents: Our Great Literary State's Independent Presses, Journals, Bookstores & More" launched March 2 at Odessa College in Odessa, moderated by WLT executive director Becka Oliver and featuring panelists Will Evans, founder and president of Deep Vellum Books and Cinestate; Kay Ellington, publisher of Lone Star Literary Life; and Mark Johnson, editor of the Concho River Review.

The panel discussion in San Antonio will be held at The Twig Book Shop Mon., March 6 at 6 pm, featuring distinguished panelists including Kelly Grey Carlisle, editor of the creative nonfiction journal ; Bryce Milligan, owner of Wings Press; and Tom Payton, director at Trinity University Press. RSVPs are suggested, but not required. Light refreshments served.

Details for all programs may be found here.

(Information from organization's website