Contributing Editor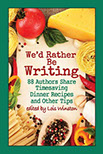 RECIPES
Lois Winston, editor
We'd Rather Be Writing: 88 Authors Share Timesaving Dinner Recipes and Other Tips
978-1940795348 Paperback, 200 pages; time-saving recipes and tips from authors, $10.29 (also available as e-book: $0.99)
October 28, 2015
Reviewed by Rashda Khan
In today's world, time is a precious commodity for everyone. This is even truer during the whirlwind of the holiday season. We'd Rather Be Writing provides time-saving recipes and tips that will help readers tackle house guests, parties, and everything in between with aplomb and let them focus on what is important — enjoying time with friends and family and doing what brings them joy.
Editor and contributor Lois Winston has brought together almost ninety authors, people who are used to juggling family life, writing careers, often a second job, and more, to contribute their insights. >>READ MORE

FICTION
Diana Finfrock Farrar
AuthorHouse
Paperback, 978-1-4918-7124-9 (also available in hardcover and as an ebook), 425 pgs., $18.99
March 2014
Diana Finfrock Farrar's first novel begins with fifteen-year-old Jamie O'Dell, gay and closeted, in the principal's office at his high school, victim of chronic bullying since middle school. This time the football team's intimidation has been so blatant that school officials can't ignore the problem. The bullies have been sent to the alternative campus and banned from extracurricular activities for the remainder of the school year, but Texas Land Commissioner Ed Sloan's son, Michael, is one of the bullies and Ed won't take this punishment lying down. Tammy, Ed's wife and Michael's mother, is torn between remaining silent as she has for twenty-two years, or speaking out for what she knows is the right thing. As the controversy rages, Ed and Tammy's jeopardized marriage mirrors the polarization in the media, the community, and the schools. >>READ MORE

Texas Reads
Glenn Dromgoole
Another Christmas romance
set in Twilight, Texas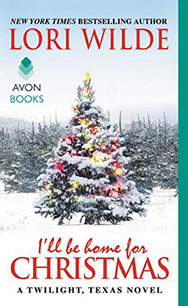 Twilight, Texas: Prolific Texas romance author Lori Wilde, with seventy-eight titles to her credit, has produced another Christmas novel from her fictional town of Twilight, Texas, loosely based on the real town of Granbury.
I'll Be Home for Christmas (Avon, 2015) features runaway law student Gabi Preston, who is served a piece of chocolate cake at a Twilight coffee shop and blurts out, "Oh my gosh! This is better than sex!"
To which a deep voice responds: "As delicious as Maddie's cakes are, if you think cake is better than sex, then you've been doin' something all wrong, darlin'."
Gabi has just encountered Joe Cheek, probably the best-looking guy in town.
Other books in Wilde's hot-selling Twilight series include last fall's Christmas at Twilight as well as The First Love Cookie Club, which has been optioned for a TV movie. Read more at loriwilde.com.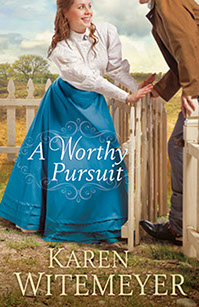 Karen Witemeyer: The newest novel from Abilene's Karen Witemeyer, a popular Christian historical romance author, is A Worthy Pursuit (Bethany House, $14.99 paperback).
The story, set in Texas in 1891, involves Stone Hammond, who is hired to find a wealthy man's abducted granddaughter, and Charlotte Atherton, a teacher entrusted with the little girl's care after her mother's death. All is not as it seems to either major figure in the book — the teacher on the run and the bounty hunter pursuing her. Can the two adversaries learn to trust — even love — each other?
"I wanted to play with the idea of opposites attracting," Witemeyer said. "So I chose a refined, educated headmistress who doesn't trust men and paired her with a man of action and intrigue who practically walks off the pages of a dime novel."
A Worthy Pursuit is Witemeyer's seventh full-length historical romance; she's also had two novellas published. Read more on her web site — karenwitemeyer.com.
Max Lucado: San Antonio minister and Christian author Max Lucado may well be Texas's best-selling writer of all time.
I say "may well be" because I haven't been able to find any such listing. But with about a hundred titles and an estimated 80 to100 million copies in print, Lucado certainly ranks high on the ladder. His newest book, released this fall, is Glory Days: Living Your Promised Land Life Now (Thomas Nelson, $26.99 hardcover), with sixteen essays or chapters or sermons inspired by the biblical book of Joshua and accompanied by a study guide.
Lucado's theme is that most Christians don't fully claim all the powers and opportunities available to them. Most are content to be in the "wilderness" instead of moving on to the "promised land."
"With God's help," he writes, "you can close the gap between the person you are and the person you want to be."
* * * * *
Glenn Dromgoole, is co-author, with Carlton Stowers, of 101 Essential Texas Books Contact him at g.dromgoole@suddenlink.net.
Skyhorse Publishing

Hardcover, 978-1-63450-226-9 (also available in ebook and aduiobook formats), 288 pgs., $24.99

November 15, 2015

Jack McBride's wife, Julie, has up and disappeared, abandoning McBride and their son, Ethan ("the proof they had once been in love and happy would walk in the room, ear buds in, the musty, sour smell of puberty following him like the contrail of a jet."). Needing a fresh start, McBride has left his position with the Dallas FBI office and moved to the sleepy East Texas town of Stillwater with thirteen-year-old Ethan, to accept a position as chief of police. Stillwater has a freakishly low crime rate until McBride arrives to encounter murder, a fifty-year-old cold case, blackmail, rumors of the previous chief's long-standing corruption, racketeering — and that's just the first week. >>READ MORE

Spiegel & Grau

Hardcover, 978-0-8129-9345-5 (also available as audiobook, as ebook, and on audio CD), 304 pgs., $26.00

May 26, 2015

"I'm not white, but I can feel the eyes of the few people outside on me, people who must think that I am, because I look white….This disconnect in my racial projection is one of the things I hate.… My mother was black — that counts, no matter how pale and Irish my father was."

Warren Duffy's father has died, and Warren returns to Philadelphia from Wales, leaving a failed comics shop, career, and marriage behind, to settle his father's estate. Broke, Warren appears at a local comic convention with his illustrations, maybe to sell a book or two. Instead Warren discovers that a youthful fling with a Jewish white girl has bequeathed him a seventeen-year-old daughter, Tal. She moves in with Warren and while searching for a new school the pair discover the Mélange Center for Multiracial Life, which turns out to be a sort of biracial commune for "inclusion of all perspectives of the…mixed-race experience." Is this the answer to Warren's search for home? >> READ MORE