Texas Reads
Glenn Dromgoole
Diane Kelly keeps two series going
Romantic mystery author Diane Kelly has expanded her entertaining Tara Holloway and Paw Enforcement series with two new titles. And, I'm happy to report, more are on the way.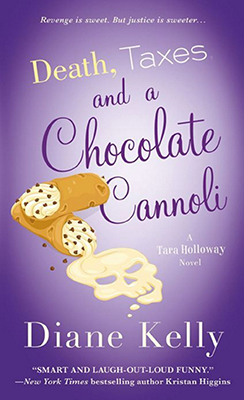 Death, Taxes, and a Chocolate Cannoli (St. Martin's, $7.99 paperback) is the ninth book featuring IRS special agent Holloway, and Kelly has signed on to write three more in the series.
In this novel, the Internal Revenue Service gets involved in trying to bring a brutal mobster to justice, and Holloway goes undercover as a waitress at the mobster's wife's Italian restaurant in Dallas to gather information that might help bring down Tino Fabrizio's murderous empire.
Problem is, Holloway comes to like Fabrizio's wife, Benedetta, and her two daughters, who also work at the restaurant. And, she especially likes Benedetta's chocolate cannoli!
Tino and Benedetta and the daughters seem like a happy, close-knit family, but Holloway keeps reminding herself that Tino really is evil. She wonders how much Benedetta knows about his business. Before long, she will find out a lot more than she expected to.
Kelly's second series, Paw Enforcement, features Fort Worth Police Officer Megan Luz and her canine patrol partner, Brigit.
The third book in the series, Laying Down the Paw (St. Martin's, $7.99 paperback), has Luz and Brigit trying to protect the city against looters and a violent street gang after a tornado hits the city. Three more books in the Paw Enforcement series are scheduled.
Good reading.
Texas Bookshelf: Here are some other novels by Texas writers that have come across my desk in recent weeks. You can read more about them on line.
Beloved Wife by Norma Nation of Weatherford (Xlibris, $15.99) is based on a true story in a small Texas town and written, she says, "to show how domestic violence can destroy families."
Bound to Texas by Sam Yocum Harper of Austin (Blue Ocotillo Publishing, $9.95) is a historical novel about the author's great-great grandfather, Benjamin Ingram Harper, who was one of Texas's first educators and who fought at San Jacinto.
Ron G. Robertson, also of Austin, is the author of a thriller, Hijacked Hitman (Enchanted Indie Press, $12.99) set in Manhattan, where he formerly lived.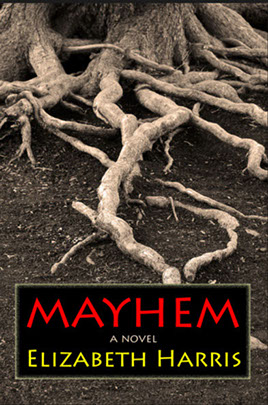 Mayhem: Three Lives of a Woman by award-winning Austin writer Elizabeth Harris (Gival Press, $20) takes place in Central Texas in the first half of the twentieth century and is described by one reviewer as "gripping, haunting, elusive, extraordinary."
Dr. Carlos R. Hamilton Jr. of Houston has written a historical novel, A Rose Blooms in Texas: Coming of Age in the Civil War Era (Bright Sky, $28 hardcover) based on his East Texas ancestors and augmented with actual letters, documents and photographs.
* * * * *
Glenn Dromgoole, is co-author, with Carlton Stowers, of 101 Essential Texas Books Contact him at g.dromgoole@suddenlink.net.
5th annual Dobie Dichos slated for Nov. 6 in Oakville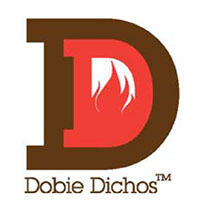 On Friday, Nov. 6, 2015, the 5th annual Dobie Dichos storytelling event will take place at the Historic Oakville Jailhouse Lodge in Oakville, Texas, from 6:00 to 9:30 p.m. The cost of meal and performance is $15; admission for the performance only is $10.  Tickets go on sale in September
Presented by George West Storyfest Association, Inc., this event honors Live Oak County's most famous son, J. Frank Dobie, to celebrate Dobie's works and contributions to literature, folklore, and storytelling. >>READ MORE
Texas Center for the Book moves to Texas State Library
On Sunday, Oct. 18, during the 2015 Texas Book Festival, the Texas State Library and Archives Commission (TSLAC) and the Library of Congress launched the relocation of the Texas Center for the Book to its new home at the Lorenzo de Zavala State Archives and Library Building in Austin.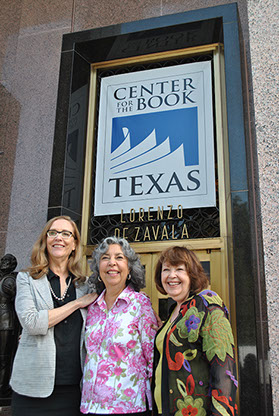 Local author Sarah Bird, children's author and illustrator Carmen Lomas Garza, and Pat Mora, founder of Día de los Niños/Día de los Libros (above, from left), helped celebrate the Center at the Lorenzo de Zavala State Archives and Library. (For more photos of the event, view our Texas Book Festival 2015 slide show.)
One of 50 state centers affiliated with the Center for the Book in the Library of Congress, the Texas Center for the Book was established by the Dallas Public Library in 1987 to stimulate public interest in books, reading, and libraries and encourage the study of the written word. >>READ MORE