Sachse Public Library prepares for NaNoWriMo
National Novel Writing Month starts Nov. 1, ends Nov. 30
That recurring dream of walking across the stage and accepting the National Book Award for the novel you wrote in just one month could actually happen, says Sachse Library manager Mignon Morse. "It's possible," she said. "There just may be that exceptional writer out there."
The Sachse Public Library is participating in the National Novel Writing Month campaign, providing support, guidance, inspiration, and motivation to local writers and non-writers who participate in the unique program. The month-long campaign, known as NaNoWriMo, encourages would-be novelists to start writing their novel on Nov. 1 and complete their 50,000 words manuscript by midnight, Nov. 30.
"We'll be offering support in several ways," said Morse. "In addition to being their principal cheerleaders, we will also offer some specific assistance in the way of speakers and workshops. And, of course, we are always available as the perfect place to write."
On Tues., Oct. 13, the Sachse Public Library will host a "kickstart program" for those interested in participating in NaNoWriMo. Dallas author Patricia Burroughs (www.patriciaburroughs.com) will conduct the program, giving advice to writers on the various aspects of putting thoughts on paper in a logical and understandable way. The seminar starts at 6 p.m. and is free and open to the general public.
The library is located on the grounds of the Sachse Municipal Complex, 3815 Sachse Road, Building C, adjacent to Sachse City Hall. Directions can be obtained by calling 972-530-8966 or by visiting www.cityofsachse.com/library.
Then, after the writing has begun, the library will present New York Times best-selling author Taylor Stevens on Tues., Nov. 3 at 6 p.m. Stevens will talk about the process of writing, share her experiences, and offer encouragement and inspiration to budding writers.
"There are writers out there disguised as police officers, teachers, crossing guards, and yes, librarians," said Morse. "We want to encourage that hidden writer to emerge and share their story."
Last year, the NaNoWriMo program attracted over 325,000 participants worldwide who started the month as auto mechanics, out-of-work actors, and middle-school English teachers and walked away novelists.
Over 250 NaNoWriMo novels have been traditionally published. They include Sara Gruen's Water for Elephants, Erin Morgenstern's The Night Circus, Hugh Howey's Wool, Rainbow Rowell's Fangirl, Jason Hough's The Darwin Elevator, and Marissa Meyer's Cinder.
That recurring dream may finally come true. Now comes the question, what will you wear?
Events:
November 3, at 6 pm: keynote speaker Taylor Stevens will share her experience about the world of writing and offering insight to those who are interested in writing.
November 10, at 6 pm: Library Program Room open to those who would like to have some time of brain storming with fellow writers or just a new space to be able to write. (Please bring your own electronic device for writing.)
November 16, at 6 pm: Lost and Found: Has Anyone Seen Where My Plot Went? Author Michelle Munzeler will  help with motivation as you have reached the halfway point of the month of November. Also, there will be time for writing afterwards.
November 23, at 6 pm: Library Program Room open to those who would like to have some time to brain storming with fellow writers or just a new space to be able to write. (Please bring your own electronic device for writing.)
November 30, at 6 pm: Library Program Room open to those who would like to have some time to brain storming with fellow writers or just a new space to be able to write to have that final push to finish your story by 11:59 pm. (Please bring your own electronic device for writing.)
Taylor Stevens is the award-winning, New York Times bestselling author of the critically acclaimed Vanessa Michael Munroe series. Published in over twenty languages and optioned for film by James Cameron's production company, Lightstorm Entertainment, the books are international boots-on-the-ground thrillers featuring a mercenary information hunter in a non-testosterone mix of Jason Bourne and Jack Reacher.  Stevens came to writing fiction late. Born into an apocalyptic cult and raised in communes across the globe, she was denied an education beyond 6th grade and spent her adolescence as child labor. Stevens now calls Dallas home. In addition to writing novels, she shares extensively about the mechanics of  storytelling, writing, overcoming adversity, and her journey into publishing at www.taylorstevensbooks.com.
(Information from organization's press release)

Highland Park presents Sinatra biographer Kaplan in Authors LIVE! Oct. 29
The Friends of the Highland Park Library, the Highland Park United Methodist Church, and the Friends of the SMU Libraries will host James Kaplan in an Authors LIVE! program 7 p.m. Thursday, Oct. 29 at Wesley Hall at Dallas's HPUMC.
Kaplan's new biography, Sinatra:  The Chairman, will be signed and available for purchase before and after the program. The 7 p.m. program is free and open to the public.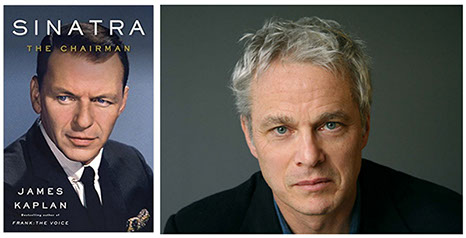 The 6 p.m. private reception with the author is $30 by reservation only and includes a signed copy of the book.
James Kaplan has been writing about people and ideas in business and popular culture, as well as notable fiction (Best American Short Stories), for over three decades. His essays and reviews, as well as more than a hundred major profiles of figures, have appeared in many magazines including The New Yorker, The New York Times Magazine, Vanity Fair, Esquire, and New York. His novels include Pearl's Progress and Two Guys From Verona, a New York Times Notable Book for 1998. His nonfiction works include The Airport, You Cannot Be Serious (co-authored with John McEnroe), Dean and Me: A Love Story (with Jerry Lewis), and the first volume of his definitive biography of Frank Sinatra, Frank: The Voice. He lives in Westchester, New York, with his wife and three sons.
For reservations please call 214-523-2240. This is the fifth year for the Authors LIVE! programs, featuring authors who are on tour promoting their new books.  Authors who have spoken in the first four seasons have included authors from Texas and beyond, including Pulitzer Prize and National Book Award, and National Book Critics Award winners and finalists.
(Information from organization's press release)

5th annual Dobie Dichos: Campfires, Chili con Carne, and the Words of J. Frank Dobie slated for Nov. 6 in Oakville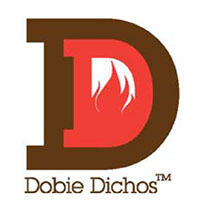 On Friday, Nov. 6, 2015, the 5th annual Dobie Dichos storytelling event will take place at the Historic Oakville Jailhouse Lodge in Oakville, Texas, from 6:00 to 9:30 p.m. The cost of meal and performance is $15; admission for the performance only is $10.  Tickets go on sale in September
Presented by George West Storyfest Association, Inc., this event honors Live Oak County's most famous son, J. Frank Dobie, to celebrate Dobie's works and contributions to literature, folklore, and storytelling.
Texas writers/authors and storytellers read from or tell stories from the works of J. Frank Dobie under the stars on the grounds of the Historic Oakville Jail, located on IH37 in Live Oak County.
The meal consists of a bowl of chili, pan de campo, a bottle of water, and dessert. Beer is available for purchase. Bring your own lawn chair.
Participants in the 2015 event include Andres Tijerina, Mary Locke Crofts, Carmen Tafolla, Bruce Shackelford, Mike Cox, Jerry Young, and Lanny Joe Burnett.
Co-program director William Jack (Bill) Sibley will serve as emcee, and musical entertainment will be provided by the Lonestar Bluegrass Band. Proceeds from the event benefit the Dobie/West Performing Arts Theatre, George West, Texas.
For more information visit www.georgeweststoryfest.org.
(Information from organization's press release.)

David Sedaris coming to Odessa Fri., Nov. 6

Odessa College  and the Odessa Council for Arts & Humanities are partnering to bring David Sedaris to Deaderick Auditorium on Friday, Nov. 6, at 7 p.m. The show is free to the public. Tickets will be available in August.
(Information from Odessa Council for Arts & Humanities)
2015 TEXAS BOOK FESTIVAL HIGHLIGHTS
20th ANNIVERSARY TEXAS BOOK FESTIVAL
Top-notch lineup featured dozens of Texas authors among some 300 invited, including Margaret Atwood, Taye Diggs, Nick Flynn, Linda Gray, Daniel Handler, Gary Hart, Chuck Palahniuk, and more
FROM THE TEXAS BOOK FESTIVAL WEBSITE: "The 20th anniversary Texas Book Festival wrapped up last weekend, and our minds are still swirling from all of the literary excitement, fan girl moments, epic discussions, authors, and unforgettable experiences."
"This quote from the Dallas Morning News sums up our sentiment exactly: 'Every year, the Texas Book Festival gets a little bigger. And every year, summing it up in a few words becomes a little less likely.' So, instead of recapping the literary extravaganza of a weekend, we're going to let you take it straight from the horse's mouth. Since we've got a bit of a theme going with it being our 20th anniversary and all, we've rounded up 20 press links and stories about this year's Fest that we think you'll enjoy."
Follow the TBF's Festival Media Coverage Roundup here.

Texas Book Festival honors El Paso native Pat Mora

At an Oct. 17 ceremony in the capitol, Texas Book Festival executive director Lois Kim presented children's author Pat Mora the annual Texas Writer Award. Mora, founder of El día de los niños / El día de los libros, is a poet and author of books for adults, teens, and children. She was presented with a custom-made pair of boots.

Writers' League of Texas honors 2014 award winners
In an annual Texas Book Festival tradition, the Writers' League of Texas celebrated 2014 writing award winners with a toast at the WLT booth. Submissions for 2015 awards (for works published in 2015) are now open through Jan. 15, 2016.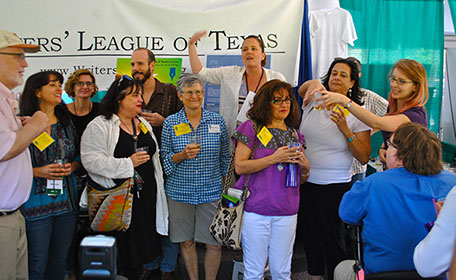 Texas Center for the Book moves to Texas State Library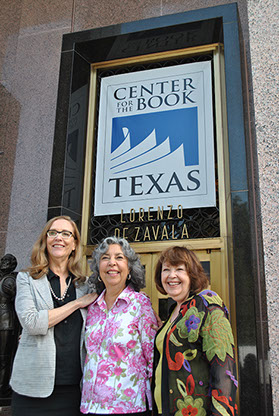 On Sunday, Oct. 18, during the 2015 Texas Book Festival, the Texas State Library and Archives Commission (TSLAC) and the Library of Congress launched the relocation of the Texas Center for the Book to its new home at the Lorenzo de Zavala State Archives and Library Building in Austin.

Local author Sarah Bird, children's author and illustrator Carmen Lomas Garza, and Pat Mora, founder of Día de los Niños/Día de los Libros (left, from left), helped celebrate the Center at the Lorenzo de Zavala State Archives and Library. (For more photos of the event, view our Texas Book Festival 2015 slide show.)

One of 50 state centers affiliated with the Center for the Book in the Library of Congress, the Texas Center for the Book was established by the Dallas Public Library in 1987 to stimulate public interest in books, reading, and libraries and encourage the study of the written word.

"We are very excited at the prospect of using the Center for the Book as a statewide platform to inform the public of the importance of books and reading and to urge Texans to take advantage of the huge resource for education, lifelong learning, and cultural enrichment offered at their local libraries and archives," commented TSLAC Director and Librarian, Mark Smith. "We thank the Dallas Public Library for their excellent work with the Center since its inception and look forward to maintaining the tradition of excellence that they have established," Smith said.

The Center will support the shared mission of library professionals, educators, authors, publishers and booksellers promoting a love of literature to the more than 26 million residents of the State of Texas. Initiatives slated for implementation include the Letters About Literature contest, in which students (grades 4-12) write to the author (living or dead) of a book, poem, or speech, about how the work affected them personally. Letters are judged on state and national levels with awards including a grand prize of a trip to the Library of Congress in Washington D.C. and $1,000.

For more information visit www.tsl.texas.gov/centerforthebook

(Information from organization's press release)

* * * * *