Texas Reads
Glenn Dromgoole
>> archive
Skullduggery, murder explored in true mystery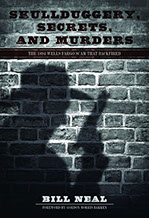 When he was a lawyer, Abilene author Bill Neal spent time on both sides of criminal cases — as a prosecutor and as a defense attorney. But for the past decade or so, he has taken still another side — that of an objective researcher, historian, and writer delving into interesting, even bizarre old murder cases and producing well-crafted books about them.
His first book was Getting Away with Murder on the Texas Frontier, followed by several others, including the provocative Sex, Murder and the Unwritten Law.
His fifth book, published this year by Texas Tech University Press, is Skullduggery, Secrets, and Murders: The 1894 Wells Fargo Scam That Backfired ($34.95 hardcover), about an 1894 case set in Oklahoma Territory and Texas.
The story revolves around a seemingly foolproof get-rich-quick scam that resulted in the murders of two peace officers — a sheriff in Canadian, Texas, and a Wells Fargo agent sent to investigate the scheme. Neal delves into the two murders and the eight resulting trials and tries to sort it all out.
* * * * *
Small Town Tales: Joyce Gibson Roach explores life in a fictional small West Texas town in The Land of Rain Shadow: Horned Toad, Texas(Texas Tech University Press, $24.95 paperback). The eight stories are set in different eras in the twentieth century, from 1902 to 1991, covering such topics as "The Day After Pearl Harbor," "Won't Somebody Shout Amen?," and "The Worst Christmas Pageant Ever."
* * * * *
Award Winner: Diane Gonzales Bertrand's prize-winning bilingual collection of short stories for teens, There's a Name for This Feeling (Arte Publico Press, $10.95 paperback; Spanish-language translation by Gabriela Baeza Ventura), explores issues relevant to young people today.
In one story, members of a track team search for a mysterious naked woman with embarrassing results. In another, two girls at a wax museum are in for a surprise when they disobey signs about touching the figures. And in another, a young girl grieves for the loss of her baby, a miscarriage her mother calls a "blessing." The ten stories, for readers ages 10-13, are told in English and Spanish.
* * * * *
Bank History: First Financial Bank began as a local Abilene bank but has expanded to about thirty cities across Texas, from Hereford in the northwest part of the state to Orange in the southeast.
In celebration of its 125th anniversary, the bank commissioned author Loretta Fulton to compile — and Abilene Christian University Press to publish — a full-color illustrated history of the bank. FFB Chairman and CEO Scott Dueser presented copies of First Financial Bank: 125 Years of Vision, Integrity, and Service to shareholders attending the bank's annual meeting in April. The hardcover book retails for $25. Call (325) 672-9696.
* * * * *
* * * * *
Glenn Dromgoole is co-author of 101 Essential Texas Books. Contact him at g.dromgoole@suddenlink.net.
9/20 Bissinger final Texas Friday Night Lights event
In conjunction with Da Capo Press's August 2015 publication of the 25th anniversary edition of  Friday Night Lights: A Town, a Team, and a Dream author H. G. "Buzz" Bissinger returns to Texas for a series of events. The following is your last chance to catch the author's talk in Texas:
9/20/15, BookPeople (Austin, TX), 2 p.m.
Llano to host Author Extravaganza Oct. 2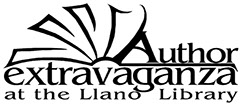 The Author Extravaganza and Fair will be an all-day free literary event set right in the heart of the Hill Country at the Llano Library in Llano, Texas, Sat., Oct. 3, 2015, from 11 M to 7 pm. Featuring two New York Times best selling authors, six authors scheduled for speaking sessions throughout the day, two writers' workshops, more than twenty area authors, and several local organizations providing food and drink sales onsite, the event will be a celebration of authors, books, and the love of reading.
Featured authors include Celia Hayes, historical fiction; Scott Zesch, historical non-fiction; Karen Witemeyer, historical romance; Tiffany Harelik, cookbook author; Leila Meacham, author of the bestselling Texas historical novels Roses, Tumbleweeds, and Somerset; and Linda Castillo, author of the Kate Burkholder Amish mystery series.
Richardson Adult Literacy Center to host Buns & Roses Romance Tea for Literacy Oct. 4
by Lorraine Heath
October 4, 2015, will mark the tenth year that romance authors and readers have gathered for the Buns & Roses Romance Tea for Literacy in Richardson, Texas, to benefit the Richardson Adult Literacy Center. Hats, laughter, and the joy of talking books abound.
Katie Patterson, executive director of RALC, says, "For the Richardson Adult Literacy Center, Buns & Roses is an incredible expression by romance writers and readers from across the country of their passion for helping others improve their literacy. Because of this event, RALC is able to continue offering English as a Second Language instruction to hundreds of adults in our community who are eager to improve their lives through improved literacy skills." >>READ MORE
Houghton Mifflin Harcourt

978-0-544-29008-2, ebook, 280 pgs., $12.99, 2015

Thu Apr 5— 08: 31 [text]

hello i am sorry to bother you but i need your assistance— i am hector— cesars friend— its an emergency now for cesar— are you in el norte? i think we are also— arizona near nogales or sonoita— since yesterday we are in this truck with no one coming— we need water and a doctor— and a torch for cutting metal

The Jaguar's Children is journalist and author (who cites as sources Luis Alberto Urrea and Charles Bowden; how could you go wrong?) John Vaillant's devastatingly powerful first novel. Mexicans and Nicaraguans, men, women, and children, bakers, students and scientists, have paid coyotes ("They were talking fast all the time, but not as fast as their eyes") to provide safe passage into the United States, welded inside a water truck ("like a bucket of crabs with the lid on and no place to go"). As the book begins, they've been abandoned for two days in the Sonoran Desert of Arizona ("la via dolorosa"). >>READ MORE

Livingston Press

978-1-60489-152-2, paperback, 284 pgs., $18.95 (also available in hardcover)

September 10, 2015

According to Jim Sanderson, chair of the English and Modern Language Department at Lamar University, Hill Country Property began as a collection of unrelated short stories thirty years ago. After many near misses, it's been reworked as a novel. Not having read those stories thirty years ago, I can't compare them against the finished product but suspect that the amount of reworking is responsible for the meandering quality of the novel. Hill Country Property is an average novel with the potential to be better.

Hill Country Property is a sociological study of a very particular time and place — Austin and the Texas Hill Country in the 1980s. Roger Jackson is a middle-aged former lawyer and student radical whose current job as a private investigator involves stalking and photographing wayward spouses for a divorce attorney. He is unwillingly separated from his wife, Victoria. His father-in-law, Henry, is dying and wants to see his estranged wife, Rebecca, who abandoned the family decades ago, before he dies. Roger embarks on a quixotic quest to find Rebecca for Henry in the hope that this will somehow save his own marriage.  >> READ MORE