Michelle Newby is contributing editor at Lone Star Literary Life, reviewer for Foreword Reviews, freelance writer, member of the National Book Critics Circle, and blogger at www.TexasBookLover.com. Her reviews appear or are forthcoming in Pleiades Magazine, Rain Taxi, World Literature Today, South85 Journal, The Review Review, Concho River Review, Monkeybicycle, Mosaic Literary Magazine, Atticus Review, and The Collagist.
Lone Star Book Reviews
of Texas books appear weekly
at LoneStarLiterary.com
Fiction
Sanderson, Jim
Hill Country Property: A Novel
Livingston Press
978-1-60489-152-2, paperback, 284 pgs., $18.95 (also available in hardcover)
September 10, 2015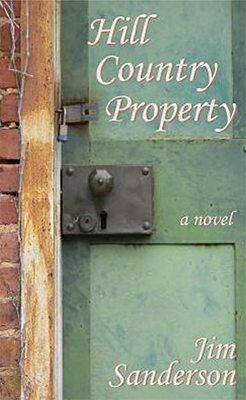 According to Jim Sanderson, chair of the English and Modern Language Department at Lamar University, Hill Country Property began as a collection of unrelated short stories thirty years ago. After many near misses, it's been reworked as a novel. Not having read those stories thirty years ago, I can't compare them against the finished product but suspect that the amount of reworking is responsible for the meandering quality of the novel. Hill Country Property is an average novel with the potential to be better.
Hill Country Property is a sociological study of a very particular time and place — Austin and the Texas Hill Country in the 1980s. Roger Jackson is a middle-aged former lawyer and student radical whose current job as a private investigator involves stalking and photographing wayward spouses for a divorce attorney. He is unwillingly separated from his wife, Victoria. His father-in-law, Henry, is dying and wants to see his estranged wife, Rebecca, who abandoned the family decades ago, before he dies. Roger embarks on a quixotic quest to find Rebecca for Henry in the hope that this will somehow save his own marriage.
Hill Country Property begins promisingly. "It is 1985. I am in my new pickup truck watching Kay Menger's marriage unravel. With nothing to do but watch, I remember that I had tried to strengthen my marriage by having an affair with a smelly woman who trimmed her toenails by moonlight." Who wouldn't want to find out more about that? There's plenty of wry humor in the Hill Country. "Rebecca knew about the ploys of high school football players and hard-up veterans but was unprepared for a cowboy [Henry] with a stallion." And this: "According to Buck [Roger's boss], the earth mothers and health freaks of the sixties turned into health fascists." Buck is a smoker.
The characters of Hill Country Property are complex and well developed, with realistically scrambled motivations, though the women remain mysterious to the end. The backstories provided the older generations of these families are fascinating as a history of the development of Texas. Roger is a social commentator. "My [Roger's] thought for the day: transcendence, idealism, doing the right thing, and solutions all belong back in the sixties. But now we are in the existential, give-a-shit, less innocent, wiser, conservative, Christian intoxicated eighties." Sanderson has a lot to say about the unintended consequences of what he terms "the age of earned sex." "At eighteen, with active but untested hormones, abstinence seemed far worse than marriage, but at twenty-five with the rest of her life determined because of the search for proper sex, Rebecca was reconsidering abstinence."
Unfortunately, Hill Country Property suffers from poor copyediting and proofing. The misplaced and missing punctuation, disordered word order, and other ills are ubiquitous and distracting. Roger's first-person narrative begins well and proceeds steadily, holding your attention until somewhere around two-thirds of the way through and then loses focus and momentum. I'd like to see the short stories, the original version of Hill Country Property. I suspect they might've been the form for this material.
* * * * *