20th ANNIVERSARY TEXAS BOOK FESTIVAL, 2015
300 authors coming to Texas Book Fest Oct. 17-18
20th anniversary lineup to feature Margaret Atwood, Taye Diggs, Nick Flynn, Linda Gray, Daniel Handler, Gary Hart, Chuck Palahniuk, and more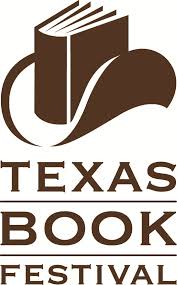 AUSTIN—A record 300 authors are coming to the 2015 Texas Book Festival, Oct. 17 and 18, the largest number in the Festival's twenty-year history. Nationally renowned authors include Margaret Atwood, Taye Diggs, Nick Flynn, Linda Gray, Daniel Handler (Lemony Snicket), Gary Hart, Luis Alberto Urerra, Margo Jefferson, Attica Locke, Marie Lu, Chuck Palahniuk, Tavi Gevinson, and Adrian Tomine.
Other headlining authors include Sandra Cisneros (the only 2015 author who was part of the first Festival in 1995), Steve Inskeep, Azar Nafisi, Leonard Pitts, Jr., Mary Helen Specht, Jonathan Lethem, Lauren Groff, John Sununu, Scott Simon, and Robert Christgau. The full list of authors and their featured books is available online at www.texasbookfestival.org.
Celebrating the Festival's 20th anniversary and her third year as Festival literary director, Steph Opitz says it's all been "an incredibly gratifying experience."
"Over the years we've had fabulous big name-authors and we've had 'trust-us-this-person/book-is going-to-be-huge' overnight sensations. This year it's going to be all that and some," Opitz says. "If I wasn't working this thing, I'd be sprinting from session to session trying to get at least a taste of all the magic happening in our Capitol that weekend."
Standout themes this year include several books about music, poetry, graphic novels including several by women authors, and a strong showing of children's and young adult authors.
More than 40,000 people are expected to attend the 20th Anniversary Texas Book Festival. The weekend kicks off with the First Edition Literary Gala, featuring Festival authors Margaret Atwood, Taye Diggs, and Scott Simon.
The 2015 Texas Book Festival is co-presented by AT&T and H-E-B. Other major sponsors include Brigid Cockrum and family, Kirkus Reviews, the Texas College Savings Plan, Texas Monthly, the Tocker Foundation, C-SPAN2 Book TV, St. David's HealthCare, Buena Vista Foundation, Pentagram, Central Market, and the Austin American-Statesman.
About the Texas Book Festival
The Texas Book Festival celebrates authors and their contributions to the culture of literacy, ideas, and imagination. Founded in 1995 by first lady Laura Bush, Mary Margaret Farabee, and a group of volunteers, the nonprofit Texas Book Festival promotes the joys of reading and writing through its annual Festival Weekend, the one-day Texas Teen Book Festival happening September 26, the Reading Rock Stars program, grants to Texas libraries, a youth fiction writing contest, and year-round literary programming. The Festival is held on the grounds of the Texas Capitol each fall and features more than 250-plus renowned authors, panels, book signings, live music, cooking demonstrations, and children's activities. Thanks to generous donors, sponsors, and 1,000 volunteers, the Festival remains free and open to the public. Visit www.texasbookfestival.org for more information, and join the conversation using the hashtag #txbookfest on Facebook; and @txbookfest on Twitter and Instagram.
Margaret Atwood, Taye Diggs, Scott Simon to be featured presenters at Texas Book Fest Gala Oct. 16
AUSTIN—Acclaimed novelist Margaret Atwood (below, right); actor, Broadway star, and children's book author Taye Diggs (center); and National Public Radio host and author Scott Simon (left) will be featured presenters at the Texas Book Festival's First Edition Literary Gala at the Four Seasons Hotel Fri., Oct. 16, 2015.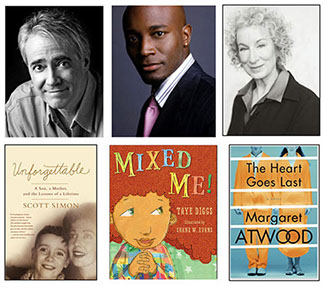 The popular, elegant prelude to the Texas Book Festival Weekend, the Gala is expected to draw a record number of literary luminaries, dignitaries, and cultural arts supporters as the Festival celebrates its 20th anniversary this year.
The Gala supports the Festival and all of its charitable programs, including Reading Rock Stars, Texas Public Library Grants, and the Fiction Writing Contest for students. This year's Gala is co-chaired by three sisters: Sarah Queen, Mary Clare Matthews, and Denise Laurienti, daughters of former Festival board chair Jan Hughes and husband David Hughes.
For the second year, this year's Gala will include an Afterparty, also at the Four Seasons, with tickets for $75. Attendees will have the opportunity to mingle with Festival authors in a late-night, cocktail party setting and be entertained by local funk-rock band Austin Heat, whose lead singer recently appeared on NBC's The Voice.
Limited Gala tables and individual seats are available; the event sells out every year. To purchase tickets, call 512-477-4055 or email claire@texasbookfestival.org.  Individual tickets are $500. Preferred Leather Bound tables are $10,000, and Hard Cover tables are $5,000. Gold Leaf and Authors' Circle sponsorships, which include extensive Festival VIP benefits, are $25,000 and $15,000, respectively.  For more information, go to https://www.texasbookfestival.org/2015-first-edition-literary-gala/.
The 2015 Texas Book Festival is co-presented by AT&T and H-E-B. Other major sponsors include Brigid Cockrum and family, Kirkus Reviews, the Texas College Savings Plan, Texas Monthly, the Tocker Foundation, C-SPAN2 Book TV, St. David's HealthCare, Buena Vista Foundation, Pentagram, Central Market, and the Austin American-Statesman.
(From Texas Book Festival press release)

Texas Word Wranglers Hosts Authors for 10th Annual Event in Giddings, Sept. 11
The 10th annual Texas Word Wrangler Festival, which will be held Fri., Sept. 11 in Giddings, Texas, began in 2005, when the town realized there were so many talented authors — many of them local and state — that their community would like to recognize and encourage. The Giddings Chamber of Commerce partnered with the Giddings Public Library and Cultural Center to create the Texas Word Wranglers — authors who use words to convey ideas and stories, and portray people and places.
Word Wranglers authors include writers of children's books, archeology, poetry, Texas cookbooks, bird watching, fiction, history, historical fiction, mystery, romance, music, Texas Gardening, and anything related to Texas. The all-day festival is held at the Giddings Public Library & Cultural Center, featuring author readings and Q&A sessions. On Thursday the authors are invited to visit the Giddings Public Schools to talk to students about the writing process, ideas for stories, how a book is taken from the idea to the written page, and much more.
On Thursday evening the community hosts a fundraising gala event to introduce the authors.
The first year, Texas Word Wranglers featured eleven authors. Authors who have previously attended include LaVerne Karrell Clark, Bungy Hedley, Sarah Clark Jordan, Bob Lawrence, Donna Loomis, Charlotte Siegmund, Rick Vanderpool and Frank Wagner.
The 2015 lineup, featuring more than forty guest authors, includes:
Bangs, Ken, Roscoe Jack of Gateway Farm
Barton, Angie , Hi, My Name is Hanna and I'm Adopted
Bell, Ann , The Sister of Mary Dyer
Bowden, Lurlene, Old Coot's Campfire Cookin' Book
Carson, Connie, Colonial Romance
Chapman, Lara, Accidently Evil
Costello, Art, Expectation Therapy
Crawford, Ann, Greenpark
Doerr, Bob, The Rescue of Vincent
Drulman, Dorothy, Gentle Adventures for Young Folks (electronic)
Durham, Pat, Nyger's Advent Journey
Eckroat, Laura W., Laura's Blogspot
A Donut-A Muffin, Edward, R. Wayne
Wayne's Website, Kids Only Land
Foley, Jamie S., Sentinel
Fritz, Randy, Hail of Fire
Frontiera, Deborah, Book on Author's Den
The Nature of Life
Hayes, Celia
Hill, Lydia, Finding Home
Hutchins, Pamela, Heaven To Betsy
Huyser, Cindy, Burning Number Five
James, Brooklyn, Just Not Ready Yet
Johnson, Linda Baten, Henry Goes to Texas
Maloy, Donna, Celia and the Wolf
Masters, Nancy Robinson, Extraordinary Patriots
McIlvain, Myra, Stein House
Mueller, Don, Signs
Oliver, Becka, Writer's League of Texas, Executive Director
O'Loughlin, Peter, The Archimedes Signal
Peck, Connie, Legend of the Superstition Gold
Penny, Gean, Sally the Travelin' Saddle
Sharboneau, Shanalee, My Mama Loves Me
Shields, Kathleen, Hamilton Troll Meets Fiona The Dog
Smith, Jackie, PhD, Once More with Feeling
Stehle, Andrea, Daughter of Athena
Wallach, Elsie, Mysterious Mars
Wier, George, A Jealous God (electronic book)
Wilbur, Dee, A Jealous God (electronic book)
Winegarten, Debra L., Oveta Culp Hobby
For details, visit www.texaswordwrangler.com
(Information from event website)

Permian Basin Writers' Workshop
slated for Sept. 18–19 in Midland
The Permian Basin Writers' Workshop will be held September 18–19, 2015. Sponsored by the Midland Library Foundation, the workshop has been designed to offer two tracks that attendees may move between at their discretion. One track addresses elements of the writing process, and the other will focus on navigating the industry.
Venues will be Midland Centennial Library and Midland College, and registration cost is $35.
Presenters include Sara Cortez, Stephen Graham Jones, Seth Fishman, Kay Ellington, and Barbara Brannon.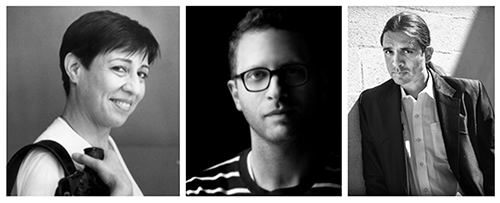 Above, from left: Sara Cortez, Seth Fishman, Stephen Graham Jones
A native Houstonian and councilor of the Texas Institute of Letters, Sarah Cortez is the author of an acclaimed poetry collection, How to Undress a Cop, and winner of the PEN Texas literary award in poetry. She has edited Urban Speak: Poetry of the City and Windows into My World: Latino Youth Write Their Lives, winner of the 2008 Skipping Stones Honor Award. She has also edited Hit List: The Best of Latino Mystery, Indian Country Noir (Akashic Books), and You Don't Have a Clue: Latino Mystery Stories for Teens, which was short-listed for the 2012 International Latino Book Awards.  In 2012 her spiritual memoir, in poetry and prose, titled Walking Home: Growing Up Hispanic in Houston, was published by Texas Review Press and was hailed by the Houston Chronicle as "a love letter to the city of Houston." A collection of poetry from the urban street cop's perspective, Cold Blue Steel, was published in 2013 by Texas Review Press and shortlisted for the Writer's League of Texas Poetry Award. A volume she edited, Our Lost Border: Life Amid the Narco-Violence, was also published in 2013 and has won both a Southwest Book Award and International Latino Book Award. Cortez was recently named to the 2014–16 Texas Commission on the Arts Touring Roster.
Stephen Graham Jones has twenty books out — five collections and fifteen novels. This year he has two or three more out as well: the young adult Floating Boy and the Girl Who Couldn't Fly (Dzanc, with Paul Tremblay), After the People Lights Have Gone Off (horror collection, Dark House), and Once Upon a Time in Texas (Trapdoor), the second installment of his Bunnyhead Chronicles. He also has a couple hundred short stories published, from literary journals to truck-enthusiast magazines, from textbooks to anthologies to best-of-the-year annuals. Jones has been an NEA Fellow and a Texas Writers League Fellow, and has won the Texas Institute of Letters Award for Fiction and the Independent Publishers Multicultural Award.
Born and raised in Midland, Texas, Seth Fishman received his MFA in creative writing from the University of East Anglia in Norwich, England. He's the author of two YA thrillers from Penguin Putnam, The Well's End and The Dark Water, and three forthcoming picture books from HarperCollins (Greenwillow), the first titled A Hundred Billion Trillion Stars. When not writing, Seth is a literary agent at the Gernert Company.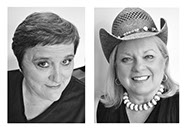 Kay Ellington (far left) and Barbara Brannon (left), coauthors of the Texas novels The Paragraph Ranch (Booktrope, 2014) and A Wedding at the Paragraph Ranch (2015), combine more than five decades of experience in book publishing, news, and other media in their teaching, editing, and marketing endeavors. Kay, whose newspaper management experience has taken her from West Texas to New York, California, and the Carolinas and back again to her home state, is the founder and publisher of LoneStarLiterary.com, the online newspaper for all things bookish in Texas. Barbara, who studied poetry with James Dickey while earning the PhD at the University of South Carolina, was formerly managing editor, publisher, and marketing manager for several university and regional presses. She currently heads up a nonprofit under the Texas Historical Commission and serves as editor and publisher of numerous regional publishing projects.
(Information from the event website)