Texas Reads
>> archive
Glenn Dromgoole
8.30.15   Panhandle author's mysteries set in Amish country
Texas author Linda Castillo writes fast-paced, best-selling mysteries set in the Amish country of northeastern Ohio and featuring Kate Burkholder, police chief in the small town of Painters Mill.
In her newest novel, After the Storm (Minotaur Books, $25.99 hardcover), a tornado rips through Painters Mill, and the police chief races to help with rescue efforts. Castillo dedicated the book to first responders "for being there when you are needed most."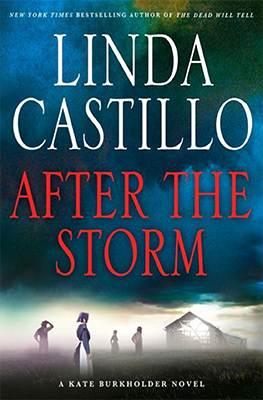 Burkholder's attempt to rescue a baby trapped in a demolished home puts her in danger on the scene — and in even more danger later from the baby's parents. After the storm, Boy Scouts helping with cleanup efforts discover a human skull and some other bones stuffed in a bag.

As Burkholder investigates, she reopens a thirty-year-old mystery into the disappearance of a young man who was about to wed an Amish girl against her family's wishes because he was not Amish. The girl would go on to marry an Amish man and bear his children, but when the bones are discovered she begins to wonder if her whole life has been based on a lie.

This is the seventh book in Castillo's Amish mystery series that began with Sworn to Silence. But if you haven't read any of the other books in the series, don't worry. After the Storm is a good stand-alone novel that will quickly put you in the middle of the action.

Castillo, who lives and writes and rides horses on a small ranch near Amarillo, will be featured at the West Texas Book Festival at noon Sept. 23 at the Abilene Public Library.  For more on the festival, go to abilenetx.com/apl.

* * * * *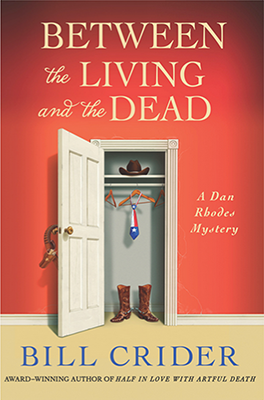 Dan Rhodes Mystery: The latest Bill Crider mystery featuring longtime small-town Texas sheriff Dan Rhodes is Between the Living and the Dead (Minotaur Books, $24.99 hardcover).
This is the twenty-second novel in the long-running Dan Rhodes murder mystery series, making Clearview, Texas, a pretty dangerous small town in my way of thinking. Well, it's fiction!
And always a good read. In this story, Rhodes finds the body of a meth dealer who has just gotten out of jail, and there are plenty of people who might have wanted him dead, including the nephew of the mayor of Clearview.
Meanwhile, Rhodes's math professor pal Dr. C. P. "Seepy" Benton is embarking on a new summer line of work as a paranormal investigator — a ghost hunter. Can he really communicate with ghosts?
For more, check out the author's website, www.billcrider.com.
* * * * *
Glenn Dromgoole is co-author of 101 Essential Texas Books.
Contact him at g.dromgoole@suddenlink.net.