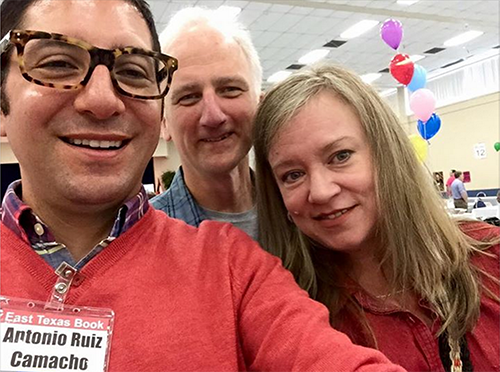 Above, from left: Antonio Ruiz-Camacho, Thomas H. McNeely, Michelle Newby at 2015 East Texas Book Festival
Hundreds turn out for East Texas Book Festival
By Michelle Newby, LSLL Contributing Editor
The 7th annual East Texas Book Festival, a collaboration among the University of Texas at Tyler, Smith County Public Libraries, and Tyler Area Partners for Literacy, was held at the Harvey Convention Center in Tyler this weekend, August 21–22. This festival gets bigger and better each year; with more than 100 authors in attendance this weekend for workshops, panel discussions, readings and book signings. According to organizers, more than 400 people attended the festival.

Day 1 was packed with seminars on literacy and strategies for teaching reading comprehension as well as workshops on creative writing and publishing. On day 2 the authors filled the convention hall. YA remains the hottest ticket in town and was well represented by Cynthia Leitich Smith with her newest title, Feral Pride (Candlewick, 2015); D'Ann Burrow with Playing by the Rules (Three Owl Press, 2015); Tracy Lawson with Counteract (Buddhapuss Ink, LLC, 2014), the first volume in her Resistance series; JoAnna Grace with The Harder They Fall (JoAnna Grace, 2015), book 3 in the Blake Pride series; and K.L. Beckman with The Grimsah Forest (The Next Chapter Publishing, 2015).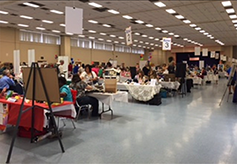 Several authors read from their works and presented panel discussions. Tracy Dahlby, journalism professor at the University of Texas Austin and author of Into the Field: A Foreign Correspondent's Notebook (University of Texas Press, 2014) and Antonio Ruiz-Camacho, author of Barefoot Dogs: Stories (Scribner, 2015), presented "Writing What You Know." Thomas H. McNeely, author of Ghost Horse (Gival Press, 2014), addressed "Life into Art: How to Tell a True Story," complete with writing exercises. Chris Tomlinson, author of Tomlinson Hill: The Remarkable Story of Two Families Who Share the Same Name — One White, One Black (Thomas Dunne Books, 2014), presented "Families are History," in which he offered his tips for effective research and getting the true story out of your relatives. According to Tomlinson, having a background in Army interrogation helps.

LETTERS TO THE EDITOR
Are you ready for some football (books)?
Our August 2015 "All-Time Best Texas Football Books" feature snagged lots of interest and comments—but none more insightful than the alternate suggestions of blogger Fred Goodwin of San Antonio. Check these out:
Gary Shaw, Meat on the Hoof (1972)
Steve Perkins, Next Year's Champions (1969)
Kern Tips, Football Texas Style: An Illustrated History of the Southwest Conference (1964)
J. Neal Blanton, Game of the Century: Texas vs. Arkansas (1970)
"Hard to argue with your list," he writes, "especially when it's limited to ten titles!"
Fred Goodwin
San Antonio, TX
Dallas Cowboy Books Blog
* * * * *
We also heard from Gaines Baty, who writes, "I believe that a new book, Champion of the Barrio, belongs on your 'best' list." Mr. Baty, we're with you, and we hope this title will endure as long as a Texas gridiron classic —and with as much influence—as Coach Buryl Baty's career.
For their suggestions, each reader has won a free copy of H. G. Bissinger's Friday Night Lights 25th Anniversary Edition. Keep those letters coming.
Permian Basin Writers' Workshop
slated for Sept. 18–19 in Midland
The Permian Basin Writers' Workshop will be held September 18–19, 2015. Sponsored by the Midland Library Foundation, the workshop has been designed to offer two tracks that attendees may move between at their discretion. One track addresses elements of the writing process, and the other will focus on navigating the industry.
Venues will be Midland Centennial Library and Midland College, and registration cost is $35.
Presenters include Sara Cortez, Stephen Graham Jones, Seth Fishman, Kay Ellington, and Barbara Brannon.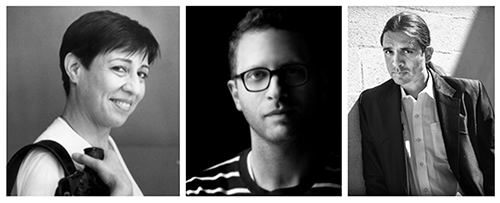 Above, from left: Sara Cortez, Seth Fishman, Stephen Graham Jones
A native Houstonian and councilor of the Texas Institute of Letters, Sarah Cortez is the author of an acclaimed poetry collection, How to Undress a Cop, and winner of the PEN Texas literary award in poetry. She has edited Urban Speak: Poetry of the City and Windows into My World: Latino Youth Write Their Lives, winner of the 2008 Skipping Stones Honor Award. She has also edited Hit List: The Best of Latino Mystery, Indian Country Noir (Akashic Books), and You Don't Have a Clue: Latino Mystery Stories for Teens, which was short-listed for the 2012 International Latino Book Awards.  In 2012 her spiritual memoir, in poetry and prose, titled Walking Home: Growing Up Hispanic in Houston, was published by Texas Review Press and was hailed by the Houston Chronicle as "a love letter to the city of Houston." A collection of poetry from the urban street cop's perspective, Cold Blue Steel, was published in 2013 by Texas Review Press and shortlisted for the Writer's League of Texas Poetry Award. A volume she edited, Our Lost Border: Life Amid the Narco-Violence, was also published in 2013 and has won both a Southwest Book Award and International Latino Book Award. Cortez was recently named to the 2014–16 Texas Commission on the Arts Touring Roster.
Stephen Graham Jones has twenty books out — five collections and fifteen novels. This year he has two or three more out as well: the young adult Floating Boy and the Girl Who Couldn't Fly (Dzanc, with Paul Tremblay), After the People Lights Have Gone Off (horror collection, Dark House), and Once Upon a Time in Texas (Trapdoor), the second installment of his Bunnyhead Chronicles. He also has a couple hundred short stories published, from literary journals to truck-enthusiast magazines, from textbooks to anthologies to best-of-the-year annuals. Jones has been an NEA Fellow and a Texas Writers League Fellow, and has won the Texas Institute of Letters Award for Fiction and the Independent Publishers Multicultural Award.
Born and raised in Midland, Texas, Seth Fishman received his MFA in creative writing from the University of East Anglia in Norwich, England. He's the author of two YA thrillers from Penguin Putnam, The Well's End and The Dark Water, and three forthcoming picture books from HarperCollins (Greenwillow), the first titled A Hundred Billion Trillion Stars. When not writing, Seth is a literary agent at the Gernert Company.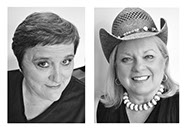 Kay Ellington (far left) and Barbara Brannon (left), coauthors of the Texas novels The Paragraph Ranch (Booktrope, 2014) and A Wedding at the Paragraph Ranch (2015), combine more than five decades of experience in book publishing, news, and other media in their teaching, editing, and marketing endeavors. Kay, whose newspaper management experience has taken her from West Texas to New York, California, and the Carolinas and back again to her home state, is the founder and publisher of LoneStarLiterary.com, the online newspaper for all things bookish in Texas. Barbara, who studied poetry with James Dickey while earning the PhD at the University of South Carolina, was formerly managing editor, publisher, and marketing manager for several university and regional presses. She currently heads up a nonprofit under the Texas Historical Commission and serves as editor and publisher of numerous regional publishing projects.
(Information from the event website)