Texas Reads
Glenn Dromgoole
>> archive
Brantlys relate story of their Ebola ordeal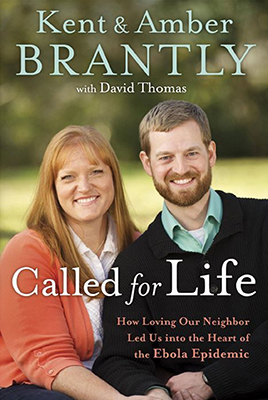 Ebola survivor Dr. Kent Brantly and wife Amber tell the gripping story of their ordeal and their faith in Called for Life: How Loving Our Neighbor Led Us into the Heart of the Ebola Epidemic (with David Thomas, Waterbrook Press, $23 hardcover).
The story, told from both of their points of view, begins with Dr. Brantly's work as a medical missionary in Liberia. He and Amber, both graduates of Abilene Christian University, had been there just eight months when the Ebola plague hit Liberia, overwhelming local medical facilities and personnel. For nearly six weeks, Brantly often put in twenty-four-hour shifts, sometimes even longer, at the ELWA mission clinic.
Finally, he was due a vacation. On July 20, Amber and their two children flew home to Abilene for Amber's brother's wedding. Kent was to join them a week later. But on July 23 he woke up with a fever, and by the end of the week it was confirmed that he had Ebola. He was confined and treated at home by his colleagues. His family, fortunately, had not been exposed because they were already gone when he became ill.
Kent and Amber were able to talk by phone as his condition worsened, and the book's most poignant chapters — especially "The Day Kent Almost Died" — relate what they were thinking while he fought for his life and she, back home in Texas, could only pray and hope.
Of course, everyone knows how the story ends before reading the book. Brantly became the first patient in the U.S. treated for Ebola — in Atlanta — and eventually walked out of the hospital free of the deadly disease.
But Called for Life goes behind the scenes to offer firsthand accounts of how the disease ravages the body and how the couple's faith was strengthened as they faced looming death and then miraculous recovery.
* * * * *
Texas  Poet: Cleatus Rattan, the 2004 Texas state poet laureate, from Cisco, has a new, comprehensive volume of poems, A Popular Play (Texas Review Press, $12.95 paperback).
The 200-page collection includes about 150 previously published poems and 50 new ones.
Larry D. Thomas, the 2008 Texas poet laureate, calls it "by any standard, a most impressive body of work." 2001 Texas poet laureate James Hoggard says, "[I]n this sizably generous work there's plenty of room for mischief, delight, and praise."
Rattan was a Marine and a rodeo cowboy before he started teaching at Cisco College and later at Mary Hardin-Baylor.
A Popular Play is a fitting tribute to a Texas poet who has taught, encouraged and inspired hundreds of writers through the years.
* * * * *
Glenn Dromgoole is co-author of 101 Essential Texas Books. Contact him at g.dromgoole@suddenlink.net.
Are you ready for some football (books)?
Lone Star Literary Life's Best Texas Football Books special section kicks off today, Sun., Aug. 9, 2015.
Two-a-days, the Twelfth Man, and the Cotton Bowl are just some of the iconic touchstones of Texas culture and by extension Lone Star literature.
On Sun., Aug. 9, we pay tribute to the best Texas football books by interviewing H. G. "Buzz" Bissinger, author of Friday Night Lights, as his publisher releases the 25th anniversary edition of the book.
>> READ MORE
978-1-62349-266-3, hardcover, 288 pgs., $24.95

Feb. 9, 2015

Champion of the Barrio: The Legacy of Coach Buryl Baty by R. Gaines Baty is the latest biography in Texas A&M University Press's Spirit of Sport: A Series of Books Focusing on Sport in Modern Society. The author, older son of Coach Baty, undertook this project as a way to learn more about the father he hardly remembered, to see the man through the eyes of those he touched so deeply before he was taken so tragically and so young.  >>READ MORE

Fiction
Texas Review Press, 978-1-68003-038-9, 344 pgs., $22.95

July 15, 2015

Pretty Enough for You is Cliff Hudder's rollicking carnival of a debut novel.

Harrison Bent is a self-absorbed, adolescent middle-aged ne'er-do-well immigration attorney in love with a twentysomething paralegal, married to a Filipino au pair who needed citizenship, with a girlfriend-stalker, whose philosophy is go-along-to-get-along. Playing hooky from responsibility, marinating in rum-Vicodin-Xanax cocktails and lying to his therapist, Bent is assigned a new case. "I knew I was not equipped to deal with the Leudecke case. I also knew I wouldn't turn it down or hand it off to somebody better suited … what background did I have in eminent domain? Or with Mexican drug dealers? Or dead Mexican drug dealers?" Bent's also deficient in pyromaniacs, witches, and the Treaty of Guadalupe Hidalgo, but he gets a crash course. >> READ MORE