Texas Reads
Glenn Dromgoole
>> archive
Ranger captain's short life was anything but boring
Ranger Captain Frank Jones was killed in 1893 on the Texas-Mexico border in a shootout with Mexican rustlers. He was thirty-seven.
Author Bob Alexander has penned a full-length biography (nearly 500 pages with notes) of Jones — Six-Shooters and Shifting Sands: The Wild West Life of Texas Ranger Captain Frank Jones (University of North Texas Press, $34.95 hardcover).
"Many well-read students, historians, and loyal aficionados of Texas Ranger lore know the name," Alexander writes, "but not the man."
Frank Jones joined the Rangers at age nineteen and served with the Frontier Battalion. "[His] law enforcing life was anything but boring," the author says. "His biography is jam-packed with the hunts for dangerous desperadoes."
Alexander is the author of several other Texas Ranger books from UNT Press: Riding Lucifer's Line: Ranger Deaths along the Texas-Mexico Border; Rawhide Ranger, Ira Aten: Enforcing Law on the Texas Frontier; Bad Company and Burnt Powder: Justice and Injustice in the Old Southwest; and Winchester Warriors: Texas Rangers of Company D, 1874-1901.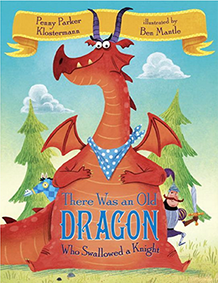 Hungry dragon: Abilene author Penny Parker Klostermann's first book, There Was an Old Dragon Who Swallowed a Knight, makes its national debut on Tuesday.
It's rare for a first-time author — especially a children's author — to land a deal with a major publisher like Random House. Not only that, but in a full-color trade magazine insert promoting its fall list of children's books, Random House put Klostermann's book on the cover.
The book, delightfully illustrated by Ben Mantle of London, tells the tale of one very hungry dragon who gobbles up almost everything in the kingdom. When he swallows a moat and begins to bloat, he roars, "I've had more than enough of this swallowing stuff." But now what?
Klostermann, a retired teacher, has a second book with Random House scheduled to come out in 2017.
Cowboy poet: George Rhoades, a retired journalism professor from the University of Texas at Arlington, lives in Oklahoma now and has published two books of mostly cowboy poetry worthy of mention.
The first one, Along the Chisholm Trail and Other Poems, came out three years ago and won several awards and a lot of high praise from readers who appreciated his classic, upbeat approach to writing poems that have rhyme and rhythm.
Now he has produced a second volume, After the Chisholm, consisting of about a hundred poems dealing with cowboys, rural life, and other observations. One of my favorites is "The Last Newspaper," about a future-day grandfather explaining to his grandson how newspapers informed people back in the day before everything became "short and quick and on a screen."
Rhoades's books, from OutskirtsPress.com, are $9.95 paperback and $5 e-book.
* * * * *
Glenn Dromgoole is co-author of 101 Essential Texas Books. Contact him at g.dromgoole@suddenlink.net.
Are you ready for some football (books)?
Lone Star Literary Life's Best Texas Football Books special section kicks off Sunday, Aug. 9
Two-a-days, the Twelfth Man, and the Cotton Bowl are just some of the iconic touchstones of Texas culture and by extension Lone Star literature.
On Sun., Aug. 9, we pay tribute to the best Texas football books by interviewing H. G. "Buzz" Bissinger, author of Friday Night Lights, as his publisher releases the 25th anniversary edition of the book. (See his fall event schedule in Texas, below.)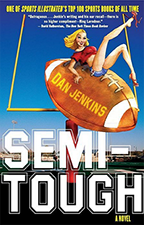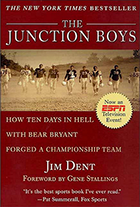 We'd like to bring you in on some coverage as well. (Zone, no blitz). We're doing an informal poll of the best Texas football books through the years. Titles like Semi-Tough, The Junction Boys, The Hundred Yard War, and Billy Lynn's Long Halftime Walk come to mind. What are yours?
Email your suggestion to us at info@lonestarliterary.com, and we'll publish the poll results in our Aug. 9 issue. And you'll automatically be entered in a drawing to win a free copy of Friday Night Lights 25th Anniversary Edition.
Fiction
Texas Review Press, 978-1-68003-038-9, 344 pgs., $22.95

July 15, 2015

Pretty Enough for You is Cliff Hudder's rollicking carnival of a debut novel.

Harrison Bent is a self-absorbed, adolescent middle-aged ne'er-do-well immigration attorney in love with a twentysomething paralegal, married to a Filipino au pair who needed citizenship, with a girlfriend-stalker, whose philosophy is go-along-to-get-along. Playing hooky from responsibility, marinating in rum-Vicodin-Xanax cocktails and lying to his therapist, Bent is assigned a new case. "I knew I was not equipped to deal with the Leudecke case. I also knew I wouldn't turn it down or hand it off to somebody better suited … what background did I have in eminent domain? Or with Mexican drug dealers? Or dead Mexican drug dealers?" Bent's also deficient in pyromaniacs, witches, and the Treaty of Guadalupe Hidalgo, but he gets a crash course. >> READ MORE

Fiction

Sarah McCoy

Read by Elisabeth Rodgers

Audible audio edition, 11 hours and 47 minutes, unabridged, $21.95

The Baker's Daughter by Sarah McCoy is an entertaining and illuminating exploration of the false dichotomy between loyalty to country and personal conviction. Moving backward and forward in time between World War II Germany and present-day El Paso, Texas, McCoy draws parallels between those who did what they could to help the Jews and those who do what they can to help Central American immigrants.   >> READ MORE