15th annual West Texas Book Festival, Sept. 21–26, 2015, announces featured authors
The West Texas Book Festival, which will celebrate its 15th annual festival this year during the week of September 21-26 at the Abilene Public Library in Abilene, Texas, announced its lineup of authors this week.
The festival seeks to celebrate books, literacy, and reading, with a special emphasis on local and regional authors. The event is community driven and provides the public with the chance to interact with local authors on a more personal level. The festival includes a number of meet and greet sessions as well as readings and talks. For more information contact Janis Test at (325) 676-6017.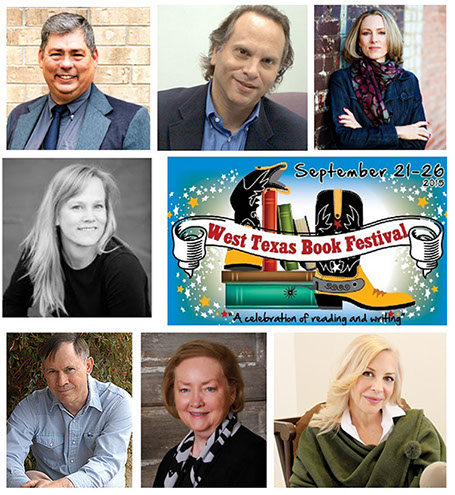 Clockwise from upper left: O'Neal, Bissinger, Castillo, Kent, Thomas, Dearen, Specht (photos from Amarillo Public Library website)
A. C. Greene Award Winner
Bill O'Neal,Carthage, TX
O'Neal is the author of 42 books and more than 300 articles and book reviews on the American West. Having retired as a history professor at Panola College in Carthage, TX, he continues to teach periodically and maintains a writing career. O'Neal is a member of the Western Writers of America, has appeared in television documentaries on Turner Network Television, the History Channel, the British Broadcasting Corporation, the Discovery Channel, Turner Broadcasting System, and the Arts and Entertainment Channel. He has received several awards including being appointed the Texas State Historian in 2012 by Governor Rick Perry, receiving the 2005 National Association of Outlaw and Lawmen Association Award for The Johnson County War, named the Best Living Non-Fiction Writer by True West Magazine in 2007, and more.
* * * * *
H. G. "Buzz" Bissinger, Philadelphia, PA
Bissinger may be a native of New York City, but he has ties to Texas, spending a year in Odessa to author the book Friday Night Lights: A Town, a Team, and a Dream about the impact of high school football in Odessa, Texas. That book would go on to inspire a critically acclaimed feature film and television series that ran for five season on NBC. Bissinger is an honored and distinguished writer with six books to his credit. He has won the Pulitzer Prize, the Livingston Award, the American Bar Association Silver Gavel Award, the National Headliners Award, and others. He's also worked as a reporter on prestigious newspaper and been a writer for magazines including Vanity Fair, the New York Times magazine, and Sports Illustrated; plus, he was the co-producer and writer for the TV drama NYPD Blue. With such a rich and diverse collection of works, which have been praised by the New York Times, Entertainment Weekly, the Houston Chronicle, CBS News, USA Today, and more, he's an author you won't want to miss at this year's festival.
Linda Castillo, Amarillo, TX
Castillo is originally from Ohio, which became the inspiration behind her collection of Amish thrillers collectively titled the Kate Burkholder Series. She has published 30 books and has been the recipient of numerous awards including the Golden Heart, the Daphne du Maurier Award of Excellence, a nomination for the prestigious RITA Award, and a nomination by the International Thriller Writers for Best Hardcover. Her first book, Sworn to Silence, spent four weeks on the New York Times Bestseller list and the following books in the series have also hit both the New York Times and USA Today lists, becoming international bestsellers. In addition novels, the first book was adapted to a made-for-TV movie titled An Amish Murder starring Neve Campbell. Castillo's most recent novel, also the seventh book in her series, is titled After the Storm.
Patrick Dearen, Midland, TX
Dearen is West Texas born and the author of 21 books, including The Big Drift, which received the 2015 Spur Award for Best Western Traditional Novel. Having earned a bachelor of journalism from the University of Texas at Austin in 1974, Dearen has received nine national and state awards as a reporter for two West Texas daily newspapers and is noted for his knowledge of old-time cowboy life. Dearen has been honored by the Academy of Western Artists, the San Antonio Conservation Society, the Will Rogers Medallion Awards, the West Texas Historical Association, and the Permian Historical Society. Plus, if you visit his website, you will see video of actor Robert Duvall discussing and reading from one of Dearen's books.
Kay Ellington & Barbara Brannon, Lubbock, TX
Lubbock writers Ellington & Brannon are the coauthors of The Paragraph Ranch and its 2015 sequel A Wedding at the Paragraph Ranch, novels that combine comic views of rural life and the writing life with a dose of sage, practical writing advice. The are also the creators of LoneStarLiterary.com, the online newspaper for all things bookish in Texas, and "The Working Writer," a blog combining their half century of experience in every aspect of books and media from concept to critique and publishing to promotion. Ellington spent thirty years in newspaper management from Texas to New York to California and the Carolinas and back again to West Texas. Brannon, an editor and travel writer, spent most of her career in book publishing and formerly led the groundbreaking Publishing Laboratory at the University of North Carolina Wilmington; she currently heads up the Texas Plains Trail Region, based in Lubbock.
Tiffany Harelik, Austin, TX
Harelik was born in Austin, raised in Buffalo Gap, and was the former Sweetwater Rattlesnake Round-Up Queen. She has come to put her own spin on cookbooks, which began with the Trailer Food Diaries Cookbook Series, combining quirky characters with great recipes and anecdotes. She's also the author of The Big Bend Cookbook, having been writing her line of cookbooks since 2009. Her works will take readers, and foodies, on a journey to learn how to cook some gourmet dishes off the menus of food trucks covering the cities of Austin, Portland, Dallas/Fort Worth, and Houston. Harelik will be one of three featured cookbook authors at this year's festival.
Kathleen Kent, Dallas, TX
Kent is the author of two bestselling novels, including The Heretic's Daughter (winner of the David J. Langum Sr. Award for American Historical Fiction) and The Traitor's Wife. Her most recent novel, The Outcasts, has been awarded by the American Library Association as being a Top Pick in Historical Fiction for 2014, as well as being the recipient of a Will Rogers Medallion Award for Western Fiction. Having been influenced by the works of James Michener, Larry McMurtry, Cormac McCarthy, and others, her work is finding a great fan base. Kent is currently working on her fourth novel based on a short story published in the crime anthology Dallas Noir and her novels have been published in 16 countries. The Outcasts has been described as a "taut, thrilling adventure story about buried treasure, a manhunt, and a woman determined to make a life for herself in the old west."
Penny Klostermann, Abilene, TX
Having grown up in Colorado, Klostermann now resides in Abilene and is the author of picture books and poetry for children. Having taught school for 26 years before, she has a fondness for all kinds of books (especially silly picture books that make her laugh). Klostermann is a member of the Society of Children's Book Writers and Illustrators and was named the 2012 Barbara Karlin Grant Runner-Up. Her first children's book is titled There Was An Old Dragon Who Swallowed a Knight, as a great variation on a time-honored story, and her following book is already set for a 2017 release titled A Cooked-Up Fairy Tale.
Jay Moore, Abilene, TX
Moore is a man many Abilenians are familiar with as he has produced a number of award-winning works documenting Abilene's history such as the "History in Plain Sight" documentary film series. Born and raised in Abilene, Moore has been a teacher at Abilene High School since 1992, currently teaching U.S. History and serving as the Department Head for Social Studies. His passion for history is not only noticed by his students and the community, but outside of the community as well. Moore has received the 2011 National Award of Merit from the American Association of State and Local History, the 2011 Maxine Perini Award from the Taylor County Historical Commission, the 1996 Spotlight Teacher of the Year Award from the Abilene Independent School District, the 2013 Outstanding Teaching of the Humanities Award from Humanities Texas, and more. With his unique style of making history come to life, Moore will participate in the Authors in Schools program during the festival, reaching out to local students in the area and discussing his book, Abilene A to Z.
Roger Moore, Merkel, TX
Moore is a noted cartoonist, with a cowboy bent, who has worked in many areas over the course of his life including raising cotton, working as a coach/teacher, joining Texas Instruments in Dallas, and eventually turning to advertising. He would soon start drawing editorial cartoons for the Allen American in Collin County, while also working as a lobbyist to represent the textbook industry. In 1974, Moore would work with the Austin Citizen, creating a weekly cartoon through the early '80s, later establishing the "Bona Fide Original Real Texas Calendar." Moore creates his work with pen and ink, keeping his characters simplistic. Throughout his years, Moore has come to finally figure life out. He states, "I've been divorced and have gone broke a couple times. But sooner or later, a man's got to figure out what's really important in life. To me, it's having a loving family like I have now and doing what you want to do, not what someone else wants you to do." Moore will be present at the festival on Fri., Sept., 25 and presenting on his book titled My Texas.
Lisa Perini, Buffalo Gap, TX
Lisa Perini, and her husband, Tom, are well-known in this area as the owners of the Perini Ranch, which was turned into a career in 1973 and has become synonymous with fine cowboy gourmet. Located in Buffalo Gap, TX, since 1983, the steakhouse has served as one of the best chuck wagon style food in America, receiving great notoriety through Texas Monthly, the New York Times, People, The James Beard Foundation, Food Network Magazine, and more. Lisa Perini is a long-time lover of basset hounds, and their beloved dog Gus is happy to announce his first published work to take young readers on a tour of the Perini Ranch and introduce everyone to his ranch family.
Grady Spears, Fort Worth, TX
Spears is a native Texan and cowboy-turned-chef known for creating cowboy menus for restaurants he's co-owned in Fort Worth, TX, Granbury, TX, and Beverly Hills, CA. Spears is the owner of Grady's Restaurant in Fort Worth and has written a number of cookbooks including Kitchen, Cooking, The Texas Cowboy Kitchen, and more. After leaving his job of punching and selling cattle, he turned to restaurant work before then diving into cooking when the chef quit during a busy weekend dinner shift. Spears stepped up to the stove, started cooking, and the rest was history. Creating menus using his signature cowboy style, his talents have led him to appearing on television including Good Morning America, the Today Show, the Food Network, and more. Spears will be one of three featured cookbook authors present at the festival.
Mary Helen Specht, Austin, TX
Specht was born and raised in Abilene, having earned a B.A. in English from Rice University and an M.F.A. in creative writing from Emerson College. Her works have appeared in a number of publications including the New York Times, the Texas Observer, Michigan Quarterly Review, Night Train, and more. Having also been a Fulbright scholar to Nigeria and a Dobie-Paisano Writing Fellow, she teaches creative writing at St. Edward's University in Austin, TX. Migratory Animals is her first novel and it has already been received with praise and touted as a "powerful debut novel" from an "exciting young writer." Plus it has been named a New York Times Book Review Editor's Choice, an IndieNext Selection, an Apple iBook Selection, and an Austin American-Statesman Selects Book.
Jodi Thomas, Canyon, TX
Thomas is a New York Times bestselling author, the 2013 recipient of the A. C. Greene Award, and a fifth-generation Texan who chooses to set the majority of her novels in her home state, where her grandmother was born in a covered wagon. A former teacher, Thomas traces the beginning of her storytelling career to the days when her twin sisters were young and impressionable. With a degree in Family Studies, Thomas is a marriage and family counselor by education, a background that enables her to write about family dynamics. Honored in 2002 as a Distinguished Alumni by Texas Tech University in Lubbock, Thomas enjoys interacting with students on the West Texas A & M University campus, where she currently serves as Writer In Residence. Her numerous awards include the National Press Women's Novel of the Year, the Romance Writers of America's RITA award, and the National Readers' Choice Award.
Terry Thompson-Anderson, Fredericksburg, TX
Thompson-Anderson is the author of several cookbooks including the bestselling Cajun-Creole Cooking, Texas on the Plate, and The Texas Hill Country, and writes a regular wine feature for Edible Austin magazine. Having grown up in Houston, her mother wasn't much of a cook and it wasn't until she got married that she was introduced to the world of cooking by her mother-in-law. After moving to Austin, she began taking classes and eventually attended culinary school. She later received a 9-page feature in the Dec. 1983 issue of Bon Appetit magazine, studied under James Beard, and this helped bring her requests from around the country for consulting assistance, while also appearing on numerous television and radio programs. She now resides in Fredericksburg where she launched a line of food products and continues to be highly sought after as a consultant, chef, teacher, demonstrator, and lecturer.
(Information from Abilene Public Library website)
Are you ready for some football (books)?
Lone Star Literary Life's Best Texas Football Books special section kicks off Sunday, Aug. 9
Two-a-days, the Twelfth Man, and the Cotton Bowl are just some of the iconic touchstones of Texas culture and by extension Lone Star literature.
On Sun., Aug. 9, we pay tribute to the best Texas football books by interviewing H. G. "Buzz" Bissinger, author of Friday Night Lights, as his publisher releases the 25th anniversary edition of the book. (See his fall event schedule in Texas, below.)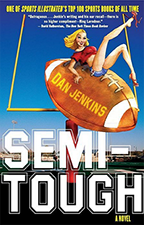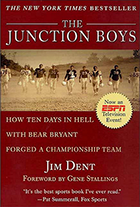 We'd like to bring you in on some coverage as well. (Zone, no blitz). We're doing an informal poll of the best Texas football books through the years. Titles like Semi-Tough, The Junction Boys, The Hundred Yard War, and Billy Lynn's Long Halftime Walk come to mind. What are yours?
Email your suggestion to us at info@lonestarliterary.com, and we'll publish the poll results in our Aug. 9 issue. And you'll automatically be entered in a drawing to win a free copy of Friday Night Lights 25th Anniversary Edition.

Bissinger publisher announces Texas signings, events for 25th Anniversary Friday Night Lights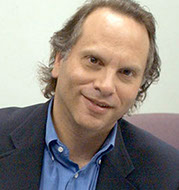 In conjunction with Da Capo Press's Aug. 11 publication of the 25th anniversary edition of  Friday Night Lights: A Town, a Team, and a Dream uathor H. G. "Buzz" Bissinger returns to Texas for a series of events. The publisher announced the following schedule this week:
Buzz Bissinger Book Events, Fall 2015
9/14/15, Hastings (Odessa, TX), 7 p.m.,

with support from the Odessa Council for the Arts     and Humanities

9/15/15, High School TBD (Midland, TX)

—morning or lunchtime solo talk

9/15/15, Midland County Public Library (Midland, TX)

, Centennial branch, 5:30-6:30 p.m.,     solo talk, B&N to sell

9/15/15, Yucca Theater (Midland, TX), 7:30 p.m.

—panel moderated by Jay Hendricks, CBS 7 anchor; ticketed event as fundraiser for Midland County Public Library Foundation
9/16/15, Brazos Bookstore (Houston, TX), 7 p.m.

9/18/15, Abilene Public Library (Abilene, TX), 12 p.m.,

Texas Star Trading Company to sell

9/19/15, Half Price Books (Dallas, TX), 2 p.m.

9/20/15, BookPeople (Austin, TX), 2 p.m.

100 authors, creative writing experts, musicians, and performers slated for 7th annual East Texas Book Fest
The seventh annual East Texas Book Fest takes place on Friday, Aug. 21, and Saturday, Aug. 22, in Tyler's Harvey Convention Center, located at 2000 West Front Street, Tyler. The event is free.
One hundred Texas authors who write in many genres and for all ages will display their books and chat with readers. In addition, professionals will demonstrate and explain various literacy projects for children and adults. Other experts will lead seminars to make reading more meaningful and rewarding to all and to help writers improve their craft and sales.
SALT (Smith County Area Libraries Together) organized the first ETX Book Fest in 2009 to celebrate libraries, authors, books, and reading. SALT is an organization of Smith County Public libraries — Tyler Public Library, Lindale Library, Troup Municipal Library, Bullard Community Library, and Whitehouse Community Library — and UT Tyler Muntz Library.
In 2014, TAP for Literacy (Tyler Area Partners for Literacy), a collaboration of agencies and organizations devoted to expanding literacy at all levels, joined the team as co-organizer. This collaboration brings new dimensions, activities, authors, and attendees to this regional event. SALT and TAP for Literacy are both 501 (c) (3) nonprofit organizations serving libraries and literacy.
Here's a selection of authors appearing at the festival by topic.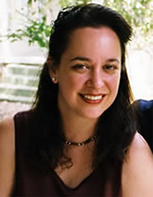 WRITING FOR CHILDREN
Cynthia Leitich Smith (left), author of Tantalize, Eternal, Blessed, and more
Don Tate, author and Illustrator of Poet: The Remarkable Story of George Moses Horton (Sept 2015), It Jes' Happened When Billy Traylor Started to Draw (2012), and more
SO YOU WANT TO PUBLISH A BOOK?
Chris Rogers, author of Emissary (Nov. 2014), Here Lies A Wicked Man, Write the Scene 3 Easy Ways, Ramp Up Tension 3 Easy Ways, Plot Your Story 3 Easy Ways, and more
CONNECTING WITH THE HEARTS AND MINDS OF YOUNG ADULTS
Dr. Rene Saldaña, author of Heartbeat of the Soul of the World, Dancing With the Devil and Other Tales of Beyond, ¡Juventud! Growing up on the Border, The Jumping Tree, and more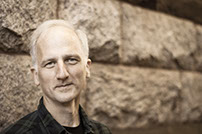 AWARD-WINNING FICTION FOR ADULTS
Ben Fountain (far left), author of Billy Lynn's Long Halftime Walk
Thomas McNeely (left), author of Ghost Horse
WRITING BOOKS and SINGING SONGS
Mike Blakely, author of A Song To Die For, What Are the Chances, A Tale Out of Luck, Come Sundown, Comanche Dawn, and more

WRITING WHAT YOU KNOW
Antonio Ruiz-Camacho (left), author of Barefoot Dogs: Stories
Tracy Dahlby, author of Into the Field: A Correspondent's Notebook
WRITING BIOGRAPHIES
M. J. Mooney, author of The Life and Legend of Chris Kyle: American Sniper, Navy SEAL
M. M. McAllen, author of Maximilian and Carlota: Europe's Last Empire in Mexico
Dr. Carlos K. Blanton, author of George I. Sánchez, The Long Fight for Mexican American Integration
FAMILIES ARE HISTORY
Chris Tomlinson, author of Tomlinson Hill and producer of Tomlinson Hill: Are We Equal Yet?
For further information, visit www.etxbookfest.org or email etxbookfest@yahoo.com
(Information from East Texas Book Festival's website)

David Sedaris coming to Odessa Fri., Nov. 6

Odessa College and the Odessa Council for Arts & Humanities are partnering to bring David Sedaris to Deaderick Auditorium on Friday, Nov. 6, at 7 p.m. The show is free to the public. Tickets will be available in August.
(Information from Odessa Council for Arts & Humanities)