Texas Reads
>> archive
Glenn Dromgoole
7.19.15   Wilder Good, Hank books aimed at boys
Two Texas authors have found a special niche — adventure books for boys in grades four to eight.
Wilder and Sunny is the third novel in Lubbock author S. J. Dahlstrom's Adventures of Wilder Good series (Paul Dry Books, $7.95). The series features twelve-year-old Wilder Good, whose name reflects two important characteristics of his personality: he loves the outdoors, and he tries to do the right thing when put in tough situations.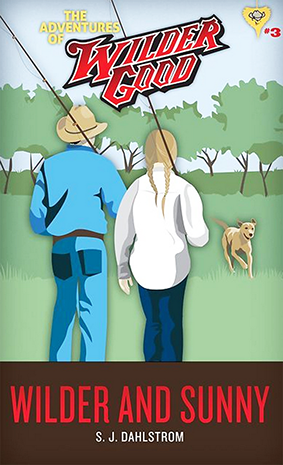 Wilder lives with his parents and little sister in a small town in Colorado. His mother is dealing with breast cancer, and his father devotes much of his time and energies to her care. In the previous book, Texas Grit, Wilder went to Texas to stay with his grandfather while his mother was undergoing treatments.
This story involves Wilder, his girl friend (or is she a "girlfriend"?) Sunny Parker, and his seventy-two-year-old fishing partner and mentor Gale Loving. The three set out for a day of trout fishing in the cool Rio Grande River in Colorado. Before the day is over, their outdoor skills, courage, and sense of responsibility will be put to a life-and-death challenge.
Dahlstrom's own mentor as a writer is Hank the Cowdog author John Erickson, who endorses the Wilder Good series in one short, powerful sentence: "If you like Hank, you'll like Wilder Good, too."
Speaking of Erickson, the sixty-fifth book in his incredibly popular and enduring Hank series is The Almost Last Roundup (Maverick Books, $5.99 paperback). He dedicates the book to three of "my best students," one of whom is Dahlstrom.
In this adventure, Hank and the rest of the ranch gang are dealing with a severe drought — and then, to top it off, a prairie fire. This could be the last roundup unless they get a good rain — soon.
The Hank books didn't start out to be a series for young readers in Erickson's mind — just some stories he thought might appeal to ranch families. Before long, however, elementary teachers and librarians discovered the Hank tales had special appeal to hard-to-reach nine- to twelve-year-old boys.  Hank — and his creator Erickson — became heroes to the teachers and young readers, and Erickson continues to write one or two Hank books a year while operating his own ranch near Perryton.
The first Hank book, The Original Adventures of Hank the Cowdog, is one of the books in 101 Essential Texas Books by Glenn Dromgoole and Carlton Stowers.
* * * * *
Glenn Dromgoole is co-author of 101 Essential Texas Books.
Contact him at g.dromgoole@suddenlink.net.