Texas Reads
>> archive
Glenn Dromgoole
7.12.15   Author of Arkansas mysteries now writes in Texas
Although her books are still set in Arkansas, popular novelist Joan Hess has called Austin, Texas, home for about five years. When her daughter became pregnant with twins, Hess moved from Fayetteville to Austin and has stayed.
Pride v. Prejudice (Minotaur Books, $25.99 hardcover) is the twentieth book in her Claire Malloy Mystery series, featuring a bookstore owner who is married to the town's deputy police chief and gets involved in solving murder mysteries. The series is set in the fictional town of Farberville, thought to closely resemble Fayetteville, home of the University of Arkansas.
Hess also has penned sixteen novels in her Maggody Mysteries series featuring Arly Hanks, the young female police chief in Maggody, Ark., population 755. She said she hopes to get back to the Maggody series in the next year or so.
In Pride v. Prejudice, Claire Malloy gets called for jury duty, only to be singled out for humiliation and rudely dismissed by the prosecuting attorney, who harbors a grudge against her husband.
Bent on revenge, Claire begins investigating the defendant's case—a woman accused of murdering her husband—in hopes of embarrassing the offending and overly ambitious prosecutor. But the more she learns, the worse it looks for the defendant, in spite of her claims of innocence.
Quite a dog: College Station author Kathi Appelt tells the story of a very special dog in her picture book Mogie: The Heart of the House (Atheneum Books, $17.99 hardcover, illustrated by Mark Rosenthal). The book is based on a dog that actually took up residence at the Ronald McDonald House in Houston.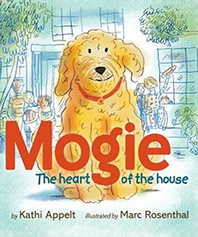 "Mogie knows when a kiddo needs him," Appelt writes. "He knows when to sit quietly beside the girl who is suffering from an asthma attack or the boy who has just lost his sister. He knows when a child needs to play fetch or when a staff member needs a quick lick on the cheek.
"He has an innate knowing about being a goofball and a warm companion," she adds. "Mostly, he is a best pal to whomever needs a best pal at that moment."
Although Appelt says she is basically a cat person, she also had a successful series of children's books a few years ago featuring a hound dog named Bo and his pal, baby Bubba.  Appelt, author of more than thirty books, won the A. C. Greene Award in 2009 given to a distinguished Texas author. Read more at kathiappelt.com.
* * * * *
Glenn Dromgoole is co-author of 101 Essential Texas Books.
Contact him at g.dromgoole@suddenlink.net.