Texas Reads
>> archive
Glenn Dromgoole
7.5.15   Authors trace story of Fort Hood massacre
Texas authors Anita Belles Porterfield and John Porterfield have written Death on Base: The Fort Hood Massacre, tracing the story of Army psychiatrist Nidal Hasan gunning down twelve soldiers and a civilian at Fort Hood, Texas, on Nov. 5, 2009.
"Perhaps the most tragic and disturbing consequence of the Fort Hood shooting," they write, "is the shattered illusion that a military base on American soil is a place that soldiers can rely upon to be a safe harbor."
The 350 page book (University of North Texas Press, $29.95 hardcover) begins with a chilling moment-by-moment reenactment of the murder scene, then examines Hasan's early life and the events leading up to the shootings, and follows the case through Hasan's trial and its  impact on the victims.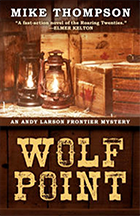 Historical Mystery: San Angelo novelist Mike Thompson's latest mystery is Wolf Point (Five Star, $25.95 hardcover), featuring Montana sheriff Andy Larson in 1923.
Larson finds himself up against mobsters, bootleggers, bank robbers, and dead bodies as his town becomes a battleground for control of illegal booze smuggled in from Canada.
In Thompson's earlier mystery, Curse of Al Capone's Gold, Larson was a police officer in North Dakota who, with the help of some friends, hijacks a truckload of bootleg alcohol coming in from Canada. The hijacking turns deadly, and then the hijackers discover that the haul includes thousands of dollars of gold coins belonging to Al Capone. Uh-oh! Capone and his henchmen are coming after the gold and the men who stole it.
Now Andy Larson has moved to Montana, thinking things might be a little more peaceful there. But soon he's caught up in the middle of another Prohibition bootlegging war. Thompson keeps the action flowing and the pages turning.
Fundraiser: Footprints in Aggieland: Remembrances of a Veteran Fundraiser by Robert L. Walker (Texas A&M University Press, $24.95 hardcover) tells about the author's experiences during his forty-six years as a development officer at Texas A&M.
The book, while of special interest to Aggies, also has a lot to say to anyone involved in fundraising. In fact, the last eight pages of the book are devoted to "Fundraising 101," a summary of a graduate-level course Walker taught at A&M for twenty years.
Walker, who grew up in Spur and went on to become one of the leading university development officers in the country, helped raise hundreds of millions of dollars during his career. After retiring from A&M, he and his son, Sid Walker, founded the Walker Consulting Group in College Station to assist organizations in fundraising. "Successful fundraising," he writes, "depends on people-to-people interaction, engagement and trust."
Fredericksburg Guide: Few if any cities in Texas have done more to preserve and promote their historical architecture than Fredericksburg. Texas A&M University Press has produced A Guide to the Historic Buildings of Fredericksburg and Gillespie County by Kenneth Hafertepe, chair of the department of museum studies at Baylor. The 376-page guidebook ($24.95 flexbound) includes more than 200 color photos.
* * * * *
Glenn Dromgoole is co-author of 101 Essential Texas Books.
Contact him at g.dromgoole@suddenlink.net.