Texas Reads
>> archive
Glenn Dromgoole
6.14.15   Willie Nelson says "It's a long story"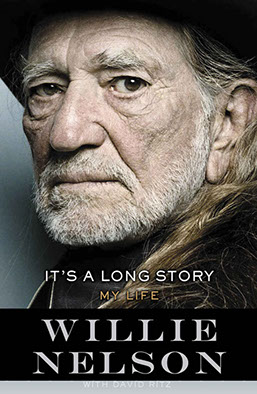 Willie Nelson begins his 375-page autobiography with "The End" and ends it with "The Beginning," and in between there is certainly plenty of straight talk about the various ups and downs and highlights and sidelights of his fascinating life.
It's a Long Story: My Life (Little Brown, $30 hardcover) is at least the third book about Willie (and the second by Willie) to hit the shelves in the last five years.
Joe Nick Patoski penned the award-winning biography Willie Nelson: An Epic Life in 2008, and Willie came out with the raucous Roll Me Up and Smoke Me When I Die: Musings from the Road in 2012.
This new book is Willie's own story, from end to beginning, told in Willie's own language, with help from co-author David Ritz.
"My head is filled with memories," Willie writes, "and my heart, while filled with love, also retains the memories of loss and hurt. "Memories remind us that every moment of our lives, even the most tragic, have contributed to our strength. We've gotten through. We're still here."
Indeed, Willie is still here and still going strong at 82. If you like Willie, you'll love his story.
* * * * *
Former Houston Astros pitching ace J. R. Richard writes his compelling life story in Still Throwing Heat: Strikeouts, the Streets, and a Second Chance (Triumph Books, $25.95 hardcover).
With co-author Lew Freedman, Richard tells how he was at the top of his game at age thirty in 1980. At 6'8" and 220 pounds, he was an intimidating presence on the pitching mound, racking up back-to-back 300-strikeout seasons and starting the 1980 All-Star game for the National League.
But on July 30, 1980, he suffered a stroke, and his life would never be the same. After several comeback attempts, he found himself out of baseball, unsuccessful at jobs, marriage, and investments, broke, depressed, and eventually homeless, living under a bridge in Houston. Friends rallied around him and helped get him back on his feet. He worked with the homeless, became the associate pastor of a church, married his third wife, Lula, and got back in touch with baseball through the Senior League and personal appearances with the Astros.
* * * * *
All About Cars: Richard Rawlings, star of the popular Fast N' Loud automotive restoration series on the Discovery Channel, has written a book about his life with cars — Fast N' Loud: Blood Sweat and Beers (William Morrow, $25.99 hardcover).
Co-authored with Mark Dagostino, the book is divided into three parts: Rawlings's "auto" biography; a behind-the-scenes look at his TV show; and a how-to section on restoring and reselling — or flipping — cars. Rawlings, a native of Fort Worth, is owner of the hot rod shop Gas Monkey Garage and the spin-off Gas Monkey Bar N' Grill, both in Dallas.
* * * * *
Glenn Dromgoole is co-author of 101 Essential Texas Books.
Contact him at g.dromgoole@suddenlink.net.