Lone Star Reviews
Michelle Newby, NBCC,
Contributing Editor

Texas Reads
Glenn Dromgoole
Self-published novels offer humor, mystery
When Kim Hunt Harris of Lubbock sent me a copy of her self-published paperback novel back in February, I was immediately intrigued by the title: The Trailer Park Princess and the Middle Finger of Fate.
However, at the time, I had a stack of books I was trying to get through, so I set it aside and figured I would get around to it at some point. When I finally did, I couldn't put it down. I started reading the 385-page comic mystery novel one evening and finished the next morning. It's an entertaining read—-blending humor, murder, friendship and faith into the mix.
The main character is a not-so-loveable 28-year-old loser named Salem Grimes, who is trying to get her miserable life together after a decade of heavy drinking, bad choices and who knows what else. It's pretty much a blur to Salem herself. Now 147 days into sobriety, she is on her way to an AA meeting at a Lubbock church when she finds a dead body on the church basement steps.
When the police arrest Salem's ex-husband, Tony, Salem and her eighty-something-year-old sidekick Viv set out to "help" solve the murder and exonerate Tony, putting themselves in grave danger. Meanwhile, Salem in her sobriety has found God and talks frankly to Him every day but has begun to wonder if He will ever talk back—and, if He does, will she get the message? Her genuinely kind and patient AA sponsor, Les, is reassuring, but Salem has her doubts.
The Trailer Park Princess and the Middle Finger of Fate is the first in the Trailer Park Princess series and is available as an e-book and paperback. Two short stories in the series are only on Kindle, while a second full novel is due out this month, The Trailer Park Princess with Unsightly Bulges. Should be fun. You probably won't see Harris's books at bookstores, but retailers can order them. Or you can find them on Amazon.
Harris grew up in Roby, works in transportation research at Texas Tech, is a happily married mother of two, and has ten book titles to her credit. Read more at the author's blog site, kimhuntharris.com. For readings or book signings, contact her at kimhuntharris@gmail.com.
Schnoz of the Rings: If you're a fan of The Lord of the Rings, you may (or may not) appreciate San Angelo writer John Osterhout's parody, The Schnoz of the Rings. Osterhout, professor and chair of chemistry at Angelo State University, is a serious academic with a keen (some might say weird) sense of humor.
Here, from Osterhout's web site, johnosterhout.com, is a plot summary: "Froyo Bagpants must leave his happy home in the Mire and destroy the Schnozring in the fire pit of Mount Drool to save Central Oith from domination by the Great Schnoz. The characters are human, lusty, and ready for misadventure. A wag attack, a Balfrog in Mordia, the Trail of the Croaked, and a desperate flight on a great eagle aren't enough to stop our heroes. Laugh your way through the adventure with Froyo and his friends."
Osterhout published the 290-page spoof under his Clovendell Press imprint. It is available from Amazon in paperback or on Kindle or you can have your favorite bookstore order a copy. Contact the author at john.osterhout@suddenlink.net.
* * * * *
Glenn Dromgoole is co-author of 101 Essential Texas Books. Contact him at g.dromgoole@suddenlink.net.
LONE STAR LISTENS
interviews  
>> archive
Hank the Cowdog on ranch security, romance, and his five-year plan to get that barn cat's goat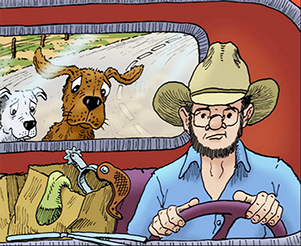 Is there a Texas kid (of any age) who doesn't recognize Hank's muzzle in the bookstore, in the library, or in the newspaper? John R. Erickson's long-running Hank the Cowdog series of children's books (illustrated by Gerald L. Holmes)  follow canine Hank, self-appointed "Head of Ranch Security." In each book Hank and other characters must deal with events, issues, and mysteries that occur at their Texas Panhandle home, the M-Cross Ranch. Hank has been a part of the life of Texas schoolchildren for more than four decades.
As a part of our special showcase of Texas children's literature on June 7 and 14, Hank the Cowdog conveyed his willingness to be interviewed by email, as did his creator. In a two-part series, Hank "speaks"—well, barks—with us today, and Erickson's interview will run on June 14.
Hank, it is quite the honor to talk with you in person, er, canine. As a former newspaperwoman, I have worked from coast-to-coast and have followed your career wherever I lived, and I want to compliment you on helping a generation of children appreciate—and have fun with—reading, and thank you for taking time out of your busy schedule as "head of ranch security" to be a part of this interview.
First, a little personal background. What is your back story? How did you arrive at the ranch? Will there ever be a "pre-quel" to the Hank story?
HANK:  We already have a prequel, "The Case of the Homeless Pooch." In it, we learn that I was born in a beef box outside the little town of Twitchell, Texas. Notice that is was a beef box, not a box for shipping grapefruit or lettuce.  I ran into Slim Chance at the Twitchell Livestock Auction and when he got a ranch job, I went with him. That's where I met Drover, Loper, and Sally May.  Oh, and Sally May's rotten little cat. Pete.
Downtown Abilene to be transformed into a childhood bookish destination in 4th annual CALF, June 11-13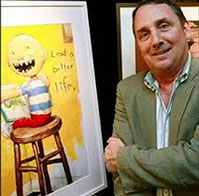 On June 11-13, 2015, downtown Abilene will be transformed into a childhood adventure featuring the work of David Shannon in the fourth annual Children's Art & Literacy Festival. The event will include a costume contest, a parade during ArtWalk, several performances, and movie showings. Registration is $10 for children and $15 for adults.
This year, the festival celebrates the work of author and illustrator David Shannon (pictured above right; photo from CALF Facebook page).
Born in Washington, DC, and raised in Spokane, WA, Shannon graduated from the Art Center College of Design in Pasadena, CA, and then moved to New York. His awards include the Caldecott Honor for No, David! and the New York Times Book Review Best Illustrated Book of the Year for How Georgie Radbourn Saved Baseball. David is a passionate baseball fan and softball player. He and his wife live in Los Angeles with Fergus, their eighteen-year-old Westie.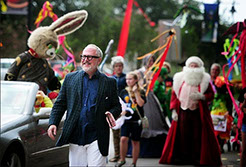 Left: Author William Joyce headlined Abilene's 2014 Children's Art and Literacy Festival (photo from CALF Facebook page).
The CALF is sponsored by the Abilene Cultural Affairs Council, an affiliate of the Abilene Chamber of Commerce dedicated to promoting the arts in Abilene.>>READ MORE
Fictionistas 2015: Taking down bad guys (and bad boys) June 14, Flagship Half Price Books
Plano-based Henery Press and Half Price Books are hosting Fictionistas 2015 on Sun., June 14, 1 to 3 pm at the Flagship Half Price Bookstore, 5803 E. Northwest Highway, Dallas. Join seven authors as they discuss (and laugh about) their adventures in writing fiction for women. From madcap mysteries to chick lit, this Henery Press roster of authors offers something for a wide range of readers.
Appearing will be Gretchen Archer, USA Today bestselling author of madcap crime capers; Susan M. Boyer, USA Today bestselling author of Southern mysteries; Kendel Lynn, Agatha Award Finalist, humorous mysteries; Julie Mulhern, Golden Heart fiand nalist, historical mysteries; Diane Vallere, Lefty Award finalist; mid-century modern mysteries; Nancy G. West, Lefty Award finalist, Texas sleuthing.
Lone Star Writing Competition open for submission through June 7
The 23rd annual Lone Star Writing Competition, sponsored by Northwest Houston Romance Writers of America, is now open to both published and unpublished authors. The fee to enter is $25, and the deadline is June 7, 2015.
The submission consists of the first 5,000 words of a novel. Only electronic entries are eligible. Unpublished writers may enter any category. Published authors may enter any category in which they are not published, or in which they have not been contracted for five years. >>READ MORE
2015 WLT Writers and Editors Conference, Austin, June 26-28, Selling Out Fast
Special to Lone Star Literary Life by Noelle O'Donnell
Marketing/Member Services Manager, Writers League of Texas
The Writers' League of Texas offices are buzzing with excitement about the fast approaching 2015 Agents & Editors Conference (Austin, June 26-28, 2015). We've got some amazing programming in store (and lots of goodies arrive at our office every day, including these fab notebooks!).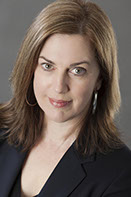 We feel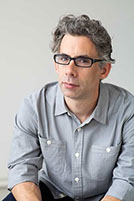 lucky to have such incredible keynote speakers this year. Edgar Award winner Meg Gardiner (left), author of the thriller Phantom Instinct, will deliver some inspiring words during the keynote luncheon. Corpus Christi native Bret Anthony Johnston (right), author of the best-selling novel Remember Me Like This, will share his insights both as a writer and as the head of an esteemed creative writing program, during the cocktail hour on Saturday.
Arguably one of the biggest draws to our conference is the opportunity for participants to meet one-on-one with an agent or editor. An impressive list of faculty is lined up from top-tier literary agencies including Janklow & Nesbit, Brandt & Hochman, Folio Literary, and Inkwell, and also editors and speakers from major publishing houses, including Penguin Random House, Henry Holt, HarperCollins, and Scholastic.  >> READ MORE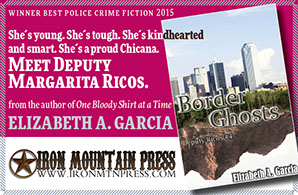 Come to the Storybook Capital of Texas June 11-13
Downtown Abilene is transformed into a childhood adventure June 11-13. The Children's Art & Literacy Festival celebrates David Shannon (right), the summer artist on exhibit at the National Center for Children's Illustrated Literature. Shannon will be in Abilene signing books and talking about his career. He is the author/illustrator of Duck on a Bike, No, David! series, Good Boy, Fergus!, A Bad Case of Stripes, and more.
The festival starts June 11 with a David Shannon character costume contest and Storybook Parade. Shannon will deliver an Artist Talk at the Historic Paramount Theatre.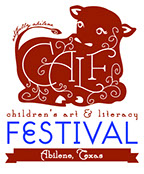 All day Friday and Saturday, festival registrants can earn David Shannon character buttons for their lanyards by going to six different dramatic readings and art activities, riding the train, enjoying the balloon shows, participating in the Abilene Philharmonic instrument "petting zoo," and enjoying shows at the Paramount.
The festival draws about 3,000 people from all over Texas and beyond. Festival passes are $15 for ages 13 and up, $10 for ages 3-12 and free for children 2 and under. Register at www.abilenecalf.com>> LISTEN NOW (mp3)

WHERE I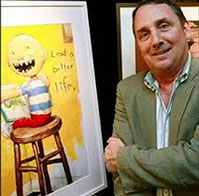 N TEXAS?
Don't miss a reading or a good read! Sign up for our FREE weekly
e-newsletter

COMING IN JUNE: Bookish Texas Classifieds
Looking for a job, a designer, an editor, a publisher?
Starting in June 2015, we'll help you find them in our online classifieds section. If you're interested in advertising for pennies a day, contact ads@LoneStarLiterary.com to run your listing here.

Texas Books Blogroll
Can't get enough Texas book news and views?
Click through to read and follow these blogs:
Have a book blog to add? Send us your link at info@LoneStarLiterary.com

Lone Star Literary Life Facts and FAQs
• Event and resource list policies
Lone Star Literary Archives
• Lone Star Listens Interviews