sponsored by Half Price Books
Here are a few of our top picks by Texas authors—or on Texas topics—for this week. Keep watching all summer for more!
At right: Read along with Hank the Cowdog! >> READ MORE

For pre-school to grade 3
Kathi Appelt; illustrated by Marc Rosenthal, Mogie: The Heart of the House (Atheneum Books for Young Readers, hardcover, 40 pgs., June 2014, 978-1442480544, $17.99). Based on a true story about a dog who helps children at a Ronald McDonald House, the newest story from College Station children's author Appelt is sure to find fans everywhere.
For grades 1 to 4
Duncan Tonatluh, Pancho Rabbit and the Coyote(Abrahams Books for Young Readers, hardcover, 32 pgs, May 2013, 978-1419705830, $17.95). When Pancho Rabbit's father didn't return after going north to find work for his family, Pancho sets off to find him, only to be taken in by a coyote who eats all of Pancho's food, and then tries to eat Pancho. This allegorical picture book brings to light the hardship and struggles faced by thousands of families who seek to make better lives for themselves and their children by illegally crossing the border.
For grades 4 to 6
Paige Britt, The Lost Track of Time (Scholastic Press, hardcover 320 pgs, March 2015, 978-0545538121, $17.99) Penelope is running out of time! Penelope dreams of being a writer, but how can she pursue her passion when her mother schedules every minute of her life—until one day she finds a hole in her schedule and falls into it and the adventure is on.

For grades 4 to 6
Jacqueline Kelly, The Curious World of Calpurnia Tate (Henry Holt, hardcover, July 7, 2015, 320 pgs., 978-0805097443). Callie Vee, Travis, Granddaddy, and the whole Tate clan are back in this charming follow-up to Newbery Honor-winner The Evolution of Calpurnia Tate. Travis keeps bringing home strays. And Callie has her hands full keeping the wild animals-her brother included-away from her mother's critical eye. Whether it's wrangling a rogue armadillo or stray dog, a guileless younger brother or standoffish cousin, the trials and tribulations of Callie Vee will have readers laughing and crying and cheering for this most endearing heroine.
For grades 4 to 7
Liz Garton Scanlon, The Great Good Summer (Simon and Schuster, hardcover 224 pgs., May 2015, 978-1481411479, $16.99). Ivy and Paul hatch a secret plan to find Ivy's missing mom and say good-bye to the space shuttle in this evocative, heartfelt novel reminiscent of Each Little Bird that Sings and Because of Winn-Dixie.
2015 Children's Summer Reading Showcase
Downtown Abilene to be transformed into a childhood bookish destination in 4th annual CALF, June 11-13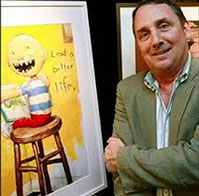 On June 11-13, 2015, downtown Abilene will be transformed into a childhood adventure featuring the work of David Shannon in the fourth annual Children's Art & Literacy Festival. The event will include a costume contest, a parade during ArtWalk, several performances, and movie showings. Registration is $10 for children and $15 for adults.
This year, the festival celebrates the work of author and illustrator David Shannon (pictured at right; photo from CALF Facebook page).
Born in Washington, DC, and raised in Spokane, WA, Shannon graduated from the Art Center College of Design in Pasadena, CA, and then moved to New York. His awards include the Caldecott Honor for No, David! and the New York Times Book Review Best Illustrated Book of the Year for How Georgie Radbourn Saved Baseball. David is a passionate baseball fan and softball player. He and his wife live in Los Angeles with Fergus, their eighteen-year-old Westie.
The CALF is sponsored by the Abilene Cultural Affairs Council, an affiliate of the Abilene Chamber of Commerce dedicated to promoting the arts in Abilene. This three-day event is packed full of events all over downtown Abilene, including:
Thursday (6-11)
4PM David Shannon Character Costume Contest (Elks Arts Center, 1174 N. First). All winners receive a prize.
5-8 PM Art Walk theme, Shannon's Shakin' It. Music, characters, balloon man, and more. All museum exhibits will be free and open during Art Walk.
5:30 PM Storybook Parade. Participate in the parade by wearing your most creative David Shannon costume and carrying your favorite Shannon book.
6:15 PM Unveiling of new Storybook Sculptures  project pieces inspired by David Shannon (NCCIL and T&P Depot).
6:45 PM Artist Talk by Caldecott winner David Shannon (Paramount Theatre). Shannon will share his creative process with an interactive conversation, followed by a book signing. (Please purchase your books at the NCCIL).
Friday (6-12)
Dramatic Reading and art project. Enjoy nine David Shannon books at six reading locations throughout Friday and Saturday  These books are read aloud while books are projected onto a big screen for visual and aural learners. Each dramatic reading includes a costumed character, an art activity, and a chance to earn a button for your lanyard.
9 AM Dramatic Reading & Art project (NCCIL:

How I Became a Pirate

).
9:45 AM Balloon Sculptor
10:15 AM Dramatic Reading & Art project (Grace Museum:

A Bad Case of Stripes

)
10:30 AM Book signing
11:00 AM Movie,

A Bug's Life

12:45 AM Dramatic Reading & Art project (CCA:

Jangles

)
1:00 PM Magical World of Lonnie Chevrie
2:00 PM Dramatic Reading &Art project (Library:

Bugs in My Hair

and

Alice the Fairy

)
3:15 PM Dramatic Reading & Art Project (The Well:

No, David

&

Too Many Toys

)
4:00 PM Music with Mister Park
5:30 PM Character Autographs & Photos
7:30 PM Meet

Frozen

characters
8:30 PM

Frozen

singalong
Saturday (6-13)
9A M Dramatic Reading & Art project (Frontier Texas:

Duck on a Bike

and

Good Boy Fergus

)
11 AM Instrument Petting Zoo at the Philharmonic
2:30 PM Character Autographs and photos
4 PM Movie,

WALL-E
For more information, call the Abilene Cultural Affairs Council, (325) 677-1161.
* * * * *
Find a Summer Reading Program near you!
Libraries all across the Lone Star State offer prizes, events, and incentives for kids—and parents—to read this summer. Most libraries in Texas have special programs for the summer. We've highlighted a few. Feel free to email us at info@lonestarliterary.com to share your library's offerings.
Austin Public Library
SRP '15, the 2015 Summer Reading Program for youth, takes place June through August. How can you participate? Pick up a Reading Log at any APL location, or print one out at home. The front of the log is where you'll record your reading list. Flip it over and you'll discover 16 free and fun activities you can enjoy to make sure your summer is action-packed! The library will be excited to hear about your favorite book characters—grab a My Favorite Character sheet and drop it off at the Library to display.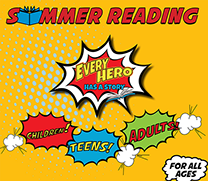 There's something for everyone at the Library this summer from toddlers to teens: magic, robots, scavenger hunts, sewing, story times, theatre, puppets, local music, arts and crafts, and even a glow-in-the-dark dance party.
Download the SRP '15 Event Flyer here. Don't forget to check out their online event calendar for even more programs at the Library!
SRP '15 is sponsored in part by Austin Energy, and the City of Austin Music Division. All programs and events are free and open to the public. For more information call 512-974-7400.
Dallas Public Library

The Mayor's Summer Reading Club, presented by Walmart Sam's Club, is an eight-week program designed to keep kids' skills sharp over the summer and encourage a love of reading for all ages.
You and your child/children can sign up for the eight week program at any one of the 29 Dallas Public Library locations, the Dallas Public Library's Bookmobile or online.
To earn the weekly prize, children through age 18 must read (or be read to) at least 30 minutes each day.
All readers may report any reading material including books, e-books, audio books and magazines. Kids who read at least 30 minutes a day for 8 weeks will qualify for the chance to win a grand prize!
Adults can win prizes, too. Adults modeling good reading habits is a sure way to encourage children to become lifelong readers.
Club members over age 18 will log the books they have read by entering the title and author (or publication) online or at their local branch along with a brief review about what they've read. Two prize drawings for adults will be held during the eight-week program. Adults may select which prizes they would like their entries to go toward.
El Paso Public Library
Programs and reading log entries will begin June 1. Participants will be asked to read either 8 books or for 8 hours depending on their reading levels. Participants will record their reading activity on a log sheet which needs to be turned in to the library by July 11. Those who meet or exceed the reading goal will receive a certificate of completion plus free prizes and incentives while supplies last.
All local residents who register and complete the program will be eligible to win these grand prizes.
Children are eligible to win an iPad mini with Crayola Digitools
Teens can win a laptop computer
Adults can win a Kindle Fire HD.
Register online for free now visiting elpasolibrary.org.
Houston Public Library
Summer Reading Program
How to earn books & badges:
REGISTER: Registration continues through Aug. 1, 2015 at any Houston Public Library location during operating hours or remotely from a computer.
READ or listen to books, enter book titles or reading time online and in your Badge Log booklet (be sure to ask your librarian for one). Go to your local Houston Public Library to pick up your prizes at the various book reading levels.
ATTEND hands on workshops, enjoy performances and take part in activities to earn your Steam Machine sticker badges (collect them in your Badge Log booklet)! Participate in at least 5 library programs* and read a minimum of 5 books, to receive a prize pack: Houston Zoo and Houston Rockets ticket vouchers and a Raising Cane's gift card.**
REWARDS include:
A Houston Dash game ticket and a certificate 5 books or 5 hours
A Houston Dynamo game ticket and one free book for reading 10 books or 10 hours
Chipotle meal coupon, additional free book and a coupon for the Ringling Bros. and Barnum & Bailey Circus for reading 20 books or 20 hours
Children's Museum of Houston admission voucher and entry into a grand prize drawing to win a new XBox One console for reading 30 books or more, or 30+ hours.
Mesquite Public Library
This year's Summer Reading Club kicks off with Every Hero Has a Story! Registration begins on Monday, June 8th and continues through Sat., August 1 at both Mesquite Public Library locations. The Mesquite Public Library's children's reading program will allow participants to earn prizes and a certificate by submitting reading logs. There will be movies, craft activities, games, and other fun activities throughout the summer. Special programs will include magicians, clowns, science programs, and more.
San Antonio Public Library
Beginning June 1, kids can register for the Mayor's Reading Club and keep track of the books you read or hear. If you're reading on your own, logging eight books will earn you a Reading Club certificate (signed by the Mayor!) and a free paperback book to keep. If you're a listener, you'll need to log sixteen books to claim the same reward.