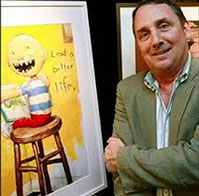 On June 11-13, 2015, downtown Abilene will be transformed into a childhood adventure featuring the work of David Shannon in the fourth annual Children's Art & Literacy Festival. The event will include a costume contest, a parade during ArtWalk, several performances, and movie showings. Registration is $10 for children and $15 for adults.
This year, the festival celebrates the work of author and illustrator David Shannon (pictured at right; photo from CALF Facebook page).
Born in Washington, DC, and raised in Spokane, WA, Shannon graduated from the Art Center College of Design in Pasadena, CA, and then moved to New York. His awards include the Caldecott Honor for No, David! and the New York Times Book Review Best Illustrated Book of the Year for How Georgie Radbourn Saved Baseball. David is a passionate baseball fan and softball player. He and his wife live in Los Angeles with Fergus, their eighteen-year-old Westie.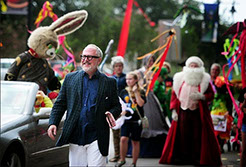 Left: Author William Joyce headlined Abilene's 2014 Children's Art and Literacy Festival (photo from CALF Facebook page).
The CALF is sponsored by the Abilene Cultural Affairs Council, an affiliate of the Abilene Chamber of Commerce dedicated to promoting the arts in Abilene. >>READ MORE
Live radio show broadcast from Abilene's Paramount features former "Poetry" editor, Snyder native Christian Wiman, June 4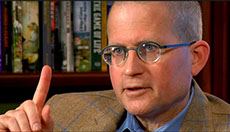 The Nashville-based radio show "Tokens" will broadcast live at the Paramount Theatre at 7:30 p.m. Thurs., June 4. "Tokens" is part great music, part university lecture, part cultural analysis, and part good conversation, featuring Snyder poet and Yale Divinity School faculty member Christian Wiman (above; photo from his Facebook page) and the Abilene Independent School District string group Revolutions. Other guests include Buddy Greene, Odessa Settles, Brother Preacher, the Most Outstanding Horeb Mountain Boys, and host Lee C. Camp. It's all mixed up with enough humor and satire to keep things ever lively. Tickets are $15 a person and available here. This brand new episode entitled "The Language of Grace" is sponsored by the 2015 Thomas H. Olbricht Christian Scholars' Conference.
Lone Star Writing Competition open for submission through June 7
The 23rd annual Lone Star Writing Competition, sponsored by Northwest Houston Romance Writers of America, is now open to both published and unpublished authors. The fee to enter is $25, and the deadline is June 7, 2015.
The submission consists of the first 5,000 words of a novel. Only electronic entries are eligible. Unpublished writers may enter any category. Published authors may enter any category in which they are not published, or in which they have not been contracted for five years. >>READ MORE
Best Texas Beach Reads & Travel Books
Lone Star Literary staff
Summer is here — and with it our traditional season of rest, relaxation, travel, and a good book. What Texas reads will be going in your carry-on or beach bag? Let the staff of Lone Star Lit make your choices easier, with genres from historical fiction to YA. Our first installment appeared May 10 (check it out here); and on May 17 we serves up some great guides to Texas destinations you'll want to read about—and visit (read more here

SUBSCRIBE TO LONE STAR LITERARY LIFE TODAY and enter to win a FREE copy of one of these great Texas destination books—valued at up to $39.99. ENDS 6/10/15
Congratulations to winners Mary M. and Francois P.—your prizes are already on the way! There's still time to enter.
It's easy. Simply click here and enter to win. No purchase necessary. Odds of winning depend upon numbers of entries.
The value of these beautiful books ranges from $18.95 to $39.99, but one of them can be yours to own. Gorgeous photography and lyrical descriptions of state parks, waterways, deserts, and canyons can be yours to savor and enjoy. >> ENTER
2015 WLT Writers and Editors Conference set for June 26-28 in Austin
The 2015 Writers League of Texas Editors and Agents Conference will be held June 26 through June 28 at the Hyatt Regency in Austin. Three days of panels, lectures, readings, workshops, and consultations give aspiring and established authors a chance to learn and grow in the writing profession. >> READ MORE