Houston names Davidson second poet laureate
(Special to LSLL from the City of Houston)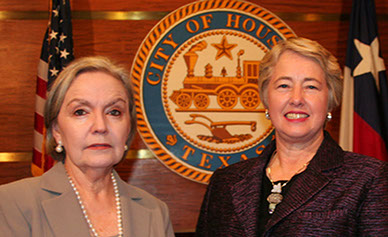 Robin Davidson, an associate professor at the University of Houston-Downtown, was named Houston's poet laureate May 19 in a ceremony at Houston City Hall. Davidson is only the second local poet to hold the two-year appointment. Gwendolyn Zepeda was the first.

ABOVE: Dr. Robinson Davidson, shown at left with Houston mayor Annise Parker, has been named Houston's poet laureate, 2015-17.

Houston Mayor Annise Parker and Houston Public Library director Dr. Rhea Brown Lawson made the announcement. Davidson, an associate professor of English at the University of Houston-Downtown, will represent the City of Houston through outreach, programs, teaching, and written work. She will receive an annual honorarium o $5,000 through the city's Initiative Grant Program of the Houston Arts Alliance and serve a term of two years, May 2015 through May 2017.

As poet laureate, Davidson will develop a community outreach project for Houston's many diverse neighborhoods, as well as to local businesses. She will conduct workshops in which she will share the art and love of poetry and participate in community-based poetry programs. She will also provide content to the Houston Poet Laureate Program web page and publish work there by community members attending her workshops.

"Selecting Houston's second poet laureate was quite challenging because all the submissions we received were extraordinary! They showed what amazingly talented and creative people we have in Houston," said Parker. ". . . [Robinson] has studied with and among academic poets, has taught writing for both universities and community organizations, and . . . is eager to start building bridges in Houston's diverse communities through the art of poetry."

"The Houston Public Library is excited about the selection of Houston's second poet laureate, Dr. Robin Davidson, and we look forward to working with her in the coming two years," said Brown Lawson, Director of Houston Public Library. "Dr. Davidson is well versed in the art of poetry, as well as being connected to the dynamic people of Houston. We also know that she will bring her love of poetry to Houstonians from all walks of life, and help them link to a new world of expressive art."

"I am honored and grateful to have been selected and given the opportunity to represent Houston as its second Poet Laureate," said Davidson. "One of poetry's greatest strengths is its capacity to engender human empathy in the reader, the listener, the writer. To give us a chance to tell our story and to genuinely hear the stories of others – this is the labor of poetry. As poet laureate, I hope to serve all Houstonians by listening to the stories they have to share and promoting the art of poetry—its thrilling engagement with language—as deeply relevant to each of our lives."

Born in Trieste, Italy, to American parents, Davidson is a poet, translator, and assistant professor of Literature and creative writing at the University of Houston-Downtown. She holds a B.A. in French from the University of Texas at Austin, and M.A. and Ph.D. degrees in creative writing and literature from the University of Houston. She is the author of Luminous Other (Ashland Poetry Press, 2013), which won the 2012 Richard Snyder Memorial Prize, as well as two chapbooks, City That Ripens on the Tree of the World (Calypso Editions) and Kneeling in the Dojo (Finishing Line Press). She is co-translator, with Ewa Elzbieta Nowakowska, of The New Century: Poems by Ewa from the Polish (Northwestern University Press).

In 2003-04 Davidson served as Fulbright professor of American literature at the Jagiellonian University in Kraków, Poland, and was recipient of a 2009 National Endowment for the Arts Literature Fellowship in Translation. Her poems and translations have appeared in numerous literary journals. She currently teaches creative writing at the University of Houston-Downtown, serves as the faculty advisor for UHD's literary and visual arts magazine, The Bayou Review, and served as president of the board of directors for Houston's Writers in the Schools program from 2008-2010. She also is the recipient of a 2009 Houston Arts Alliance Individual Artist Grant for her poetry.

The Houston Poet Laureate Program is a partnership between the City of Houston, the Houston Public Library, th Mayor's Office of Cultural Affairs, and the Houston Arts Alliance (HAA).

The Houston Poet Laureate Selection Committee included a group of acknowledged and diverse poets, scholars, and literary experts who assisted in the nomination and selection process. The group includes poet Robin Reagler, executive director of Writers in the Schools; Shannon Buggs, director of communication, College of Liberal Arts and Social Sciences, University of Houston, and founder of Meta-Four Houston; Emanuelee "Outspoken" Bean,  renowned spoken word performance artist and head coach for Meta-Four Houston; Houston-based poet, fiction writer, and critic Anis Shivani;  Marina Tristan, assistant director, Arte Publico Press; poet Delicia Daniels, Houston Community College professor and editor in chief of Lone Star Legacy; poetry scholar and poet Claire Kageyama-Ramakrishnan, a graduate of the University of Houston Creative Writing Program; and Elizabeth Brown-Guillory, Distinguished Professor of Theatre and associate provost/associate vice president for academic affairs at Texas Southern University. Non-voting members include Jennifer Schwartz of the Houston Public Library and Radu Barbuceanu of the Mayor's Office of Cultural Affairs.

The Houston Public Library operates thirty-five neighborhood libraries, four HPL Express Libraries, a Central Library, the Houston Metropolitan Research Center, the Clayton Library Center for Genealogical Research, the African American Library at the Gregory School, and the Parent Resource Library located in the Children's Museum of Houston. For further information, visit the Houston Public Library at www.houstonlibrary.org.

JUST FOR FUN  Try the History Channel's Texas history quiz—for a chance at a trip to the Alamo CityClick here
Texas Rising, A&E/History channel miniseries and book featuring work of Austinite David Marion Wilkinson, debuts Memorial Day 2015
Martha Louise Hunter, contributing writer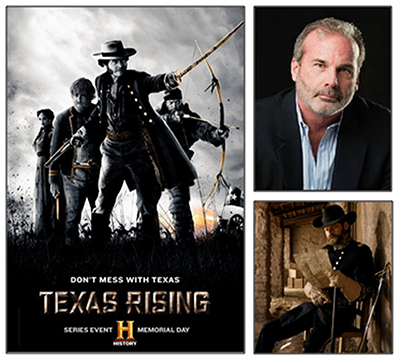 Austin novelist/screenwriter David Marion Wilkinson shared writing duties on Texas Rising, the ten-hour television series that premieres Memorial Day on A&E/History about the rise of the legendary Texas Rangers after the events at the Alamo. Wilkinson is author the of Not Between Brothers: An Epic Novel of Texas.
Credited as a co-producer for Texas Rising, Wilkinson came on board as a historical consultant and quickly began co-writing the script with Leslie Grief and Darrell K. Fetty. Wilkinson will also appear in the companion documentary, along with Texas historian H. W. Brands and series stars Bill Paxton, Jeffrey Dean Morgan, and Cynthia Addai-Robinson. The all-star cast of Texas Rising also includes Ray Liotta, Oliver Martinez, Brendan Fraser, and Kris Kristofferson.
Texas Rising comes from ThinkFactory Media, the same team responsible for the A&E/History's blockbuster production Hatfield & McCoys. The soundtrack, which includes new music by George Strait, Kristofferson, and Jose Feliciano, will also be released as an album.
The five-night program on A&E/History begins Monday and Tuesday (May 25 and May 26) and continues the next three Mondays (June 1, 8, and 15).
Austin contributor Martha Louise Hunter is the author of Painting Juliana (Goldminds, 2014).

2015 WLT Writers and Editors Conference set for June 26-28 in Austin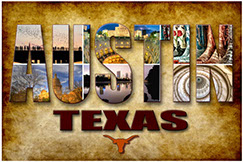 The 2015 Writers League of Texas Editors and Agents Conference will be held June 26 through June 28 at the Hyatt Regency in Austin. Three days of panels, lectures, readings, workshops, and consultations give aspiring and established authors a chance to learn and grow in the writing profession.
Attendees network with agents, editors, writers, and other industry professionals, improve your craft, and learn about the latest market trends.
Querying writers hear tips on how to find representation directly from agents. All  writers can get story crafting tips from editors and published authors and discover how best to find and build an audience for your project.
Participating vendors will showcase the best services available to writers and authors.
Prices through June 5, 2015, are $489 for nonmembers and $429 for members (or until sold out; the conference filled to capacity last year).
The conference is supported in part by the Cultural Arts Division of the City of Austin Economic Development Department.  Writers' League of Texas classes and workshops are also funded in part by the Texas Commission on the Arts. For further information, contact wlt@writersleague.org or call 512-499-8914; www.writersleague.org/38/Conference
* * * * *