Texas Reads
>> archive
Glenn Dromgoole
5.24.15   Schoolgirl picks Hank Williams to be her pen pal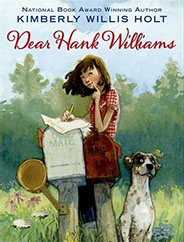 Dear Hank Williams (Henry Holt, $16.99 hardcover) is the latest young adult novel by Amarillo author Kimberly Willis Holt.
Holt won the National Book Award for Young People's Literature in 1999 with When Zachary Beaver Came to Town that was made into a movie. Her experiences as a "Navy brat" growing up are reflected in her "Piper Reed" series of stories.
Dear Hank Williams is her eighteenth book. It is set in Louisiana in 1948. When Tate Ellerbee's new teacher tells the class to pick someone to be their pen pal, Tate chooses upcoming country singer Hank Williams (the elder), whom she has heard on the Louisiana Hayride radio show. Tate has aspirations to be a singing star herself.
As she writes to Mr. Williams, Tate reveals the stories of her own family – her absentee mother who is also a singer, her dog Lovie, her brother Frog, her Aunt Patty Cake and Uncle Jolly -- as well as post-war prejudices and fears affecting her and her classmates. "Lovie may not be much at hunting squirrels," Tate writes, "but she's real talented at making me smile."
Holt said the seed of inspiration for her novel was a Texas Monthly magazine article by Skip Hollandsworth about the Goree (women's prison) All Girl String Band, popular in the 1940s.
* * * * *
Civil War: Two new volumes on the Civil War have been released by Texas publishers.
The Texas State Historical Association has published a second edition of Lone Star Blue & Gray, a collection of sixteen scholarly essays about Texas and the Civil War ($30 paperback). Edited by Ralph A. Wooster and Robert Wooster, the book is divided into five sections, with three or four essays in each section: beginnings; home fronts; war fronts; the soldiers; meanings of the war. Eleven of the sixteen pieces are new to the second edition.
Blood on the Bayou: Vicksburg, Port Hudson, and the Trans-Mississippi is the third volume in Donald S. Frazier's Louisiana Quadrille series from State House Press ($39.99 hardcover). The earlier books in the series are Fire in the Cane Field and Thunder Across the Swamp. The concluding book is expected next year.
Frazier is a Civil War and Texas history scholar who teaches at McMurry University in Abilene and heads up the McWhiney History Education Group in Buffalo Gap.
Glenn Dromgoole is co-author of 101 Essential Texas Books.
Contact him at g.dromgoole@suddenlink.net.