Texas Reads
Glenn Dromgoole
Successful Houston trial lawyer profiled in new Hardy title
Michael Lee Lanning, author of more than twenty books, has written an interesting biography about high-profile Houston/Galveston trial lawyer Tony Buzbee.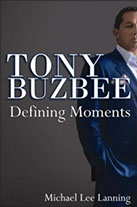 Tony Buzbee: Defining Moments (John M. Hardy Publishing, $28.95 hardcover) focuses primarily on Buzbee's success in winning multi-million–dollar verdicts or settlements for his clients.
Buzbee grew up poor in East Texas, graduated from Texas A&M in 1990 on an ROTC scholarship, served as a Marine platoon leader, and graduated second in his law class at the University of Houston before launching his practice in the Houston/Galveston area. A generous benefactor of Texas A&M, he was appointed to the Texas A&M System Board of Regents in 2013.
"This is a tough business," Buzbee says. "I didn't get into it to make friends. I got into it to make a small, sometimes large, difference in the lives of those who deserve it. Sometimes that means I, in some circles, am the bad guy, but so long as I do what I do with integrity and honesty, I don't worry one whit about what others think."
There are some parallels between the author and Buzbee. Lanning grew up poor on a farm in West Texas (Fisher County) in a house with no telephone or running water. He graduated from Trent High School in 1964 before going on to Texas A&M and a career in the Army. He lives on the Bolivar Peninsula across the bay from Galveston.
Lanning, best known for his books on military history, especially Vietnam, also published a book last year on his own battle with cancer, At War with Cancer ($14.99 paperback). Read more about his books on his website, michaelleelanning.com.
* * * * *
Narrative Poems: Gwendolyn Zepeda, named Houston's first poet laureate, has a new collection of sixty-two narrative poems titled Monsters, Zombies, and Addicts: Poems (Arte Público Press, $14.95 paperback). It is Zepeda's second book of poems. She also is the author of a short story collection and three novels.
Her poems cover a variety of topics related to life in the modern metropolis, touching on such matters as ants, maggots, worms, shoes, fears, TV, paper dolls, animals, hurricanes, family and death. The poem "Sad Shock" begins: "A woman who worked in our building killed herself this morning." Recalling that she had spoken with the woman just the day before in the ladies' room, the poet reflects, "I wished aloud—offered the hundred dollars in my savings for the chance to go back in a time machine to yesterday, to somehow know what she was thinking, and to somehow change her mind."
Glenn Dromgoole is co-author of 101 Essential Texas Books. Contact him at g.dromgoole@suddenlink.net.
Book NOTICES  5.17.2015
Received Jan-May 2015
At Lone Star Literary Life, we genuinely appreciate every title submitted to us for review consideration. Our goal is to help Texas readers, booksellers, and libraries discover books they'll likely want to read or showcase. If a new title is about, or set substantially in, Texas, whether fiction or nonfiction, we'll make every effort to review it in our pages. If it's a book of poetry or short stories by a Texas author, we'll give it coverage as we're able. Other books received in our offices are listed here; current titles on this list may be scheduled for future reviews.
Baty, R. Gaines
Champion of the Barrio: The Legacy of Coach Buryl Bary
Biography
978-1-62349-266-3
288 pgs., $24.95
Texas A&M University Press
February 2015
Bradley, Ed
We Never Retreat: Filibustering Expeditions into Spanish Texas, 1812-1822
History
978-1-62349-257-1
344 pgs., $47.00
Texas A&M University Press
February 2015
Brandimarte, Cynthia, with Angela Reed
Texas State Parks and the CCC: The Legacy of the Civilian Conservation Corps
History
978-1-62349-296-0
188 pgs., $25.00
Texas A&M University Press
January 2013
Brickhouse, Jamie
Dangerous When Wet: A Memoir
978-1-4668-3730-0
286 pgs., hardcover, $25.99
St. Martin's Press
April 2015
Cartwright, Gary
The Best I Recall: A Memoir
978-0-292-74907-8
272 pgs., hardcover, $27.95
University of Texas Press
June 2015
Chaplo, Paul V.
Marfa Flights: Aerial Views of Big Bend Country
978-1-62349-168-0
192 pgs., softcover, $29.95
Texas A&M University Press
July 2014
Chávez, Denise
The King and Queen of Comezón
Fiction
978-0--8061-4483-2
328 pgs., paperback, $19.95
University of Oklahoma Press
September 2014
Dixon, Kemp
Chasing Thugs, Nazis, and Reds: Texas Ranger Norman K. Dixon
Biography
978-1-62349-256-4
256 pgs., $29.95
Texas A&M University Press
February 2015
Fields, Tricia
Firebreak
Fiction
978-1-250-05505-7
288 pgs., $25.99
Minotaur Books
March 2015
Garcia, Elizabeth A.
Border Ghosts: Deputy Ricos #4
Fiction (Crime)
978-0-9905259-9-8
306 pgs., paperback, $18.95
Iron Mountain Press
July 2015
Holcombe, Larry
The Presidents and UFOs: A Secret History from FDR to Obama
History
978-1-250-04051-0
$27.99
St. Martin's Press
March 2015
Jackson, Ron J., Jr., and Lee Spencer White; foreword by Phil Collins
Joe, the Slave Who Became an Alamo Legend
Biography/History
978-0-8061-4703-1
352 pgs., hardcover, $29.95
University of Oklahoma Press
March 2015
Kent, Kathleen
The Outcast
Fiction (Historical)
978-0-316-20611-2
352 pgs., $16.00
Little Brown
October 2014
Kibler, Julie
Calling Me Home: A Novel
Fiction
978-1-250-02043-7
352 pgs., $15.99
St. Martin's Griffin
January 2014
Koenig, Minerva
Nine Days
Fiction
978-1-250-05194-3
$24.99
Minotaur Books
September 2014
Masters, Ben
Unbranded: Four Men and Sixteen Mustangs. Three Thousand Miles across the American West
Memoir/Photography
978-1-62349-281-6
188 pgs., hardcover, $40.00
Texas A&M University Press
January 2015
McKenzie, C. B.
Bad Country
Fiction
978-1-250-05354-1
Hardcover, $24.99
Minotaur Books
November 2014
Meyer, Kimberly
The Book of Wanderings: A Mother-Daughter Pilgrimage
Memoir
978-0-316-25121-1
368 pgs., $27.00
Little, Brown
March 2015
Moran, Jan
Scent of Triumph: A Novel of Perfume and Passion
Fiction
978-1-250-04890-5
$15.99
St. Martin's Griffin
March 2015
Paulda, Mark A.
El Paso 120: Edge of the Southwest
Photography/Essay
978-0-87565-602-1
128 pgs., $35.00
Texas Christian University Press`
October 2014
Ridge, Rachel, Anne; foreword by Priscilla Shiver
Flash: The Homeless Donkey Who Taught Me about Life, Faith, and Second Chances
Memoir/Pets
978-1-4143-9783-2
254 pgs., hardcover, $19.99
Tyndale
May 2015
Riley, Gretchen, and Peter D. Smith with Stephanie Foresythe-Sword
Famous Trees of Texas (Texas A&M Forest Service Centenial Edition)
Natural History
978-1-62349-238-0
188 pgs., hardcover, $35.00
Texas A&M University Press
January 2015
Shankle, Melanie
Nobody's Cuter Than You: A Memoir about the Beauty of Friendship
Memoir
978-1-4143-9748-1
236 pgs., paperback, $15.99
Tyndale
April 2015
Sitton, Thad (narrative); photographs by Carolyn Brown
Caddo Lake: Visions of a Southern Cypress Lake
Natural History
978-1-62349-239-7
188 pgs., $30.00
Texas A&M University Press
January 2015
Smith, J. Griffis
On the Road with Texas Highways: A Tribute to True Texas
Photography/Essay
978-1-62349-183-3
244 pgs., paperback
$29.95
Texas A&M University Press
September 2014
Wells, Lynn Chandler
Wink of an Eye, A Mystery
978-1-250-05319-0
$24.99
Minotaur Books
November 2014
Beings: Contemporary Peruvian Short Stories
Fiction (short stories)
9781908616739
212 pgs., paperback
Somos Libros
July 2015
* * * * * *