Texas Reads
>> archive
Glenn Dromgoole
5.17.15   Successful Houston trial lawyer profiled
Michael Lee Lanning, author of more than twenty books, has written an interesting biography about high-profile Houston/Galveston trial lawyer Tony Buzbee.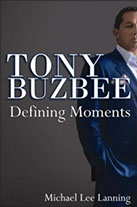 Tony Buzbee: Defining Moments (John M. Hardy Publishing, $28.95 hardcover) focuses primarily on Buzbee's success in winning multi-million–dollar verdicts or settlements for his clients.
Buzbee grew up poor in East Texas, graduated from Texas A&M in 1990 on an ROTC scholarship, served as a Marine platoon leader, and graduated second in his law class at the University of Houston before launching his practice in the Houston/Galveston area. A generous benefactor of Texas A&M, he was appointed to the Texas A&M System Board of Regents in 2013.
"This is a tough business," Buzbee says. "I didn't get into it to make friends. I got into it to make a small, sometimes large, difference in the lives of those who deserve it. Sometimes that means I, in some circles, am the bad guy, but so long as I do what I do with integrity and honesty, I don't worry one whit about what others think."
There are some parallels between the author and Buzbee. Lanning grew up poor on a farm in West Texas (Fisher County) in a house with no telephone or running water. He graduated from Trent High School in 1964 before going on to Texas A&M and a career in the Army. He lives on the Bolivar Peninsula across the bay from Galveston.
Lanning, best known for his books on military history, especially Vietnam, also published a book last year on his own battle with cancer, At War with Cancer ($14.99 paperback). Read more about his books on his website, michaelleelanning.com.
* * * * *
Narrative Poems: Gwendolyn Zepeda, named Houston's first poet laureate, has a new collection of sixty-two narrative poems titled Monsters, Zombies, and Addicts: Poems (Arte Público Press, $14.95 paperback). It is Zepeda's second book of poems. She also is the author of a short story collection and three novels.
Her poems cover a variety of topics related to life in the modern metropolis, touching on such matters as ants, maggots, worms, shoes, fears, TV, paper dolls, animals, hurricanes, family and death. The poem "Sad Shock" begins: "A woman who worked in our building killed herself this morning." Recalling that she had spoken with the woman just the day before in the ladies' room, the poet reflects, "I wished aloud—offered the hundred dollars in my savings for the chance to go back in a time machine to yesterday, to somehow know what she was thinking, and to somehow change her mind."
Glenn Dromgoole is co-author of 101 Essential Texas Books.
Contact him at g.dromgoole@suddenlink.net.