Texas Reads
>> archive
Glenn Dromgoole
5.10.15   Friendship theme runs through Madigan books
Tim Madigan has republished his popular book, first offered in 2006, about TV's Mister Rogers. I'm Proud of You: My Friendship with Fred Rogers is now available in paperback from Madigan's imprint, Ubuntu Books.
Madigan has also published a novel, Every Common Sight which came out in paperback this year.
Rogers, in fact, was one of the first people to read an early draft of Madigan's novel some years back. "What an enormous piece of work," Rogers said, "beautifully composed."
The compelling story, which I zipped through in one day, features two principal characters.
Wendell, an aging World War II veteran, bears scars and painful secrets from the Battle of the Bulge that have haunted him for decades. Claire, a young mother and library worker, has never discussed her own dark secret from a tragic night when she was eleven that resulted in her mother going to prison.
The old man and the young woman discover a bond that draws them together, to the bewilderment of their friends and families who suspect more is going on than just a friendship. Claire, after all, bears a striking resemblance to Wendell's late wife—so is that the attraction? Or have they simply found each other to be willing and understanding listeners?
* * * * *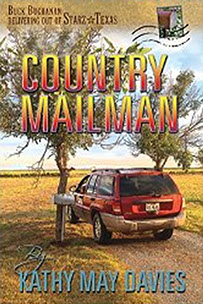 Mailman Stories: I found myself laughing out loud several times while reading Kathy May Davies' latest novel, Country Mailman Davies, who has published fourteen other novels, features West Texas rural mail carrier Buck Buchanan, who takes his job seriously and knows his customers very well.
Like Stan Maeker, the beekeeper who attracts attention when his bees started producing blue, green, and pink honey. Seems they had found a dumpster containing discarded snow cone syrup. Then there's Toby Williams, who orders toilet seats by the dozen, and Justin Brooks, who plays melodic trumpet solos to call up his cows for feeding.
Sometimes a simple thing like Buck getting his own coffee at Edna's Café can become quite a story if it involves some milk that tastes funny and a crying baby in the background. Along the way, Buck rescues people and animals in distress, finds an abandoned artificial leg with the shoe attached, and helps search for a missing corpse and a jail escapee.
Davies seems to know her subject well, perhaps because her husband is in fact a rural mail carrier. The book is for sale at the Slaton Bakery in Slaton, Ruby Lane Books in Post, and online. You can read sample chapters on the author's blog site, kathymaydavies.blogspot.com.
Like some other self-published novels I've read, this one could benefit from a little copy editing, but the stories are entertaining and uplifting. Country Mailman is at least the third collection of Texas post office–related stories to be published in recent years—the others being James Ward Lee's A Texas Jubilee (TCU Press, 2012) and my own Coleman Springs USA (Abilene Christian University Press, 2012).
Glenn Dromgoole is co-author of 101 Essential Texas Books.
Contact him at g.dromgoole@suddenlink.net.