Texas Reads
>> archive
Glenn Dromgoole
5.3.15   Paperback mysteries offer more bangs for buck
With hardcover mysteries by best-selling novelists priced in the $25-30 range, many readers prefer to wait for the mass market paperback edition to come out, usually a year or so later, priced at around $7 to $9.
New paperbacks by several popular Texas authors are now available in that price range.
Four paperbacks in the action-packed Sam Capra series by Austin writer Jeff Abbott have been released this year by Grand Central Publishing for $6 each – Inside Man,Adrenaline,The Last Minute and Downfall.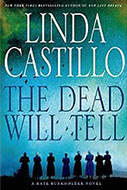 Amarillo author Linda Castillo's Amish mysteries continue to be popular. Last year's novel, The Dead Will Tell, is now out in paperback from St. Martin's for $7.99. Her upcoming hardcover After the Storm, the seventh in the series, hits bookstores on July 14.
Sandra Brown's Mean Streak (Grand Central Publishing) is available in trade paperback, a little pricier than mass market at $15. But one of her earlier novels, Breath of Scandal (Grand Central Publishing), is now offered as an $8 paperback.
Midnight Crossroad (Ace), the first novel in Charlaine Harris's new series, was published last May in hardcover and now is in paperback for $9.99. Day Shift (Ace), the second novel in the series set in the small, mysterious town of Midnight, Texas, comes out in hardcover later this month. All of Harris's popular Sookie Stackhouse books have been reissued in paperback. Harris now lives and writes in Texas.
A true crime story, Anatomy of a Kidnapping: A Doctor's Story by Lubbock author Dr. Steven L. Berk, was published in hardcover by Texas Tech University Press in 2011, and the trade paperback edition came out this spring ($18.95). Berk tells about his abduction at gunpoint from his home in Amarillo in 2005.
In some cases, such as Diane Kelly's witty, sassy Tara Holloway novels, readers don't have to wait for the paperback. They are released in paperback to begin with. Her newest is Death, Taxes and Cheap Sunglasses (St. Martin's, $7.99), the eighth featuring Dallas IRS agent Holloway, who always manages to find herself in hot water as she ferrets out tax cheats.
Women Writers: Her Texas: Story, Image, Poem & Song is an interesting, important, and very readable 450-page anthology of creative pieces written by Texas women (Wings Press, $29.95 hardcover). Edited by Donna Walker-Nixon, Cassy Burleson, Rachel Crawford, and Ashley Palmer, the collection is divided into four major sections – creative nonfiction, song, poetry and fiction, with poetry by far the largest of the four groupings.
Contributions by about sixty women writers are included. Among them are Lou Rodenberger, Frances Vick, Tish Hinojosa, Naomi Shihab Nye, Sandra Cisneros, Loretta Diane Walker, Susie Kelly Flatau, Jan Seale, Diane Fanning, Mary Russell Rogers, and the four editors of the book. Read more at wingspress.com.
Glenn Dromgoole is co-author of 101 Essential Texas Books. Contact him at g.dromgoole@suddenlink.net.