Texas Reads
>> archive
Glenn Dromgoole
Famous Texas trees
featured in new volume
First of all, I should say that (as far as I know) no famous Texas trees were sacrificed in the publishing of this column.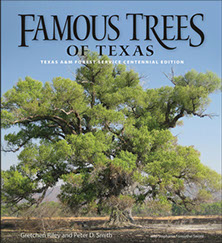 Second, it seems appropriate to celebrate the long-awaited arrival of spring and the upcoming forty-fifth anniversary of Earth Day, as well as Arbor Day, by writing about a beautiful new coffee-table book, Famous Trees of Texas by Gretchen Riley and Peter D. Smith (Texas A&M University Press, $35 hardcover).
Actually, it's an old book that has been extensively updated and expanded. The first edition was published forty-five years ago, and it has been revised this year in conjunction with the centennial of the Texas A&M Forest Service (formerly the Texas Forest Service).
Famous Trees of Texas offers a compelling way to study the relationship between the state's history and its environment.
The 101 trees featured in the book – those that have survived – provide historic enlightenment as well as always appreciated shade. But even those that have fallen still make their presence felt in this full-color volume.
In telling the stories, the authors delve into the both the history and sometimes the myths and folklore surrounding the trees. Take, for example, the Fleming Oak on the courthouse square in Comanche. Legend has it that Mart Fleming's life was spared when he hid in the tree to escape attacking Indians and later declared: "To that tree I owe my life… and no axe will ever touch it!"
"Ain't nothin' to it," the book quotes Comanche native C. E. Straley as saying in 1957. Straley, who
knew the Fleming family, claims Mart Fleming was on such good terms with the local Indians that he played ball and swam with them. It isn't likely he had to hide from them in the tree. Still, it makes a good story. And similar stories or legends – many true, some perhaps stretched – make for good reading throughout the book. Color photographs enhance the stories and bring the trees to life.
Readers of this column might recall another book about Texas trees that received rave reviews here – Living Witness: Historic Trees of Texas, published in 2012, also by Texas A&M Press. Austin photographer Ralph Yznaga focused his lens on 37 famous Texas trees in that book ($29.95 flexbound), using the original Famous Trees of Texas as a reference. Living Witness Trees is more of a photography book, with short, crisp text blocks.
When Carlton Stowers and I put together our list of 101 Essential Texas Books last year, we included Yznaga's volume.  With the new, expanded edition, Famous Trees of Texas is equally deserving. The two books show well, side by side, on a bookshelf and offer proof that Texas does indeed have plenty of trees worth honoring, if not hugging.
Glenn Dromgoole is co-author of 101 Essential Texas Books. Contact him at g.dromgoole@suddenlink.net.

Lone Star Book Reviews
>> more
Michelle Newby, NBCC,
Contributing Editor
New Fiction Confab set for April 25 at Faulk Central Library, Austin; Ward, Specht to speak
New Fiction Confab, an annual event featuring a emerging and mid-career fiction writers, will be held Sat., April 25, sponsored by the Austin Public Library Friends Foundation.
Visiting authors Rebecca Makkai, Viet Than Nguyen, Asali Solomon, and Akhil Sharma will lead writing workshops in Austin Public Library branches from 10:30 am to noon.  From 2 to 5 pm, visiting authors will join local writers Amanda Eyre Ward (The Same Sky) and Mary Helen Specht (Migratory Animals) for readings and conversations at the Faulk Central Library, 800 Guadalupe Street. All events are free and open to the public.
* * * * *