SUBSCRIBE

Don't miss a reading or a good read! Subscribe to our FREE weekly e-newsletter


LONE STAR LISTENS
interviews
>> archive
Antonio Ruiz-Camacho:
Aspiring writers must read "the serious stuff"
Kay Ellington, Editor & Publisher
Veteran journalist Antonio Ruiz-Camacho was named a Dobie Paisano fellow in 2014. His first book, Barefoot Dogs; Stories, was published this month by Simon & Schuster and was selected as the Amazon Best Book of the Month for March 2015. Lone Star Literary Life caught up with him by email to talk with him about the writing life.
LONE STAR LISTENS: Antonio, according to your author bio, you've worked in every imaginable position in a newsroom. Can you tell us what those positions have been and in which newspapers and cities?
ANTONIO RUIZ-CAMACHO: The list is long, but I'll name a few. I started as a copy editor at Reforma in Mexico City–one of the most important newspapers in my home country. At Reforma I also worked as a reporter in the Arts & Culture desk. I didn't have a designated beat; I was what we'd call the firefighter reporter, covering all kinds of stories and breaking news other more-seasoned reporters didn't have the time to. I once had to cover a real fire—one that had destroyed an alternative theater in downtown Mexico City. Another time I was sent, completely out of the blue, to a publishers' conference with the mission of chasing down Mexican literary giant Carlos Fuentes and getting his reaction on a topic that was, apparently, very important at the time, and which I can no longer recall.  >> read more
San Antonio Book Festival, April 11, reflects topics of national trends, including immigration, effects of war, and climate change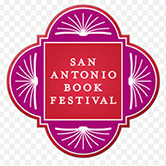 The San Antonio Book Festival will feature more than 75 acclaimed national, regional, and local authors Sat., April 11, 2015. In its third year, SABF is a free, day-long, family-friendly event that draws thousands to the Central Library and the Southwest School of Art for readings, panel discussions, book sales, recipe demonstrations, children's and teen activities, food, and live music.
Headliners this year include Pulitzer Prize winner Lawrence Wright with his latest book, Thirteen Days in September: Carter, Begin and Sadat at Camp David, and S. C. Gwynne with Rebel Yell: The Violence, Passion, and Redemption of Stonewall Jackson. Andrew Yang, founder and CEO of Venture for America, a nonprofit organization that places top college graduates in startups to encourage job growth and a new generation of entrepreneurs, will present his book, Smart People Should Build Things.
Several important themes and trends have emerged for this year's Festival, according to SABF Literary Director Clay Smith, and will be topics for panels such as immigration issues, the effects of war, climate change and motherhood.
"We are particularly strong in fiction writing," Smith said. "Great examples are the award-winning authors Kirstin Valdez QuadeNights at the Fiesta: Stories), who received a "5 Under 35" award from the National Book Foundation, and Maggie ShipsteadAstonish Me), who won the Dylan Thomas Prize and the L.A. Times Book Prize for First Fiction." Smith added, "Our fiction programming is so robust that we are even able to present a panel called 'Novels about Kidnapping,' which features Bret Anthony JohnstonRemember Me Like ThisAntonio Ruiz-CamachoBarefoot Dogs: Stories), and Natalia SylvesterChasing the Sun: A Novel>> read more
Former Poet Laureate Hass at Texas Tech April 10

LUBBOCK  – In celebration of National Poetry Month, the Texas Tech Presidential Lecture & Performance series presents Robert Hass, U.S. Poet Laureate (1995-1997), Friday, April 10, 7 p.m. at the Allen Theatre on the Tech campus, for a reading followed by a book signing. Hass's work is rooted in the landscapes of his native Northern California. Widely read and much honored, he has brought the kind of energy in his poetry to his work as an essayist, translator, and activist on behalf of poetry, literacy, and the environment.
Hass was selected for the MacArthur "Genius" Fellowship, twice honored with the National Book Critics' Circle Award, named winner of  2014 Wallace Stevens Award, and in 1973 selected for the Yale Series of Younger Poets in 1973.  He is professor of English at UC Berkeley.
 General admission is $18, Tickets are available from Select-A-Seat at ( 806) 770-2000. Admission for Tech students is free ticket with valid TTU ID.
TeenBookCon set for April 11 in Houston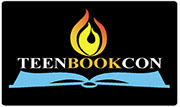 Twenty-eight authors and illustrators will be showcased in Houston Sat.,, April 11, 2015, for TeenBookCon, a free, all-day event at Alief Taylor High School designed to connect Houston teens with national authors and illustrators of young adult fiction and graphic novels. TeenBookCon is a day-long event featuring panel discussions on topics ranging from fantasy to realistic fiction.
Gayle Forman, best known for her If I Stay duo of books (the first is a major motion picture starring Chloë Grace Moretz) will open the event.
David Levithan and Ally Carter will close TeenBookCon. Levithan is the author or co-author of eighteen books for teens and adults, including Two Boys Kissing. Carter is best known for her multi-award winning Gallagher Girls series.
Texas authors slated to appear at TeenBookCon include Houston's Jennifer Mathieu (The Truth About Alice) and Joy Preble (Finding Paris); Austin's Joe Shine (I Become Shadow); and San Antonio's Guadalupe Garcia McCall.
Teens and their parents are encouraged to pre-register. TeenBookCon is organized by a committee of local school, public, and private school librarians with the support of Blue Willow Bookshop.
* * * * *
Second Annual Dallas Book Festival set for April 18
The Second Annual Dallas Book Festival (formerly the International Book Fair) will be held at the J. Erik Jonsson Central Library Sat., April 18, from noon to 5 p.m.
In 2006 the Dallas International Book Fair presented annual literary events showcasing works by internationally acclaimed authors as well as national, regional and local authors representing diverse regions of the world. The event was renamed in February 2014 as the Dallas Book Festival with a purpose to continue the goal of promoting a love for books, reading and literacy through multilingual and multicultural activities with a focus on spotlighting the city of Dallas and its wide range of ethnic and cultural diversity.

Texas Reads
>> archive
Glenn Dromgoole
Graphic novel focuses on cattle drives
The second book in the Texas Tales Illustrated series from TCU Press is The Cattle Drives ($5.95 paperback). Written by retired teacher Mike Kearby and illustrated by Mack White, the graphic novel is reminiscent of the old classic comic books. It's serious history in a very readable format, aimed at seventh graders studying Texas history.
The book packs a lot of information into its 28 pages, covering such topics as vaqueros, chuck wagons, trail drive jobs, rustlers, stampedes and blizzards. Maps trace the routes of three famous Texas cattle trails.
The first book in the Texas Tales Illustrated Series came out nearly four years ago and told about the Texas Revolution.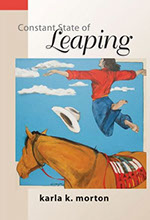 Poet: Denton poet, speaker, author, photographer, and storyteller Karla Morton was Texas Poet Laureate in 2010. Her new collection of poems – her tenth -- is Constant State of Leaping, consisting of about eighty poems covering a wide range of topics and interests, including the game of "42" (Texas Review Press, $8.95 paperback).
I liked one titled "You Don't Know Hot," which begins "until you've seen August in Texas." Another poem is basically a toast raised in tribute to Ben Franklin, while another explains "Why I Married My Husband."
The funniest piece –and shortest – is "Tequila Poetry Form (2-2-4-3)" which contains just two syllables in the first line, two in the second, etc. Here it is:
           i think
           maybe
           i just might be
           hung-over
Gunslingers: Bill O'Neal of Carthage is in the second year of his two-year term as the state historian of Texas. He travels around the state and talks about, well, Texas history. He is the author of more than 40 books, including his latest from Aracadia Publishing, a pictorial history of Texas Gunslingers ($21.99 paperback). It's a good, easy read, filled with dozens of old photos of famous and not-so-famous gunslingers, supplemented with tightly-written text telling their stories.
One chapter focuses on what O'Neal calls "The Deadliest Trio" – Ben Thompson, John Wesley Hardin, and James B. "Killin' Jim" Miller. "All three members of this deadly trio died violently," O'Neal writes. Miller was lynched, Hardin was shot dead in El Paso, and Thompson was assassinated. Other chapters deal with Texas Rangers, blood feuds, and gunfighter towns.
Glenn Dromgoole is co-author of 101 Essential Texas Books. Contact him at g.dromgoole@suddenlink.net.

Lone Star Book Reviews
>> more
Michelle Newby, NBCC,
Contributing Editor
23rd Austin International Poetry Festival April 9-12, 2015; Poet, Author, and Activist Nikki Giovanni to Headline April 11
Renowned poet, author, and activist Nikki Giovanni will be among scores of poets of all ages taking part in the world's largest non-juried poetry festival, in Austin April 9-12, 2015 at a variety of locations throughout the city. All registered poets attend free.  Tickets are available to the public for $20-60 each.
Now in its 23rd year, the festival is an international non-juried event that is distinctively Austin. Unlike many poetry events, the AIP welcomes any registered poet to perform at AIPF, an approach that has fostered participation from a diverse audience and an array of poets from around the globe.
Giovanni will take the stage on April 11 to read a selection of poems, and speak about art and diversity. The evening will also include readings by other featured poets.