BOOK EVENT FOCUS
3rd annual San Antonio Book Festival draws crowds of all ages
photos and story by Michelle Newby, Contributing Editor
The third annual San Antonio Book Festival was hopping Sat., April 11, at the Central Branch of the San Antonio Public Library and across Augusta Street at the Southwest School of Art. With more than eighty authors and more than sixty events on the schedule, the festival was a full day, including live music, cooking demonstrations, children's activities, author readings, panel discussions, book signings, and dozens of vendors from food trucks to literacy organizations.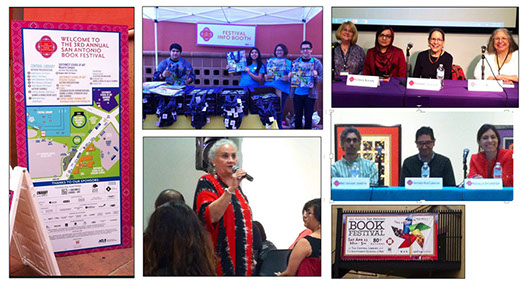 The evening ended with Literary Death Match at the Empire Theatre. There were two new offerings this year: a screening of Joe Nick Patoski's new documentary about Doug Sahm, Sir Doug and the Genuine Texas Cosmic Groove, and Pitchapalooza, an event in which aspiring authors proposed their book ideas to industry professionals.
The panel discussion with Rachel Crawford, Sobia Kahn, Rosemary Catacalos, and Mary Guerrero Milligan of the new anthology Her Texas (Wings Press, 2015), was a funny and engaging exploration of how Texas inspires these creative women – think geography and the rich influence of the cultures represented by those six flags.
Xavier Garza, a dynamic storyteller, read his children's book starring luche libre, The Great and Mighty Nikko: A Bilingual Counting Book (Cinco Puntos Press, 2015), and had the kids in the tent participating in a call and response. During a reading by Isabel Quintero, author of the YA tale Gabi, a Girl in Pieces (Cinco Puntos Press, 2014), the entire audience laughed aloud.
Antonio Ruiz-Camacho (Barefoot Dogs), Natalia Sylvester (Chasing the Sun) and Bret Anthony Johnston (Remember Me Like This) participated in a panel during which they shared secrets and strategies for constructing a crime story that doesn't focus on the crime. Denise Chávez wrapped up the afternoon with her expansive personality and one of her trademark readings, equal parts bawdy and merciful, from her new novel, The King and Queen of Comezón (University of Oklahoma Press, 2014).

Area books and authors featured at Lubbock Arts Festival, Apr. 18–19
Books and authors are a vibrant part of the arts scene at the 37th annual Lubbock Arts Festival, which will occupy the entire Lubbock Memorial Civic Center (1501 Mac Davis Lane, Lubbock, TX 79401) Sat, April 18 and Sun., April 19, 2015. The festival is the largest of its kind in West Texas.
In addition to featured artist Berkley White, an internationally renowned underwater photographer born and raised in Lubbock, and hundreds of other artists, exhibitors, and performers, the festival will include members of the Write Right writers' group with authors available to sign books throughout the event, and writing activities for children. Literacy Lubbock will also be on hand with kids' books, and Texas Tech University Press will offer a variety of Texas and Southwest books at discount prices.
Festival hours are 10 am to 7 pm Saturday and noon to 5 om Sunday. Admission is $4 for adults, $2 for children under 12

Cisco writers to host 15 authors Apr. 25-26
The Cisco Writers Club of Cisco, Texas, will host its first-ever Book Look, to be held Sat., April 25 and Sun., April 26, in conjunction with the Cisco FolkLife Festival.
To date fifteen invited authors, covering a wide-range of genres, will attend and sign their books:  Dr. Duane Hale • Anna Albergucci • A.R. Draeger • Marsha Vermillion • Ophelia London • Amanda M. Thrasher • Margo Bond Collins • Nancy Masters • Matthew Gene • Dr. David Bedford • JoAnna Grace • John J. Smith • C. L. Stegall • David Hughes • C.A. Szarek • Emma Gingerich • Amanda Stone Norton
The event will be held 10 am to 6:00 pm Saturday and noon to 4:30 pm Sunday. Admission to the Cisco FolkLife Festival is $3 per person. For more information contact publicity officer Bokerah Brumley at bokerahbrumley@gmail.com.

New Fiction Confab set for April 25 at Faulk Central Library, Austin;
Ward, Specht to speak
New Fiction Confab, an annual event featuring a emerging and mid-career fiction writers, will be held Sat., April 25, sponsored by the Austin Public Library Friends Foundation.
Visiting authors Rebecca Makkai, Viet Than Nguyen, Asali Solomon, and Akhil Sharma will lead writing workshops in Austin Public Library branches from 10:30 am to noon.  From 2 to 5 pm, visiting authors will join local writers Amanda Eyre Ward (The Same Sky) and Mary Helen Specht (Migratory Animals) for readings and conversations at the Faulk Central Library, 800 Guadalupe Street. All events are free and open to the public.
* * * * *