McAllen Library hosts 5th South Texas Book Festival November 10
McALLEN — The South Texas Book Festival, formerly the McAllen Book Festival, is designed expressly for children and teens. It will be held at the McAllen Main Library and is a free event open to the public featuring a diverse group of national, regional, and local authors. The authors will participate in readings, panel discussions, and book signings.
The festival will also feature fun outdoor activities, such as bouncy castles, a slide, and a kiddie train. There will be gaming and virtual reality for teens, hands-on activities for children and teens, and a free book giveaway. Book sales will be provided by The Storybook Garden, an independent bookstore in Weslaco.
Twenty-two authors and illustrators are participating, including Laurie Halse Anderson, Matt de la Peña, Erika L. Sanchez, Don Tate, Isabel Quintero, Saadia Faruqi, Xavier Garza, David Bowles, Danie Chacon, and Cody Wagner.
The winners of the 2018 Youth Creative Writing Contest will be at the festival where they will be presented with an anthology of their work on the theme of "The Music in Me."
The winners, ages 6-9, are: Natalia Espinoza, first place, poetry; Molly Wilson, second place, poetry; Laila Guerra, third place, poetry; Shayla Perez, first place, prose; Ashira James, second place, prose.
The winners, ages 10-13, are: Dana Garibaldi, first place, poetry; Zoe Gonzalez, second place, poetry; Natalia Valdes, third place (tie), poetry; Ruth Wilson, third place (tie), poetry; Maxine Ygoña, first place, prose; Hellen Bello, second place, prose; Emiliano Gonzalez, third place, prose.
The winners, ages 14-18, are: Paulina Guerra, first place, poetry; Avery Allen, second place, poetry; Alexis Alvarado, third place, poetry; Sarah Sanchez, first place, prose; Maria Flores, second place, prose; and Kailey Miller, third place, prose.
All of the winners' work is posted on the festival's website.
McAllen Public Library is kicking off their fifth annual South Texas Book Festival with Spirit Week, a schedule of daily activities to celebrate culture, literacy, and fun leading up to the festival on Saturday, November 10.
There will be a Ballet Folklorica performance on Monday, November 5 at 6 p.m. Thank a Veteran event is Tuesday, November 6 at 6 p.m. with family story time, a thank you from McAllen ISD students, refreshments, and games. Children will be able to personalize a thank you letter to veterans. Wednesday, November 7 is Sidewalk Chalk and Bubbles at 6 p.m. Children can get creative with sidewalk chalk challenges and bubble fun on the Dewey Trail. At 6 p.m. on Thursday, November 8, Carolyn Dee Flores will launch her new picture book, The Amazing Watercolor Fish. Flores will perform a reading and books will be available for purchase and signing, plus refreshments and fun activities.
For more information visit http://southtexasbookfestival.com.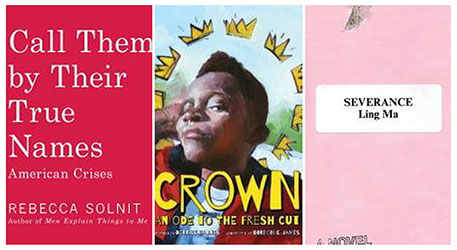 $50,000 Kirkus Prize winners announced in Austin
AUSTIN – Novelist Ling Ma, essayist Rebecca Solnit, and writer Derrick Barnes (along with illustrator Gordon C. James) have won the fifth annual 2018 Kirkus Prizes, which were announced Thursday evening, October 25, at a celebration at Austin's Central Library. Each prize carries a cash award of $50,000.
Ma won the fiction prize for Severance, a pre- and post-apocalyptic debut novel. "Refashioning post-apocalyptic tropes with exquisite craft, Ling Ma offers a portrait of our times — especially our fears," the judges — said author Sandra Cisneros; editor, writer and Kirkus critic Jessica Jernigan; and bookstore owner Angela Maria Spring in a written statement. Severance is both a cutting critique of late-stage capitalism and the intensely affecting story of a young woman finding her place in her world. ... It is a perfect novel for this moment, and an astonishing debut."
The nonfiction prize was awarded to Solnit for Call Them by Their True Names: American Crises (and Essays). "She has an extraordinary ability to synthesize what would seem to be disparate issues and foster an expanded vision for examining our beliefs and actions," author Carina Chocano, author and Kirkus critic Joseph Barbato, and book buyer Sheryl Cotleur wrote in their judges' comments.
The young readers' literature award went to Barnes and James for Crown: An Ode to the Fresh Cut, a joyful look at the world of the black barbershop. "This tour-de-force artistic statement extols to its audience the beauty and grace of being 'someone that matters,'" wrote judges Marie Lu, an author; writer and Kirkus critic J. Alejandro Mazariegos; and Kimberly A. Patton, youth services supervisor at the main branch of the Kansas City, Kan., Public Library.
This year's fiction and nonfiction winners were chosen from the 1,193 titles that received a starred Kirkus review and were published between Nov. 1, 2017, and Oct. 31, 2018. The eligibility dates for the young readers' prize were Oct. 1, 2017, through Sept. 28, 2018.
The Kirkus Prize is one of the richest literary awards in the world, with a prize of $50,000 bestowed annually to authors of fiction, nonfiction, and young readers' literature. It was created to celebrate eighty-five years of literary criticism from Kirkus Reviews.
(Information from organization's press release and website)

Annual Ann and Stephen Kaufman Jewish Book & Arts Festival runs November 3–13 in Houston
HOUSTON — From the inner workings of the TV industry to a staged reading of a Yiddish play, the 2018 Ann and Stephen Kaufman Jewish Book & Arts Festival, at the Evelyn Rubenstein Jewish Community Center, brings book lovers a variety of literary greats and their stories.
The 46th annual festival kicks off Saturday, Nov. 3, at 8 p.m. with Nell Scovell, writer, producer and director, talking about her memoir, Just the Funny Parts … and a Few Hard Truths about Sneaking into the Hollywood Boys' Club. Scovell is known for her work on "The Simpsons," "Late Night with David Letterman," "NCIS" and "The Muppets." Scovell created and was executive producer on "Sabrina the Teenage Witch." The second woman to write for Letterman, Scovell in 2009 publicly called out the lack of gender diversity in late-night TV. Her memoir follows an earlier collaboration on the bestselling book Lean In with author and executive Sheryl Sandberg, who wrote the foreword.
The Nov. 3–13 festival features talks and events for literature fans, sports enthusiasts, theater-goers and history buffs. On Sunday, Nov. 11, at 4 p.m., Ben Reiter, senior writer for Sports Illustrated, will discuss his new book, Astroball, which tells the inside story of how a group of outsiders found a new way to win.
Houston native Stephanie Wittels Wachs will talk about her new book, Everything Is Horrible and Wonderful: A Tragicomic Memoir of Genius, Heroin, Love and Loss, on Sunday, Nov. 11. at 7 p.m. The author's brother, Harris Wittels, a comedian who wrote for TV's "Parks and Recreation," died from a heroin overdose.
Rachel Kadish is this year's featured author for the Community Read Program. Monday, Nov. 5, at 8 p.m., Kadish will discuss The Weight of Ink, a story about an unwell historian who has a passion for Jewish history and an emigrant from Amsterdam in the 1660s, who becomes a scribe for a blind rabbi.
On Saturday, Nov. 10, at 8 p.m., there will be a staged reading of Issac Goldberg's 1918 English translation of Sholem Asch's controversial Yiddish play, "G-d of Vengeance." The play tells the story of a family's efforts to leave behind a dark past so their daughter can marry into a local Jewish family. The Grammy-winning composer of the Klezmatics, Lisa Gutkin, will perform her own work with local musicians Donald Jacobs and Villie Schumann. New music will be premiered at the event.
New this year, Tablet magazine will record its Unorthodox Podcast live from the Kaplan Theatre on Tuesday, Nov. 6, at 7:30 p.m. The weekly podcast, hosted by Mark Oppenheimer, Stephanie Butnick, and Liel Leibovitz, offers a fun take on Jewish news and culture.
On Monday, Nov. 12, at 7:30 p.m., Catherine Price, author of How To Break Up with Your Phone, shares a plan for creating healthy habits for using technology. Local experts will join Price for a panel on technology and parenting.
For more information and the complete schedule, please visit www.erjcchouston.org.
(Information from organization's press release)