Nineteen elected to Texas Institute of Letters for 2018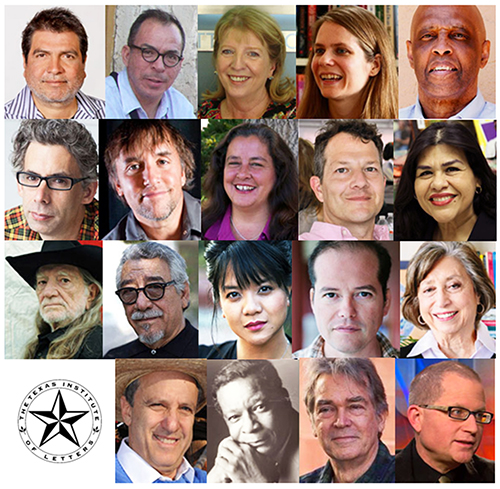 Members of the Texas Institute of Letters have overwhelming approved nineteen writers to join the ranks of the TIL, a distinguished honor society founded in 1936 to celebrate Texas literature and recognize distinctive literary achievement.
The TIL's membership consists of the state's most respected writers — including winners of the Pulitzer Prize, National Book Award, Academy Award, Tony Award, and MacArthur "Genius" grants. Membership is based on literary accomplishments and is granted only though an election by existing members.
This marks the first year the TIL has recognized a songwriter based on literary accomplishments: Willie Nelson.
Other 2018 honorees are Oscar-nominated screenwriter-director Richard Linklater, fiction writers Daniel Chacón (El Paso), Bret Anthony Johnston (Corpus Christi/Austin), Guadalupe Garcia McCall (Eagle Pass/San Antonio), José Skinner (Puerto Rico, Rio Grande Valley); and nonfiction authors Marcia Hatfield Daudistel (El Paso), Michael Hurd (The Woodlands), and Mary Beth Rogers (Dallas).
Also honored are filmmaker- playwright Severo Perez (San Antonio/Los Angeles), playwrights Kirk Lynn (Austin) and Ted Shine (Dallas); and journalist Alfredo Corchado (Dallas/Mexico City).
Poets honored this year are Katherine Hoerth (Beaumont), Sheryl Luna (El Paso/Denver), Sasha Pimentel (Phillipines/El Paso), José Antonio Rodríguez (Rio Grande Valley), Steven Schneider (Rio Grande Valley), and Christian Wiman (Snyder, New Haven, CT)
"We have a record number of distinguished writers elected this year," said TIL President Steven L. Davis. "The bar to get elected to the Institute is high, so this shows that the Texas is now home to a number of major writers that we should be very proud of. Our literary arts are flourishing."
New members will be inducted at the upcoming TIL annual meeting, to be held in San Antonio April 6–7. For more info visit the TIL website: www.texasinstituteofletters.org
Texas Institute of Letters: 2018 Inductees
DANIEL CHACÓN is author of five books of fiction and editor of two others; recipient of the Hudson Prize, the American Book Award, a Christopher Isherwood Foundation Grant, and the Southwest Book Award. Heads the creative writing program at UT-El Paso.
ALFREDO CORCHADO is Mexico City bureau chief of the Dallas Morning News and author of Midnight in Mexico. Specializes in covering the drug wars and border issues. A past Neiman Fellow at Harvard and recipient of a Maria Moors Cabot prize from the School of Journalism at Columbia University, which cited his "extraordinary bravery and enterprise."
MARCIA HATFIELD DAUDISTEL is a nonfiction writer and editor of four books, including the anthology Literary El Paso (winner of the Southwest Book Award) and Authentic Texas: People of the Big Bend (coauthored with photographer Bill Wright.) She is a long-time associate director of Texas Western Press, where she established the bilingual imprint Frontera Books.
KATHERINE HOERTH, the incoming director of Lamar University Literary Pressis author of two books of poetry, winner of the TIL's 2015 Helen C. Smith Memorial Award for Best Book of Poetry Poet for Goddess Wears Cowboy Boots.
MICHAEL HURD is a longtime journalist, sports historian and author of several books, including Thursday Night Lights (2017) that tells the largely unknown story of African American high school football in Texas. He is director of Prairie View A&M University's Texas Institute for the Preservation of History and Culture, which documents the history of African American Texans.
BRET ANTHONY JOHNSTON is the author of the novel Remember Me Like This (a New York Times Notable Book of the Year) and the story collection Corpus Christi: Stories. The winner of three TIL awards, Johnston grew up in Corpus Christi, taught at Harvard for eleven years, and now serves as director of the Michener Center for Writers at the University of Texas in Austin.
RICHARD LINKLATER is the Academy Award-nominated director and screenwriter of several acclaimed films (several of which have Texas settings), including Boyhood, Bernie, Slacker, Dazed and Confused, School of Rock, and the Before trilogy. He is the founder of the Austin Film Society.
Poet SHERYL LUNA was born and raised in El Paso. Her first collection, Pity the Drowned Horses (2004), won Notre Dame's Andres Montoya Poetry Prize and was a finalist for the National Poetry Series. Her second collection, Seven, was published by 3: A Taos Press in 2013.
KIRK LYNN is head of UT Austin's Department of Theatre & Dance Performance and Production division, as well as playwright-in-residence and one of six co-producing artistic directors of Austin's Rude Mechs. He has written and adapted more than a dozen plays and is author of the 2015 novel Rules for Werewolves.
GUADALUPE GARCIA MCCALL, who grew up in Eagle Pass and teaches high school English in San Antonio, is author of three books for young readers and winner of many honors, including the ALA's Pura Belpre Author Award and the Tomas Rivera Children's Book Award. Her work is recognized on "best books of the year" lists from Kirkus and School Library Journal.
WILLIE NELSON He's Willie. Do we need to say anything else?
SEVERO PEREZ is a screenwriter and director from San Antonio whose productions have won more than fifty awards. Creator of the classic Chicano film "…and the earth did not swallow him," Perez is also a recognized playwright who worked with Luis Valdez's Teatro Campesino and the author of two novels.
SASHA PIMENTEL is the author of two books of poetry, including Want of Water, winner of the 2016 National Poetry Series. Her previous book, Insides She Swallowed, won the 2011 American Book Award. Born in Manila and raised in the U.S. and Saudi Arabia, she currently teaches creative writing at UTEP.
JOSÉ ANTONIO RODRÍGUEZ is a poet, memoirist, translator and author of several books, and the winner of several awards, including a TIL award for poetry. His work has appeared in the New Yorker, Poetry, and many other publications. Born in Mexico and raised in South Texas, he teaches creative writing at the University of Texas-Rio Grande Valley.
MARY BETH ROGERS is a former political strategist turned author of four books, including Barbara Jordan: American Hero and Turning Texas Blue. A member of the Texas Women's Hall of Fame, she taught at LBJ School of Public Affairs at UT Austin and was CEO of Austin PBS affiliate. Rogers currently lives in Dallas.
STEVEN SCHNEIDER is author of several collections of poetry. His poems have been widely anthologized and featured in American Life in Poetry, Prairie Schooner, Critical Quarterly, The Literary Review and numerous other international journals. Wiman teaches creative writing at the University of Texas Rio Grande Valley.
The dean of African American playwrights in Texas, THEODOIS "TED" SHINE is author of over thirty plays including off-Broadway productions. He grew up in Dallas, graduated from Howard University in 1953, earned his doctorate from UC-Santa Barbara, and taught for more than fifty years before retiring as head of the theater department at Prairie View A&M University.
JOSÉ SKINNER is author of two acclaimed short story collections about hard times on both sides of the border. He was born in Puerto Rico and raised in Mexico and New Mexico, graduated from the Iowa Writers' Workshop, co-founded and directed the MFA program at the University of Texas-Pan American in the Lower Rio Grande Valley; he now lives in Austin.
Prominent American poet CHRISTIAN WIMAN was born and raised in West Texas. Author of many books. His poems, criticism, and personal essays have appeared in The Atlantic, Harper's, The New Yorker. Wiman served as editor of Poetry magazine for a decade and now teaches Literature and Religion at Yale University.
(Information from organization's press release)

* * * * *
Lone Star Lit wraps up Indiegogo campaign '18: Thanks for helping launch our 4th year!
Lone Star Literary Life covers the Texas literary scene like no one else, week in and week out. Since 2015, we've given Texas authors, booksellers, libraries, publishers, and readers a trusted platform of their own.
We are thankful to every one of our readers who stepped up to support our 2018 Indiegogo campaign and help fund even more of the bookish content you love in the coming year. Stay tuned for details!
ConDFW XVII announces headliners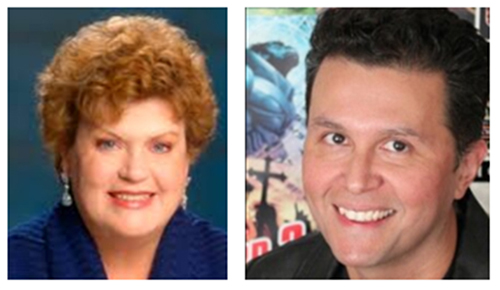 ConDFW XVII has announced that its 2018 guests of honor will be author Charlaine Harris and artist John Picacio. The event is slated for Feb. 16–18, 2018, at the Radisson Hotel Fort Worth Fossil Creek.
* * * * *