New books added daily through mid-December, 2021. Click the covers to purchase.
JUMP TO NONFICTION -|||-  JUMP TO BOOKS FOR YOUNG READERS  
 -|||- JUMP TO HGG HOME PAGE  -|||-
Click the covers to purchase.
FICTION / ROMANCE / WOMEN'S FICTION
By HK Jacobs
Wilde Type, November 13, 2020, 343 pgs.
Becoming Wilde, June 13, 2021, 335 pgs
Available in paperback, eBook, and audio book
The Alex Wilde Series tells the story of a woman physician as she navigates career challenges, harrowing adventure, and unexpected romance while working in pediatric hospitals all over the world. In order to have love, she must sacrifice her vulnerability--a price that she's never been willing to pay. Until Ian...
===========================
FICTION / ADULTS & YA / DATING / HUMOR / ROMANCE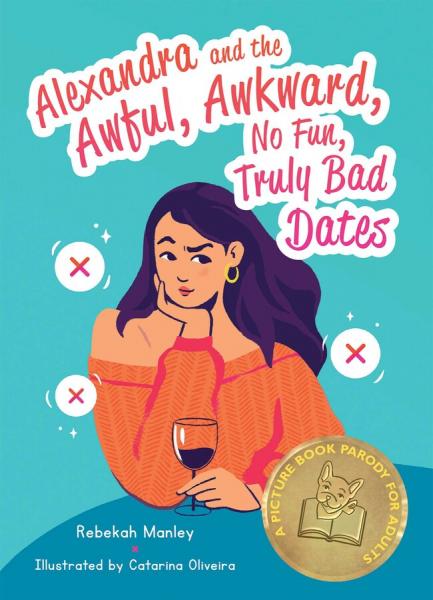 Alexandra and the Awful, Awkward, No Fun, Truly Bad Dates
By Rebekah Manley; Illustrated by Catarina Oliveira
Ulysses Press
October 13, 2021
32 pages
Available in hardcover, library binding, and eBook
Set in the thick of our swipe right society, newly thirty-year-old Alexandra decides she's got nothing to lose and sets off on a 30-dates-in-30-days adventure. 
 
===========================
FICTION / SOUTHERN FICTION / RURAL FICTION / MYSTERY
By B.J. Carter
Skyhorse Publishing
June 19, 2021
288 pages
Available in hardcove and eBook
Visit the Lone Star Lit Blog Tour page
The seemingly never-ending Cabinda War (1975—) has left multitudes dead in its wake and thousands of children homeless and orphaned.
Jackaleena N'denga, a young Angolan girl, has become the sole survivor of one specifically brutal village massacre carried out by a band of guerrilla boy-soldiers.
Jackaleena's resilience leads her to an orphanage on the west coast of Africa, known as Benguela by the Sea, where she and other children are taken in and protected. Her brilliant mind and endless questions capture the heart of her mentor, Margaret, who ensures her that her survival thus far—especially being the survivor from her village—must mean she has big things ahead of her. When the opportunity arises, she must find her purpose.
Not without a plan, Jackaleena stows away on a mercy ship that has made its yearly visit to the orphanage and is now preparing to return to America. Her journey takes her across the ocean, into the arms of New York City's customs officials, and finally into placement in a temporary foster home in Texas.
Enter Alfie Carter—a workaholic, small-town detective who is also battling memories of his past. His life is forever changed when he meets a young African girl looking for her higher purpose.
===========================
FICTION / FAMILY SAGA / MYSTERY
By Henry Taylor Millard
Gatekeeper Press
August 23, 2021
460 pages
Available in hardcover, paperback, eBook, and audio book
When a black haired three-year-old girl is found wounded in a dumpster outside the small town of Travis City, Texas, the mystery of who she is and how she got there sets off a thirty-year saga of two diverse families. The little girl, named Lourdes, is adopted by Danny and Maria Sanchez, a loving poor couple, and the child flourishes assisted by the town patriarch William Barrett Downs the Third, and her own special talents. We follow Lourdes Sanchez over thirty years and feel all of her victories, along with her soul searching sorrows. A story of what it means to be from Texas, in a time when many in the world wonder why this land is so special to its citizens. You will want to be from Travis City, Texas, if you still believe in honor, work ethic, and the power of the individual.
===========================
FICTION / MYSTERY / ROMANTIC SUSPENSE / ADVENTURE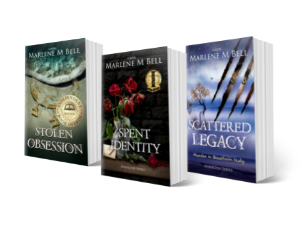 The Annalisse series
By Marlene M. Bell
Stolen Obsession, January 2018, 294 pgs.
Spent Identity, November 2019, 378 pgs.
Scattered Legacy, November 2021, 352 pgs.
Available in paperback, eBook, and audio book
A tempting romance intertwines international adventure with a dynamic couple struggling to uncover their pasts--without losing each other in the process.
===========================
FICTION / HISTORICAL / ROMANCE / ADVENTURE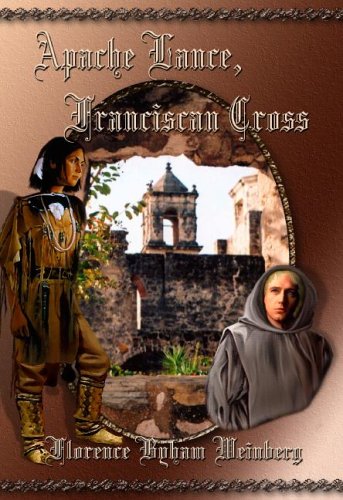 Apache Lance: Franciscan Cross
By Florence Byham Weinberg;  illustrated by Ardy Scott
Maywood House
August 21, 2021
343 pages
Available in paperback and eBook
In the year 1731, three Franciscan missions are struggling to establish themselves on the San Antonio River despite Apache raids. A young missionary, Fray Marcos, and an Apache woman warrior, Ahuila, fall in love. They must work out their fate in the face of cultural conflicts and prejudices. Apache Lance, Franciscan Cross explores a crucial time in San Antonio history, featuring courageous settlers, missionaries, Indian converts and fierce Apache attacks. The story will appeal to history buffs, especially Southwesterners. Plot is fast moving with powerful emotions, action, love interest, suspense, accurate background and landscape.
===========================
FICTION / COZY MYSTERY / CULINARY MYSTERY / WOMEN SLEUTHS
By Amber Royer
Grand Openings Can Be Murder, February 2, 2021, 268 pgs. (Visit the Lone Star Lit Tour Page)
70% Dark Intentions, July 20, 2021, 266 pgs. (Visit the Lone Star Lit Blitz Page)
Out of Temper, coming February 1, 2022, 264 pgs.
Available in hardcover, paperback, and eBook
Felicity Koerber has returned to her home town of Galveston, Texas to open a bean to bar chocolate shop. She's living with her Aunt, Naomi and her pet lop eared bunny, Knightley, moving from one house to another as her aunt repairs and flips them. Once a massage therapist, she now finds herself making people feel better by having them taste chocolates made from beans from around the world. Also solving the occasional murder while deciding how much romance she wants to let into her life.
===========================
FICTION / HISTORICAL FICTION
Before the Alamo: A Tejana's Story
By Florence Byham Weinberg
Maywood House
September 17, 2021
296 pages
Available in paperback and eBook
Emilia Altamirano, born 1814, a year after the Battle of the Medina River, is unacknowledged by her Royalist, pureblood Spanish father, raised by her Native American mother, becomes a ward of José Antonio Navarro, learns to read, write, and serves as a page for the Bexar de San Antonio City Council. She acts as nurse in the Battle of the Alamo. She survives, but what will be her fate?
===========================
FICTION / RURAL FICTION / SMALL TOWN / WESTERN
By Loren C. Steffy
Stoney Creek Publishing
May 25, 2021
310 pages
Available in hardcover
When Trace Malloy and Blaine Witherspoon collide on a desolate West Texas highway, their fender bender sets the tone for escalating clashes that will determine the future of the town of Conquistador.
===========================
FICTION / THRILLER
By Mary Rae and Wanda Venters
Written Dreams Publishing
July 30, 2021
260 pages
Available in paperback, hardcover, and eBook
When Dr. Gennifer Drake's body washes up on a foggy beach on Galveston Island, Texas, Dr. Louise Finnerty, an emergency medicine physician, and Dr. Marnie Liccione, a recently widowed pediatrician, are shocked by their friend's death. As they delve into the murder investigation, they discover Gen had been researching a deadly new form of dengue fever at the ultra-high security Gulf National Laboratory. Aided by climate change, this mosquito borne illness, known as Break Bone Fever, is spreading northward and threatening the United States. Untangling the web of lies being propagated by a cabal inside the Environmental Protection Agency, they confront a fight not just for justice, but for their lives.
===========================
FICTION / CONTEMPORARY / ROMANCE / MULTICULTURAL
By Maida Malby
Available in paperback and eBook
Boracay Vows, November 21, 2017, 240 pages
New York Engagement, May 21, 2018, 120 pages
Singapore Fling, October 21, 2019, 267 pages
Carpe Diem Chronicles is a series of contemporary romance stories involving multicultural couples set in exotic locations all over the world. The books revolve around a trio of Filipina friends – Krista Lopez, Maddie Duvall, and Angela Lim who fall in love with the Irish-American Ryan brothers – Blake, Aidan, and Craig. 

In each location—Boracay, Philippines; Singapore; and Koh Samui, Thailand—the local culture, especially the food, is observed and celebrated by the characters. The books are written in English with multiple languages—Filipino, French, Malay, Mandarin, and Thai—featured and translated.

The central theme of all the books is Carpe Diem, the Latin aphorism that means "seize the day." All of the couples are motivated by the idea of living life to the fullest and in the present, not only because tomorrow is uncertain, but also because today is the best opportunity they have to make the future better. 
===========================
NEW ADULT - ADULT FICTION / FANTASY / SWORD & SORCERY / FAIRY TALES
The Conquest of the Veil Series
By Michael Scott Clifton; illustrator Nancy E. Durham
Book I - The Open Portal, 2019, 338 pages; Visit the Lone Star Lit Tour Page
Book II - Escape from Wheel, 2020, 300 pages; Visit the Lone Star Lit Tour Page
Book III - A Witch's Brew, 2021, 318 pages; Visit the Lone Star Lit Tour Page
Book Liftoff
Available in paperback and eBook
Lonely and plain-featured, Mona Parker is just another faceless teenager at Spring Hill High School until she angers a beautiful and arrogant classmate. Bullied relentlessly and with nowhere to turn, Mona's colorless life turns into a hellish existence. Mona considers  suicide until one night, Thaddeus Finkle, her guardian angel, appears and offers her a way out. Swap her life with another. Mona takes the angel up on his offer. She awakens on Meredith, a parallel world of Earth where magic has replaced technology. Mona discovers she is Alexandria, a woman of stunning beauty, and the daughter of a Duke complete with servants and riches. Her  wildest dreams have come true. Then she discovers the price of her bargain. Trapped behind the Veil, an impenetrable curtain of magic,  the barrier partitions Meredith into a good side and an evil side.  And she's on the wrong side.
===========================
FICTION / MYSTERY / HUMOR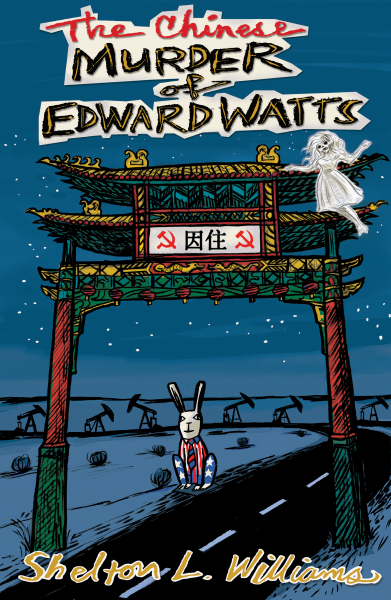 The Covey Jencks Mysteries Series
By Shelton Williams
KDP
Available in paperback, audio book, and eBook
Covey Jencks (Covey Jencks Mysteries, Book 1), August 28, 2019, 195 pages. Covey Jencks is an amateur detective novel set in West Texas and featuring an interracial couple, Covey Jencks and JayJay Qualls.
Covey and JayJay Get Educated (Covey Jencks Mysteries, Book 2) September 2019, 209 pages, Covey and JayJay investigate a triple murder and stumble into a political conspiracy. Visit the Lone Star Lit Tour Page.
The Chinese Murder of Edward Watts (Covey Jencks Mysteries, Book 3), December 8, 2020, 233 pages. Covey and JayJay must navigate through a political uproar while investigating a possible spy ring, suspected Chinese gangsters, and an active ghost. Visit the Lone Star Lit Tour Page.
===========================
FICTION / HOLIDAY ROMANCE
By Vickie Phelps
November, 2021
245 pgs.
Shelley Morrison is busy getting ready for the holidays when a stranger walks into her gift shop looking for a Christmas star. She's immediately drawn to him and his reason for the star. Not only that, but he's the best-looking cowboy she's seen in a long time. She's determined to help him find his star, but someone else is just as determined that she's not going to get involved with this stranger.
After Ethan Ford's mother dies, he wants to honor her by carrying on her holiday traditions. He's searching for a Christmas star like the one his mother used on her tree. When he walks into Shelley Morrison's gift shop in search of his special star, he has no idea that he's going to find much more than a star for Christmas. 
===========================
FICTION / THRILLER / MYSTERY / WOMEN'S FICTION
Crude Ambition
By Patricia Hunt Holmes
Greenleaf Book Group
June 8, 2021
328 pgs.
Available in paperback and eBook
Visit the Lone Star Lit Tour page
A Texas reckoning.
In the early morning hours after a law firm recruiting party at a beachside house on Galveston Island, a female summer intern is found lying on the floor, bruised, bleeding, and unconscious. Something terrible has happened. She is taken to a hospital by the only other woman there, but the next day the intern is gone without a trace. Those involved decide to keep silent about the incident in order to further their own career ambitions, but the two women are haunted by what happened. Time passes. Ten years later, crime and hubris bring the former intern back into the lives of those that hurt her. Only this time, she has the power, and the truth is finally brought to light.
===========================
FICTION / THRILLER / SUSPENSE / PSYCHOLOGICAL
By Arthur Herbert
White Bird Publications
May 11, 2021
330 pgs.
Available in paperback, audio book, and eBook
Alex Brantley is a surgeon whose desperation to start a new life outside of medicine leads him to settle in a sleepy Texas town close to the Mexican border, a town that has a dark side. Its secrets and his own past catch up with him as traits he thought he'd buried in the deserts on the frontiers of the border rise up again to haunt him.
To the citizens of Three Rivers, Henry Wallis appears to be a normal Texas teenager: a lean, quiet kid from a good family whose life seems to center around running cross-country, his first girlfriend, and Friday night football. That Henry is a cultivated illusion, however, a disguise he wears to conceal his demons. Both meticulous and brutally cruel, he manages to hide his sadistic indulgences from the world, but with that success, his impulses grow stronger until one day when a vagrant is found murdered.
When Alex and Henry's paths cross, it starts a domino effect which leads to mangled lives and chilling choices made in the shadows along la frontera, where everything is negotiable.
===========================
FICTION / PARANORMAL / ROMANCE / URBAN FANTASY
Diaries of an Urban Panther Series
By Amanda Arista
Diaries of an Urban Panther, August 2021, 375 pgs. 
Claws and Effect, September 2021, 375 pgs.
Nine Lives of an Urban Panther, October 2021,395 pgs.
Available in paperback and eBook
When Violet Jordan becomes a midnight snack for werepanther Spencer Haverty, his infectious bite invokes the first element of her destiny. But when push comes to claws, can she defeat her sire in a battle for the souls of Dallas?
Breaking things off with Joel, Cami launches herself on a new quest for happiness. But her pursuit of pleasure only takes her further from herself—and toward a harrowing new reality unlike anything she's faced before. What follows for Cami is a fight to the death that can only be waged with God's love.
===========================
Click the covers to purchase.
===========================
FICTION / MYSTERY / PSYCHOLOGICAL THRILLER / LOVE STORY
By Louis Bodnar
El Paso Sunrise, 2019, 284 pgs.
El Paso Sunset, 2021, 222 pgs.
Available in paperback
Special pricing when you buy both books via the author's website
The chronicle of Steven Vandorol, a lawyer in El Paso, the second largest city on the Texas border, started in El Paso Sunrise, where he's being hunted by forces determined to kill Steven, who was just appointed special prosecutor in a massive conspiracy with national implications before the fall presidential election.
In El Paso Sunrise, Steven's short-lived peace and serenity finally earned, was suddenly shattered, when he found himself as a target, seemingly for political reasons, but really the forerunner of an invasion of the United States by radical terrorist forces on American's vulnerable southern underbelly.
Then, the Steven Vandorol saga continues in El Paso Sunset, where stunning Vanessa Carson, Steven's attorney friend amid the evil of Washington, D.C. brings her sunshine smile back into his life to together face their worst nightmares during the ultimate crises, and only Steven and Vanessa stand in their way… 
===========================
FICTION / HISTORICAL / WESTERN / HUMOR
By Preston Lewis
Wolfpack Publishing
February, 2020
460 pages
Available in paperback
Young H.H. Lomax agrees to promote Joseph G. McCoy's dream of building Abilene into a cattle town, ultimately leading the first herd to Abilene from Texas.
===========================
FICTION / ROMANCE / SUSPENSE / INSPIRATIONAL
By Vickie Phelps
Elk Lake Publishing
September 19, 2021
342 pgs.
available in paperback and eBook
When Jake Reynolds left Archer Springs, Texas, in June 1957, he planned to return at the end of summer, but that was before he found out his best friend and his fiancee had eloped together. Devastated and betrayed, he never returned to his hometown. Fast forward twenty-five years. Jake receives a letter from a local land developer stating the property willed to him by his aunt and uncle will be destroyed and used for other purposes unless he returns to claim it. But that means coming face to face with the two people who betrayed him twenty-five years ago..
===========================
Click the covers to purchase.
===========================
FICTION / HISTORICAL / TEXAS PIONEERS / CIVIL WAR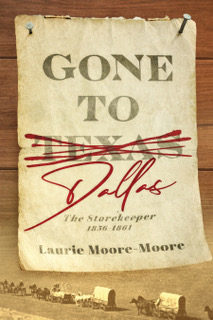 Gone to Dallas: The Storekeeper 1856-1861
By Laurie Moore-Moore
Goat Mountain Press
October 4, 2021
348 pages
available in paperback and eBook 
Visit the Lone Star Lit Tour Page
Sara's husband was a disappointment in life, but she had to agree he was a handsome corpse! It seemed so romantic when Morgan Darnell convinced Sara to marry and join an 1856 "Gone to Texas" wagon train. In a twist of fate, Sara arrives in Dallas a 19-year-old widow--armed with plenty of pluck--determined to open a store in the tiny settlement. She suffers threats, vandalism, even being shot! With the help of friends, is Sara strong enough to accomplish her dream? Failure means being destitute in Dallas! Not a typical historical novel or Western—Gone to Dallas, The Storekeeper 1856-1861 is salted with historic Texas events and peppered with real people.
===========================
FICTION / COMING OF AGE / HUMOR / EYE-OPENING
By Todd Michael Gent
Page Publishing
2020
491 pages
Available in paperback and eBook
The main character, Bracky Kinsloe, graduates from a small Texas town in the late sixties and decides he no longer wants to haul hay in the summers. He decides to try life in the big city of Dallas. He works his way into X-ray technician school at Baylor Medical Hospital and starts to realized how valuable life is. His other option was Vietnam, where his brother had to go. The green behind his ears starts to go away. Just a teenager, Bracky uses humor to get through life as he sees it as he matures and gets away from his small-town mentality. Along with many interesting characters, Bracky winds up in some interesting situations that he never knew existed.
===========================
FICTION / LITERARY FICTION / CONTEMPORARY / HUMOR
By Michael Sirois
Flio Widdix Publishing
December 11, 2021
Chrysalis, 380 pages. 
Emergence, 331 pages.
Available in paperback and eBook
Nine Characters + One Butterfly = Chaos Theory. This quirky, endearing two-book series, If a Butterfly, is a bit like Six Degrees of Separation from Kevin Bacon (if Kevin just happened to be a butterfly). A Monarch butterfly, during its epic migration from Canada to Mexico, intersects the paths of a few people, and their lives and the lives of others become considerably altered.  What do a scientist, a married couple on a vacation, a woman who hears voices no one else hears, a grad student, a quilter, a radio deejay, a teacher, and an astronaut all have in common? A Monarch butterfly, of course. These nine individuals just want what most people want, to "earn a decent living, be respected, have a good time, and get along with everyone." Is that too much to ask? Maybe. Maybe not. Find out in this engaging modern day saga.
===========================
FICTION / MYSTERY / SUSPENSE
By Angela Johnson
2019
160 pages
available in paperback and eBook 
Cameron De La Valle is a world-famous pianist that has returned to his home in New Orleans for the holidays. Unfortunately, his hopes for a peaceful break come to a halt when his lawyer is murdered and the killer sets their sights on Cameron next.
===========================
FICTION / LITERARY / FAMILY SAGA / SMALL TOWN / RURAL 
Jackson's Pond, Texas--The Series
By Teddy Jones
MidTown Publishing
Jackson's Pond, Texas, (#1), October, 2013, 252 pages, available in paperback, and eBook 
Slanted Light, (#2), August, 2020, 263 pages, available in hardcover, paperback, and eBook
Making it Home, (#3) July, 2021, 275 pages, available in hardcover, paperback, and eBook
Visit the Lone Star Lit Tour page
Jackson's Pond, Texas-The Series, includes three stand-alone novels, Jackson's Pond, Texas (2013) followed in 2020 by Slanted Light, and Making it Home in 2021. 

In Jackson's Pond, Texas, seventy-four-year-old Willa Jackson sets out to maintain her independence and fully realize her artistic talent. Her daughter attempts to take charge of Willa, although her hands are full of her own problems. Willa's past in Jackson's Pond, the town named for the pond on their ranch, provides a backdrop for her determination to secure her future and her family's as she follows her creative heart.
In Slanted Light, Claire Havlicek, Willa's granddaughter, collapses under the weight of threats to her thirteen-year marriage, her children, her two primary care clinics, and the family ranch. When Claire admits her limits, her family helps her learn that being human, weaknesses and all, can be the source of strength and joy.
In Making It Home, fifty-five-year-old Melanie Jackson Banks encounters racism, intolerance, and violence both in her family's distant past and in current day Jackson's Pond. She leads family and community efforts to create reconciliation for past wrongs and also to demonstrate strength and defiance in the face of vandalism, cross-burning, domestic violence, threats to Jackson Ranch's operation, and kidnapping. In the midst of this stormy period, she finds allies in her mother's long-time companion, Robert Stanley; her mother, Willa Jackson; her daughter Claire Havlicek; and many others.
===========================
FICTION / FANTASY ACTION & ADVENTURE / LOVE STORY
By Michael Scott Clifton
Book Liftoff
2018, 396 pages
available in paperback, audio book, and eBook 
Read the Lone Star Lit Indie Review
Tressalayne is a member of a murderous witches' coven. An attack by witch hunters forces the coven to escape through a hastily constructed portal of magic. Ripped from her medieval world, the portal hurls Tressalayne and the coven's leader, Morganna, into present day East Texas. Critically injured in the passage, Tressalayne awakes in a hospital with no memory of her previous life.Lucas Beckett finds himself in charge of the mysterious patient's recuperation, and soon develops more than just a medical interest in her recovery. However, their blossoming relationship is marred by Tressalayne's nightmarish flashbacks and uncontrolled manifestations of magic. Can their life together survive this collision of past and present? As Tressalayne's struggles continue, other threats emerge to loom over the young couple, and the stage is set for a final confrontation. Murderous intent, or love and devotion? Only one can survive and The Janus Witch must decide.
===========================
FICTION / SEASONED ROMANCE / CONTEMPORARY / DOMESTIC VIOLENCE SURVIVOR
By Thia Finn
August, 2021
223 pages
available in paperback and eBook 
He's going to kill me. My life depends on a meticulous plan to escape my abusive husband, and I know I'll only get one chance. When my kind neighbor involves her attractive brother-in-law, I begin to believe my dream might come true. I need to make it on my own once they whisk me away, but how? 

CC Chapman
When sister-in-law, Jane, begs me to help an abused woman escape from the iron fist that will eventually kill the woman, I have doubts I'm up for the challenge. Sure, I can fly her away but what then? I have responsibilities which don't include helping a beautiful woman live the life she deserves.
===========================
FICTION / WESTERN / HISTORICAL FICTION
Lone Star Legends Series
By Linda Broday
Sourcebooks Publishing
available in paperback, library binding, audio book, and eBook 
A Cowboy of Legend - April 2021 - 384 pages
A Cowboy Christmas Legend - September 2021 - 352 pages
A Man of Legend - March 2022 - 360 pages
These three books are set at the turn of the century during a time of great upheaval with people crying out for reform in many areas and industrial change. It's a time when ordinary men and women stepped up to become the stuff of legend. This is a new generation of the Legend family that began in a previous series and they're making their mark, trying to live up to their famous fathers. These grown children are fighting for justice and change. 
Grace Legend, Sam Legend II, and Crockett Legend have their work cut out for them. Social reform is heavy in Book 1. Book 2 is seeing the end of outlaws hiding in the Texas Panhandle. Oil discovery in Texas is the plot of Book 3.
===========================
FICTION / PARANORMAL / URBAN FANTASY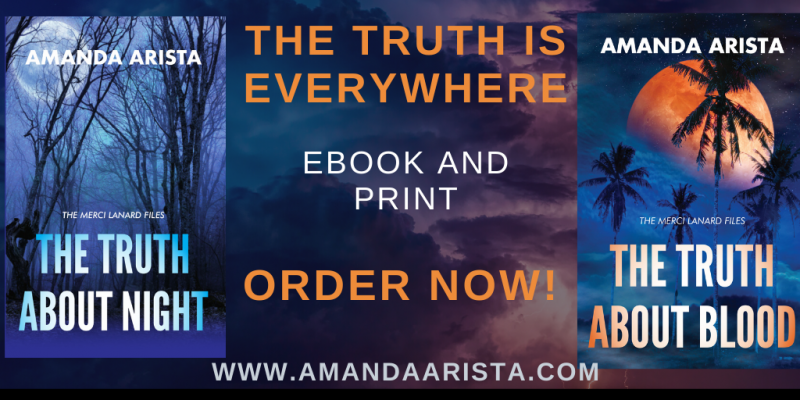 The Merci Lanard Files Series
By Amanda Arista
The Truth About Night - January 2020 - 274 pgs.
The Truth About Blood - August 2020 - 280 pgs.
Available in paperback and eBook
As an investigative journalist, Merci Lanard always gets her story but she doesn't always get the truth she wants.
===========================
FICTION / CHRISTMAS STORY / SHORT STORY / FAMILY DRAMA
By Jan Sikes
RiJan Publishing
November 18, 2021
50 pgs.
Available in eBook
A man with three names, a star-studded career, and a haunted past.
Cole Knight should be on top of the world. He's living his dream of being a country music superstar. Yet, he's dying inside, filled with guilt, regret and grief. Desperation for peace drives him.
When through an alcohol fueled haze, he makes a midnight trek to Kentucky; back to the coal miner's cabin where he grew up, answers come in the most unexpected ways. And just in time for Christmas!
===========================
Click the covers to purchase.
===========================
FICTION / WOMEN'S FICTION / VINTAGE / HISTORICAL FICTION
By Julia Daily
Admission Press, Inc.
August 3, 2021
334 pages
Available in hardcover, paperback, audio book, and eBook
1965. Three young, unwed women meet at a maternity home hospital in New Orleans where they are expected to relinquish their babies and return home as if nothing transpired. 
Twenty-five years later, the women are reunited by a blackmailer, who threatens to expose their secrets and destroy the lives they've built. That shattering revelation would shake their very foundations—and reverberate all the way to the White House.
Told from the three women's perspectives in alternating chapters, this mesmerizing story is based on actual experiences of women in the 1960s who found themselves pregnant but unmarried, pressured by family and society to make horrific decisions. 
===========================
FICTION / LITERARY FICTION 
By Severo Perez
Texas Christian University Press
September 24, 2019
278 pages
Available in hardcover and eBook
The year is 1961. Seventy-year-old Cosimo Infante Cano, a Cuban-born artist in need of inspiration, follows his lover to Texas in what was to be a temporary sabbatical from their life in France. Unexpectedly, he finds himself stranded in San Antonio, nearly penniless, with little more than the clothes on his back and an extraordinary pocket watch. His long hair and eccentric attire make him an odd sight in what he has been told is a conservative cultural backwater. His new friends feel empathy for his impoverished condition, but his unconventional actions and uncompromising ethics confuse them. He creates charming drawings he refuses to sell and paints a house simply for the pleasure of making a difference. In the process he forever alters the lives of those who thought they were helping him.
===========================
FICTION / POLITICAL THRILLER / SUSPENSE / ESCAPIST THRILLER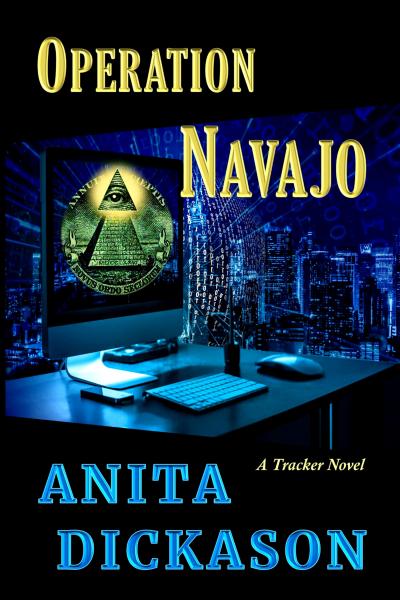 Operation Navajo: A Tracker Novel
By Anita Dickason
Mystic Circle Books
August 30, 2020
319 pages
Available in hardcover, paperback, and eBook
When Scott Fleming, head of the elite FBI Tracker Unit, walks into a seedy café in the middle of the night to meet the 2nd most powerful man in the government, he knows it means trouble. It turns out he's right. He just didn't put enough spin on the word—trouble. Federal Reserve Chairman Frank Littleton has a problem. Someone wants to kill him, and Littleton wants Scott to investigate. When a new Tracker agent and financial crimes expert joins forces with an undercover Interpol agent to infiltrate the inner sanctum of the Federal Reserve, the case turns deadly. Stalked by a killer, can they survive to stop the assassination and prevent a global financial cataclysm?
===========================
FICTION / LITERARY FICTION / CRIME FICTION
By James Wade
Blackstone Publishing
June 9, 2021
350 pages
Available in hardcover, eBook, and audio book
Escaping his abusive father and generations of cyclical poverty, young Jonah Hargrove joins the mysterious River--a teenage girl carrying thousands of dollars in stolen meth--and embarks on a southern gothic odyssey through the East Texas river bottoms. They are pursued by local drug kingpin John Curtis and his murderous enforcer, Dakota Cade. But Cade and Curtis have their own enemies, as their relationship with the cartel begins to sour. Keeping tabs on everyone is the Thin Man, a silent assassin who values consequence over mercy. With a colorful cast of supporting characters and Wade's acclaimed lyrical prose, River, Sing Out dives deep into a sinister and sanguinary world, where oppressive poverty is pitted against the need to believe in something greater than ourselves.
===========================
FICTION / HISTORICAL FICTION / POST CIVIL WAR TEXAS / WESTERN
By BJ Mayo
Skyhorse Publishing
Coming January 4, 2022
312 pages
Available in hardcover and eBook
Tree "Bigfoot" Smith and Cedar Jones first meet on the day they join the US Cavalry's Fourth Cavalry Regiment based out of the Historic Fort Concho in what is now San Angelo, Texas, in 1870.

Their journey takes them into the heart of the dangerous Llano Estacado region known as the Comancheria. The area is ruthlessly defended by a band of Quahadi Comanche and their stoic leader, Lonely Horse. The Troop encounters a large group of Comanches and the gun-running Comancheros at Mushaway Mountain, close to Gail, Texas. A quick battle ensues that leaves eight men dead.

Post Cavalry life finds Tree Smith and Cedar Jones as cowhand and cook on the large Rolling J cattle ranch in South Texas bordering the Rio Grande River. The ranch employs two Vaqueros from the village of Montenegro in Mexico, just across the river, whom Tree befriends.

The quiet life on the Rolling J ranch is brought to an abrupt halt when a local sheriff warns that a band led by the cold-blooded, sadistic killer known as Gato Montes has been preying on the ranches along the Rio Grande. After the sheriff is nearly killed by these men, Tree is tasked with tracking them down, only this time, he is traveling alone and the dangers are greatly multiplied. His epic journey takes him back into the Llano Estacado where he is captured by Lonely Horse and taken to Mushaway Mountain where the Comanche carry out their own form of frontier justice.

Tree's return journey puts him on the same path as Marco, a Mexican goat herder, who rides with him to the Mexican Village of Montenegro, where Tree meets Julia, who changes his life forever after he becomes involved in and bears witness to the wonderful celebration of Dia de los Muertos.
===========================
FICTION / ROMANTIC SUSPENSE / FBI CRIME SOLVING / CLEAN ROMANCE
By DiAnn Mills
Tyndale House Publishing
September 7, 2021
432 pages
Available in hardcover, paperback, eBook, and audio book
Fifteen years ago, Shelby Pearce confessed to murder and was sent to prison. Fresh out on parole Shelby is ready for a new start in rural Texas. FBI Special Agent Denton McClure worked the murder case as a rookie. Denton suspects Shelby was also involved in embezzling money. Now that Shelby is out of prison, will she lead him to the unrecovered money and crack the cold case? As Denton gets closer to Shelby, he begins to have a trace of doubt about her guilt. Someone has Shelby in their crosshairs. Dark Secrets—Desperate Enemies—Dangerous Lies  Can Denton stop them before they silence Shelby—and the truth—forever? Bestselling & award-winning author DiAnn Mills delivers a heart-stopping story in … TRACE OF DOUBT
===========================
FICTION / HISTORICAL / HOLIDAY ROMANCE / NOVELLAS
By Karen Witemeyer
Bethany House Publishers
August 31, 2021
304 pages
Available in hardcover, paperback, eBook, and audio book
Visit the Lone Star Lit Book Blitz Page
This historical romance novella collection presents "A Texas Christmas Carol," where a town's wealthy, Scrooge-like bachelor finds his world invaded by a woman set on earning his donation for helping the local poor, and the penetrating questions of three mysterious visitors. It also includes "An Archer Family Christmas." When the Archer clan gathers for the holiday, they encounter an unexpected request for help that will require all their effort and a Christmas miracle to see them through. In previously published "Gift of the Heart," a widow uses the family brooch as collateral for a loan from the local resort owner. But the more she comes to know the man behind the stern businessman, the more she hopes for a second chance at love this Christmas.
===========================
FICTION / ROMANCE / WESTERN / HISTORICAL 
By Dana Wayne
Book Liftoff
March 2, 2021
302 pgs.
Available in paperback and eBook
A jagged scar declared her damaged goods in her world, forcing her to live in the shadows of life, easy prey for a scoundrel. Shattered by betrayal, she trades her affluent world for a small town in Texas. She promised him the family he craved, but it was all a lie that ultimately destroyed his dreams and his trust. A small town in Texas provided solace, hard work and distance. 
Until Fate intervened and a lifetime of loneliness and rejection gives way to true love at last.  But the past returns seeking vengeance. 
Will their love remain strong enough to survive the collision of past and present or will the past destroy their future?
===========================
Click the covers to purchase.
===========================
FICTION / HISTORICAL FICTION / WOMEN'S FICTION / TEXAS
By Linda Brooks Davis
Soon the Dawn, 2020, 132 pages
A Sojourner Christmas, 2021, 123 pages
Available in paperback, audio book, and eBook
Leaving all they know and hold dear in 1923, a family of Oklahomans migrates to the Lower Rio Grande Valley of Texas—their Land of Milk and Honey. Their arduous journey takes them into a world unlike any they have ever seen. Faced with grueling hardships in this rugged brush land near the border with Mexico, they find their family bonds tested and their values challenged. Girded with faith in God and love for one another, the McFarland clan embarks on decades of life in a valley near the borderland of Texas that promises love and laughter, tears and jubilation, hope and healing in God's merciful hands.
===========================
FICTION / MYSTERY / SUSPENSE / ROMANCE
By Dianne Smithwick-Braden
DSB Mysteries
Death on Paradise Creek, November 13, 2014, 193 pages
Death under a Full Moon, February 4, 2016, 275 pages
Flames of Wilbarger County, December 5, 2017, 275 pages
Gambling with Murder, 
Available in paperbook, audio book, and eBook
Follow the Fletcher family as they deal with murder in Wilbarger County Texas.
===========================
FICTION / HISTORICAL / WOMEN'S ISSUES / EARLY 20TH CENTURY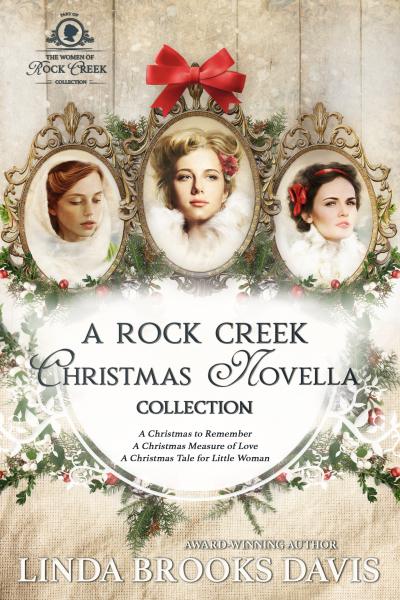 The Women of Rock Creek Series
By Linda Brooks Davis
Brookstone Publishing Group
The Calling of Ella McFarland, 2018, 340 pages
The Mending of Lillian Cathleen, 2018, 300 pages
The Awakening of Miss Adelaide, 2019, 350 pages
A Rock Creek Christmas Novella Collection, 2020, 254 pages
Available in paperback, audio book, and eBook
Three young women tackle early 20th century women's issues: suffrage, legal, employment, property, and educational rights; bootlegging; child abduction and trafficking; prostitution; unwed motherhood; and mental health care. Their exploits take them from Oklahoma to Denton, Fort Worth, Arlington, San Antonio, and Raymondville, Texas, as well as Washington, D.C. and Italy at the close of WWI.
===========================
Click the covers to purchase.
===========================
 JUMP TO NONFICTION -|||-  JUMP TO BOOKS FOR YOUNG READERS  
 -|||- JUMP TO HGG HOME PAGE  -|||-